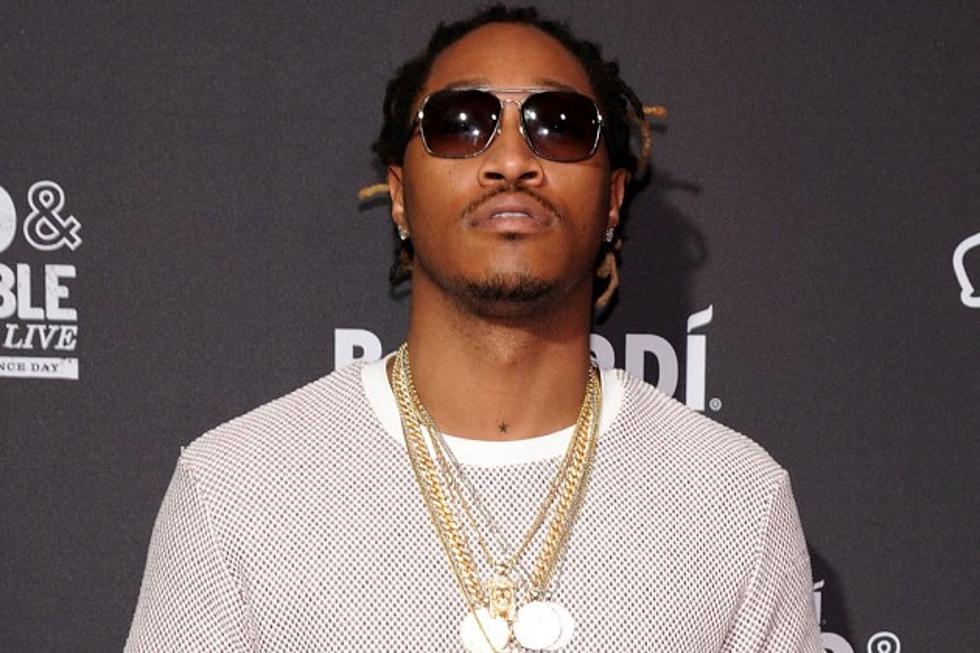 20 Future Songs That Made You a Fan
Ilya S. Savenok, Getty Images
On July 16, 2015, there is no rapper on the planet more buzzworthy than Future. While the Atlanta native may not hold that distinction for long -- as any rapper rarely does these days -- for now he is the man of the hour. For nearly five years, he's been consistently releasing club-friendly bangers as well as southern-cooked trap musings and more aggressive fare. But before Future was the dirty Sprite-sipping cult figure that we know him as today, he was a pupil under the tutelage of his cousin, Rico Wade, who happened to be the head of the legendary production crew, Organized Noize, a team that helped bring OutKast and Goodie Mob to fame.
Aligning himself with fellow Atlanta rapper Rocko and signing to his label, A-1 Entertainment, Future would score a deal with Epic Records in 2011, leading to the release of his debut album, Pluto. The album failed to post impressive numbers, but laid the foundation for a career that now includes two solo albums (and another on the way), a slew of collaborative projects and a laundry list of mixtape releases. With all of the above acknowledged, I have a confession to make: I am a fan of Future's music.
That may be a surprise to many reading this, considering that I've railed against the #FutureHive on various occasions. While those sentiments remain, the truth is that I cannot tell a lie. It took me a while to come to this conclusion, but after taking an extensive course in the teachings of Nayvadius Wilburn, the rapper does have some substance in his lyrics outside of the hype, social media hashtags and memes.
This week (July 17) serves as the moment of truth as to whether or not Future has ascended to the heights of contemporaries like Drake and Meek Mill or if he'll come up short when DS2 arrives. Since his much anticipated LP will hit the masses in less than 24 hours, we've taken a look back through his catalog to compile 20 Future Songs That Made You a Fan.
20

"Watch This"

Featuring Rocko

A pre-fame Nayvadius teams up with Rocko, the man who signed him, on "Watch This," a track featured on his 2011 Dirty Sprite mixtape hosted by DJ Esco, DJ Scream and DJ X-Rated. Rocko is at bats first and turns in a steady performance, but by the middle of the second verse it's clear who the main draw is. While Rocko may have taken up much of the airtime on this offering, it serves as Future's first shining moment and the calm before the storm.

19

"I Won"

Featuring Kanye West

"I just wanna take you out and show you out / Girl, you already know that you're the perfect one," croons Future on the Honest single, "I Won." Produced by Metro Boomin, the track features Kanye West, who's appearance surely boosted the song's commercial appeal and introduces Future to a broader audience. While this cut may rank low on many Future Hendrix fans' playlists, "I Won" is a sure shot heater that did wonders for his profile.

18

"It don't f--- wit' my conscious, I sell my auntie that raw," Future spits unapologetically on the title track of his 2014 Monster mixtape. Co-produced by Metro Boomin and Southside, the track is tailor-made for Future's trapper musings and played a big part in bringing his buzz to the fever pitch that its currently at.

17

Mixtape Future is usually a man possessed, attacking each track with the fervor of a caged pitbull let off the chain. The finale track on his 56 Nights tape, which bears the same title, finds him documenting his month-long Xanax binge and his nihilistic lifestyle. This offering, produced by Southside, has become a favorite among fans and even inspired a Twitter tirade by a certain fellow ATLien, OG Maco.

16

"Neva End"

Featuring Kelly Rowland

The original may have gotten die-hard Future fans' attention, but it wasn't until Kelly Rowland hopped on the remix to "Neva End" that the record grew legs. Featured on Pluto 3D -- a reissue of his debut LP -- the song was serviced to radio as a single and peaked at No. 52 on the Billboard Hot 100. The Mike WiLL Made-It rumbling beat supports the rapper and singer's lyrical dance as they pine for each other.

15

The 56 Nights mixtape is nothing short of a banger from beginning to end. But if we had to pick a highlight, it's "March Madness." Released right in time for the NCAA Tournament, Future gets his student athlete on and balls out over the 808 Mafia and Tarentino production. He can't be stopped. "These f---in' police can't touch me / These bogus police can't touch me / These f---in' n----s can't touch me," he raps.

14

Prescription drug use has been lamented by many critics and rap fans, but Future has no qualms with putting his affection for pills and drank on front street. The TM88-produced "Codeine Crazy" is one of the rapper's more brash depictions of his habit and is sonically one of his better selections committed to wax. Featured on Future's Monster mixtape, this cut helped make the project a respected effort for the streets.

13

Words, women and money get tossed on "Throw Away," another potent tune featured from the Monster tape. Produced by Nard & B, Future glides over their 808 drums and haunting synths, insisting, "I don't want no relations, I just want your facial" and other grimy nothings. Comparing a woman to a toss gun may not be the ideal description for someone you cherish, but Future pulls off the compliment with finesse.

12

Sibling rivalry can be a plus, as Future proves with the Beast Mode cut, "Real Sisters." Bricks get copped, plugs get robbed, but when all is said and done, Ciara's former beau is more concerned with knocking off as many pairs of sisters as he can -- twins if possible. While that feat may be a tall task, he conveys his desires with ease over the Zaytoven-produced beat.

11

Plenty a gem can be found buried on a random mixtape and never get the shine it deserves. Future's "Same Damn Time" almost got the same treatment until someone smart decided to remaster the track and liberate it to be placed on the rapper's Pluto LP. The star-studded remix may have gotten the most burn, but the original is the version that truly captures the essence of Future and the far more superior version.

10

Future's debut mixtape may have been 1000, but it was Dirty Sprite that really saw the Auto-Tune warbler make the next step in his evolution. Wasting no time, the Atlanta rep pays homage to the late syrup sippers of Houston, rapping, "I'm on that Pimp C, I'm on that DJ Screw / I'm on that Big Hawk, I don't know what to do." He holds no punches concerning his lean consumption. The rhymer turns in one of his most indelible numbers to date with the tape's title track and puts listeners on notice that he's playing for keeps.

9

"Honest" finds Future getting a tad bit introspective on the title track of his 2014 LP. He leaves the ratchet fare to the side and opts for a more subdued approach by spitting out his truths all over the DJ Spinz and Metro Boomin-crafted beat. "I was gon' lie to you, but I had to tell the truth, I'm just being honest," raps Future, keeping it triller than most on this standout selection.

8

The only religion some people are interested in are the jeans of True, but Future has a strong faith in the man up above. So it's no surprise that he would craft an anthem thanking god for blessing all the "Trap N----s" on his 56 Nights mixtape. "Ya crackhouse doing numbers, then ya blessed / You move ya mama to a crib from the 'jects," he rhymes over the Southside beat. He lays out the dreams of hustlers worldwide in a way only he can.

7

"Sh!t," one of Future's more turnt-up radio selections, is yet another single released from Honest and helped validate the spaced-out wordsmith as a hitmaker. Produced by Mike WiLL Made-It, the beat is a thunderous affair that is sure to cause pandemonium whenever it bursts out of a set of speakers.

6

The remix to "Magic," featured on 2012's Pluto, is among one of the most recognizable hits in the rapper's career thus far. Featuring Atlanta vet T.I., the two would take this record to the Top 10 of the Billboard Hot R&B/Hip-Hop chart and would ingratiate Future's catchy hook work with the #FutureHive. How can anyone deny singing along to "Voila, magic, voila, magic"?

5

Future further raised his stock with the 2014 Monster mixtape cut, "F--- Up Some Commas." The track, co-produced by DJ Spinz and Southside, is the perfect soundtrack for blowing the equivalent of a tax refund check at your friendly neighborhood nightclub. And even if you're the frugal type, your shoulders are guaranteed to shift to the beat and shout "Give no f---s yeah, we don't give no f---s, yeah."

4

"Move That Dope"

Featuring Pharrell, Pusha T & Casino

As one of the foremost purveyors of the trap at this time in 2014, it was only right for Future to roll out a heater encouraging young corner boys worldwide to do their thing. The fourth single released from Honest, Nayvadius teams up with Pharrell, Pusha T and Casino for what would become his highest-charting song on the Billboard 100 as the lead artist.

3

"Karate Chop"

Featuring Lil Wayne

When you think of a "Karate Chop," bricks and Bruce Lee may come to mind before kilos of narcotics, but Future begs to differ. Another pro-hustler ditty, Future Hendrix employs a chopped up flow on the track's hook, making for one of the more catchy refrains of 2014.

2

We all know about those nights at the club when we're searching for that special someone. Well, Future puts that scenario to wax on "Turn On the Lights," the fifth single from his debut album, Pluto. The song turned out to be an unlikely hit, peaking at No. 2 on the Billboard R&B/Hip-Hop Songs chart and would go on to be certified platinum. This would be the ATL trapper's first single to achieve that distinction. "Turn on the lights / I'm lookin' for 'er too / I heard she keep her promises and never turn on you," he rhymes over the blippy beat. Love may not be on his mind, but he's certainly looking for loyalty.

1

The moment where it all started. In 2011, Future linked up with Drake in the middle of his meteoric rise to fame and was able to secure a coveted feature verse from the Toronto native. And although Drake failed to appear in the accompanying music video may have ruffled a few feathers, namely Future's, the track is a banger and immediately had everyone chattering about this Future guy.

Bonus

See 100 Surprising Hip-Hop Facts

[gallery galleryid="625:160686" showthumbs="no" inititem="13" enablefullscreen="yes"]