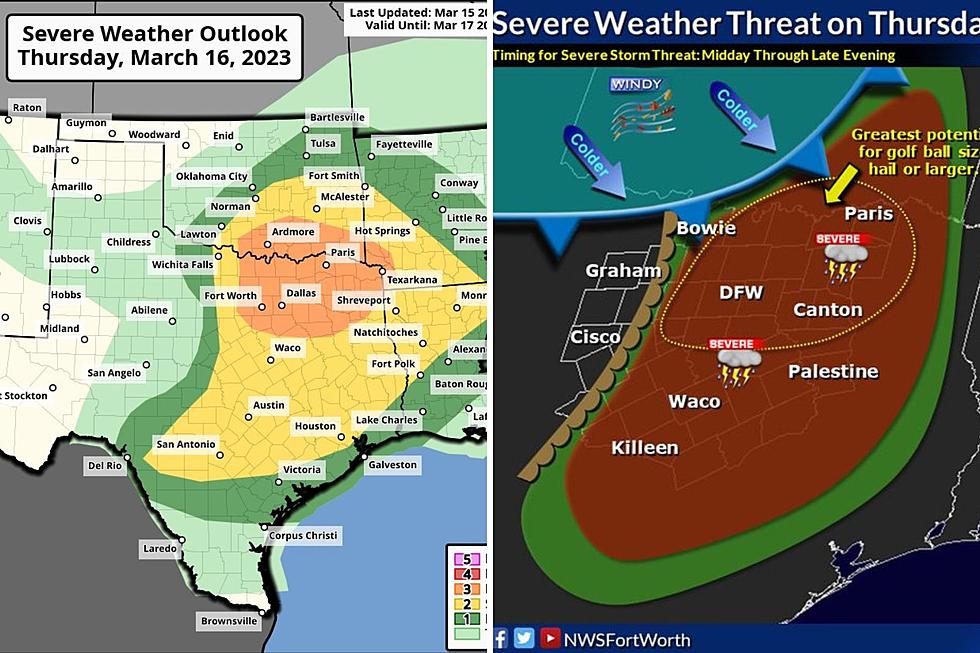 Chance For Hail, Tornadoes in Killeen, Texas Thursday
National Weather Service/National Weather Service Fort Worth/Canva
The weather in Killeen, Texas has gone from hot to cold so many times that it's making us sick. We've all been wearing out our thermostats and trying to figure out if we need to wear jackets or short sleeves to work. But a weather event on the horizon should have all of our attention.
National Weather Service Alerts Texans To Possibility of Severe Storms
Our news partners at KTWX have the details on a weather event that will occur on Thursday, March 15th and could spell trouble for the Killeen-Temple area. They say most of Central Texas will be in "slight risk" for severe weather, which is a 2 out of 5.
The National Weather Service also provided a map to show what areas of the state are under watches:
As described, hail is also a possibility during the weather event. Another map shows the main areas that are threatened by hail chances:
At the time of writing, the timing of event is set to begin early in the day, and storms will make their way along the I-35 corridor. So it's important to remain weather aware throughout the day, and also paramount to have a way to receive weather warnings.
Ways To Remain Safe During The Event
One thing to remember during a severe weather event is to have a plan in case weather turns dangerous. Have a safe place to go to that is far away from windows. For those wondering how to prepare for potential hail storm, click here.
Texas Ice Storm 2023 Pictures
10 Greatest Texas Fears And Phobias
BetTexas.com
compiled the top 10 phobias of Texas based on Google searches. Did your biggest fear make the list?
Strange And True, Have You Heard These Name Origins Of Certain Texas Towns?
With so many towns in the Lone Star State, there's a few that might leave you scratching your head for their names.
Why Did Someone Build A Pyramid In Fort Davis, Texas?