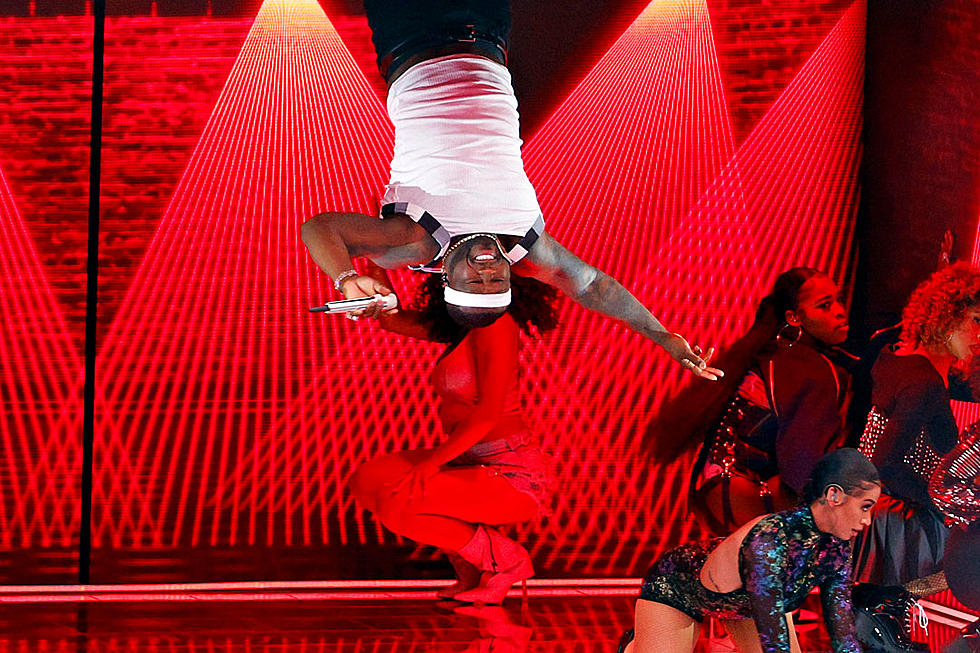 50 Cent Admits Hanging Upside Down During 2022 Super Bowl Halftime Show Was a Mistake
Ronald Martinez/Getty Images
50 Cent has admitted that the moment he hung upside down during his set at the Super Bowl halftime show in 2022 was a mistake.
On Wednesday (May 10), USA Today published an interview with 50 Cent in support of his upcoming global tour for the 20-year anniversary of his Get Rich or Die Tryin' album. During the conversation, Fif came clean about one of his past performances that was a pivotal moment in his career: taking the Super Bowl stage. While discussing what fans can expect from his world tour, the G-Unit leader mentioned that he won't be bringing the upside down part of that show to any of his new performances.
"It's gonna be a whole new show," 50 Cent shared of his upcoming tour. "Sometimes out of habit, you go to certain records. People love other things on it, so I wanna make sure I touch those records before I don't do those anymore."
When reporter Naledi Ushe asked if he'll do any upside-down crunches on the new tour, he admitted that specific part of his 2022 Super Bowl performance was a "mistake." For the halftime show, 50 Cent was imitating the same upside down move he did in his 2003 music video for "In Da Club" while performing the track. "I think that was a mistake for the Super Bowl," he expressed. "Everybody else walked in regular, the songs still went over and they got the trophy, too. They all won an Emmy. They got the same thing I got and I had to put myself upside down."
The Super Bowl halftime show last year was a hip-hop fan's dream since Dr. Dre, Snoop Dogg, Eminem, 50 Cent and Kendrick Lamar performed along with Mary J. Blige. You can watch 50 hanging upside down during his performance at the 3:10-mark below his interview.
Watch 50 Cent Admit Hanging Upside Down at 2022 Super Bowl Was a Mistake
Watch 50 Cent's 2022 Super Bowl Performance
Watch 50 Cent's "In Da Club" Video 
See Rappers Named After Notorious Crime Figures