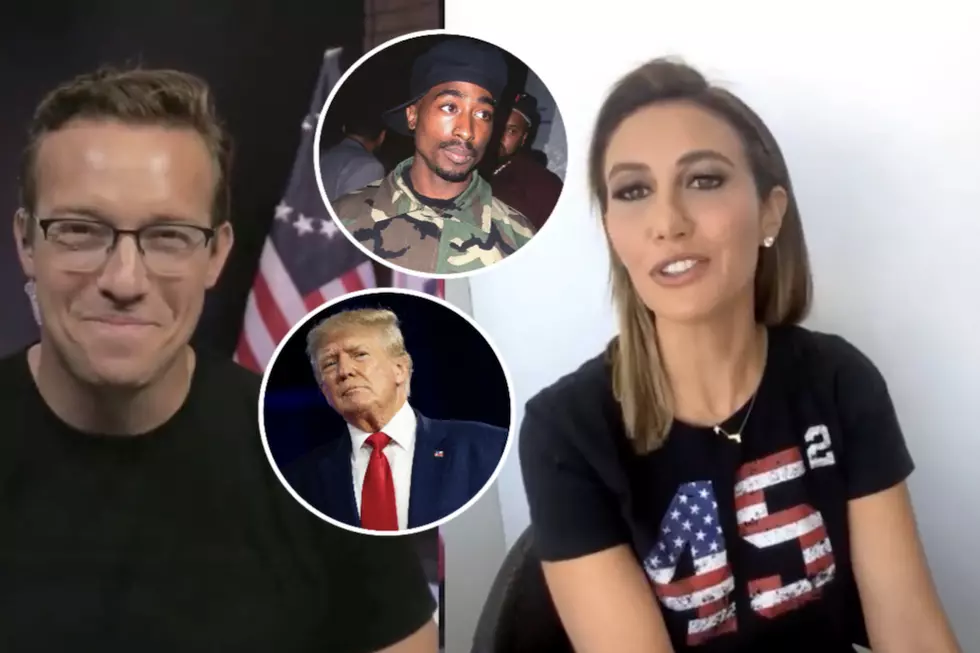 Donald Trump's Attorney Compares Trump to Tupac Shakur, Late Rapper's Sister Responds
Benny Johnson/Twitter/Ron Galella, Ltd./Ron Galella Collection/Brandon Bell/Getty Images (2)
Donald Trump's attorney ridiculously compared Trump to Tupac Shakur and the late rapper's sister is denouncing the connection.
On Monday (April 3), Donald Trump's attorney Alina Habba appeared on The Benny Show to talk about Trump surrendering to authorities today (April 4) to face criminal charges. When host Benny Johnson asked Habba if Trump would get his mugshot taken, she said that police don't need a mugshot of the former U.S. President because he's the most famous man in the world.
That's when Benny said that if Trump does get a mugshot taken it would be the most famous photograph in the world and make him even more famous like Tupac Shakur. To wit, Habba joked that Trump is Tupac.
"Donald Trump is Tupac. Donald Trump's Biggie Smalls, he's better than Tupac. I'm East Coast, so I love Biggie," she stated. "Donald Trump is his own brand. He is everything. This is just gonna boost him, we've seen it in the polls. It's not a question, it's a fact."
Tupac's late sister, Sekyiwa Shakur, aka Set Shakur, caught wind of Habba's illogical comparison and was offended. Set told TMZ she found Habba's remarks "blasphemous."
"My brother was measured by his integrity, his principles and personal and collective responsibility," she reportedly said.
Set explained that her late brother didn't get popular because he had legal issues but rather for his music and empowering messages.
"[People] were able to measure him by his words and actions that aligned," she reportedly said.
Set added that 'Pac took responsibility for his actions, while Trump has not.
Donald Trump is the first sitting or former president to face criminal charges. The 76-year-old businessman was indicted by a Manhattan grand jury last week, stemming from a case involving hush-money payment to porn star Stormy Daniels in 2016. Although no specific charges have been disclosed, Trump has proclaimed his innocence and is expected to plead not guilty.
As for Trump's attorney, she's way out of line with her comparison of the late and great Tupac Shakur.
Watch Donald Trump's Attorney Compare Trump to Tupac Shakur Below
See 20 of the Best-Selling Hip-Hop Albums of All Time