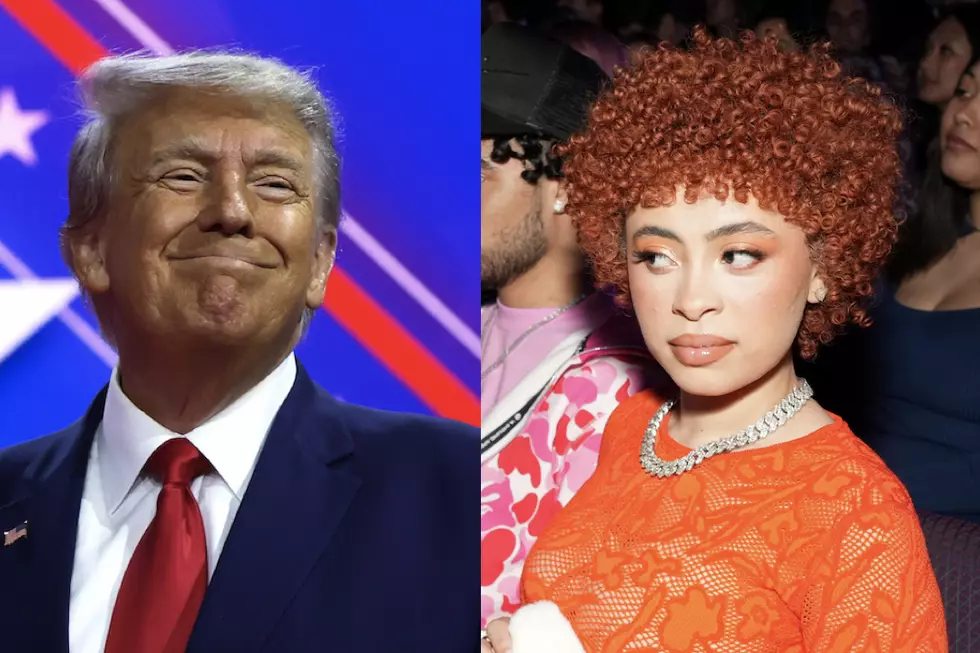 Donald Trump Likes Ice Spice Despite Not Knowing Who She Is – Watch
Alex Wong/Kevin Mazur/Getty Images (2)
Donald Trump has had a cordial relationship with several rappers, but recently the former president said that he liked one of the hottest rappers in the game right now — Ice Spice.
Donald Trump appeared on the popular Full Send Podcast, which premiered on Thursday (April 20) on their YouTube Channel, and was asked to give a one-word description of some celebrities in pop culture. He gave some singular answers to a couple of names he was familiar with: President Joe Biden ("dumb"), O.J. Simpson ("golf") and Twitter CEO Elon Musk ("smart"). But the hosts stumped Trump when they mentioned Ice Spice.
"Who the hell is Ice Spice?" Trump asked when the podcasters mentioned the Bronx baddie's name.
The hosts responded by humming her viral hit song "Munch" (Feelin' You)."
Trump, being polite, said, "Well I like it, okay? I like it."
Interestingly, Donald Trump was quick to give his one-word description for Kim Kardashian, the ex-wife of Kanye West, who was a big supporter of him while he was in office from 2017 to 2021.
"Disingenuous," Trump said of the reality-TV star without explanation.
One name Donald Trump should know is Kodak Black. The 76-year-old businessman pardoned Kodak's sentence on his final day in office in January 2021. Yak was serving a four-year prison term on a federal firearms charge stemming from his May 2019 arrest.
Since then, Kodak has been showing his allegiance to Donald Trump who has been indicted on 34 felony counts for falsifying New York business records before the 2016 elections. While on Instagram Live, the South Florida rapper said people are hating on Trump because he's a stand-up guy.
"They are trying to get Trump out the way cause Trump a stand-up n***a," Yak said about Trump. "[Joe] Biden will let a n***a do anything."
"Trump is a real n***a. He's a soldier," he added.
Despite his mounting legal issues, Donald Trump is currently running for a second term in office.
Watch Donald Trump Talk About Ice Spice Below
Watch the Full Send Podcast Interview with Donald Trump Below
See Rappers' Confusing Lyrics