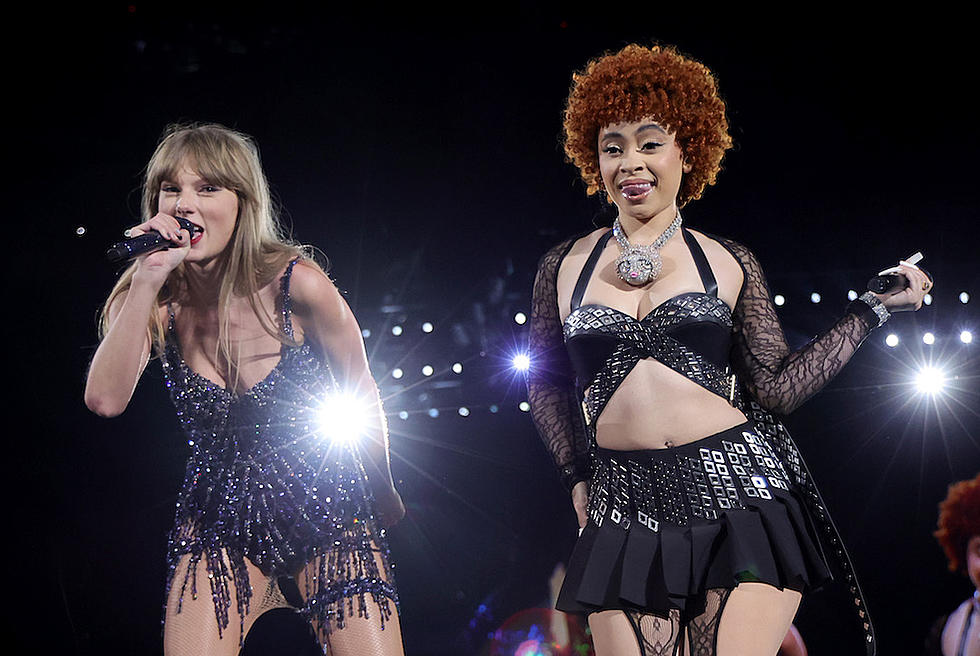 Ice Spice and Taylor Swift Perform 'Karma' Remix Together for the Very First Time – Watch
Kevin Mazur/TAS23/Getty Images
Hours after Taylor Swift released the remix of her song "Karma," featuring Ice Spice, the pair appeared onstage together and performed the song.
Ice Spice and Taylor Swift performed the remix of "Karma" live together for the first time on Friday (May 26) during Swift's The Eras Tour stop at MetLife Stadium in East Rutherford, N.J. The Bronx rapper surprised fans with her appearance near the end of the show, which ended with thunderous cheers from the crowd.
Swift first informed the crowd that a special guest from the Bronx is here and ordered them to clap for her. Spice made a grand entrance, gingerly walking onstage and grabbing Swift's hand as they strutted across the stage. The 23-year-old rapper recited her lyrics from the song without fail and gave a heart sign with her fingers. As confetti rained down onstage, Swift and Spice hugged each other.
Afterward, Spice hopped on her Twitter account and thanked the Swifties and Munchkins (aka the fans) for showing so much love at the show.
"Taylor & the swifties showed me so much love thank yuuuu [heart emojis] & btw big fat thank u to my real munchkins that wanna see a bitch win [gold medal emoji] i love u 4L [butterfly emoji][,]" she tweeted.
The song has also drawn major backlash from fans after a video surfaced of Matty Healy, of the rock group The 1975, whom Swift is reportedly dating, making racist comments about the "Princess Diana" rhymer on The Adam Friedland Show. During the program, the guitarist cosigned comments made by the hosts calling Spice a "chubby Chinese lady," and "a f**king Inuit" while trying to figure out her ethnicity. Healy subsequently apologized for his derogatory remarks about Spice at the band's stop in Auckland, New Zealand.
"Ice Spice, I'm sorry. It's not because I'm annoyed that me joking got misconstrued," he reportedly told the crowd (via Rolling Stone). "It's because I don't want Ice Spice to think I'm a d**k. I love you, Ice Spice. I'm so sorry."
Taylor Swift has not addressed the backlash and critics believe her Ice Spice collabo was a PR stunt camouflage as damage control to protect the pop singer's wholesome image.
Watch Ice Spice and Taylor Swift Perform "Karma (Remix)" Together for the First Time Below
See Rappers' Birthdays