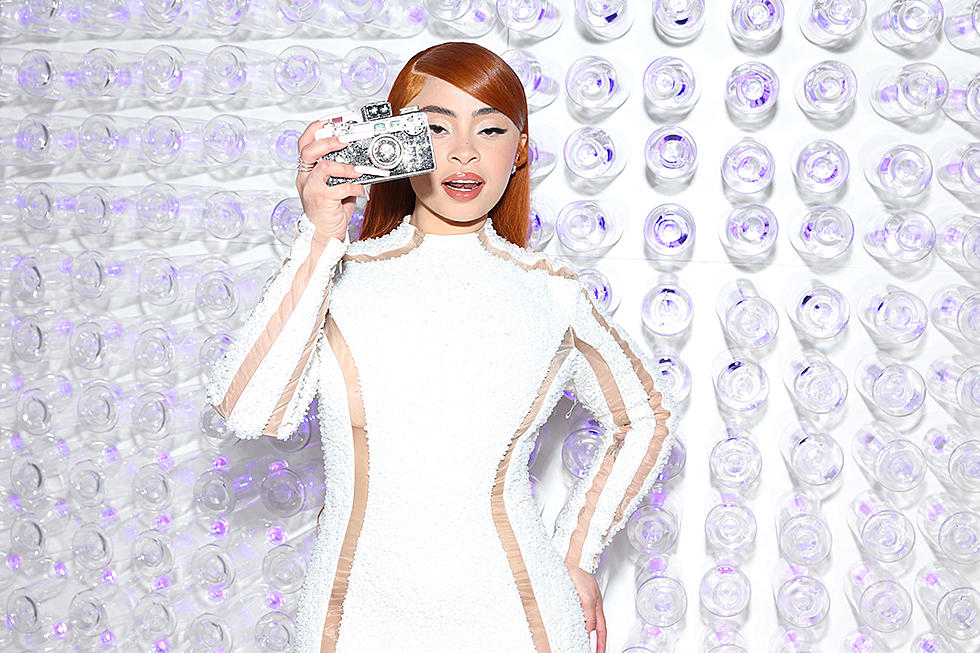 Ice Spice Moments That Prove People Are Obsessed With Her
Cindy Ord/MG23/Getty Images
Ever since the release of "Munch (Feelin' U)" last year, Ice Spice has spread her wings, and respectfully, glided over her peers as the people's champ. Fans across the world have become low-key obsessed with Ice's brand of baddie rap and image, using the Bronx native's likeness to come up with types of content that has yet to leave social media timelines on all platforms.
More recently, a YouTuber by the name of The Different Nerd uploaded a tutorial of how he brought the gold-selling talent into the video game space for Street Fighter 6. After about 30 minutes, he accomplished his mission of implementing her character, which excited many fans who hoped to have a similar experience of boxing with their favorite artists, if Def Jam Records ever decides to bring back their famed game.
Elsewhere and since the very beginning of her ascension, internet moles have, of course, used Ice Spice to get off their viral memes as well. Some have edited her into pics with Martin Luther King Jr., either giving the civil rights legend a dub or being an attendee of the March on Washington. The captions played into the contemplative lyrics of "Bikini Bottom" where Ice raps, "How can I lose if I'm already chose? Like."
Even when it comes to physical items, Ice Spice is still a go-to person for inspiration. Talented creators across the globe have made Pokémon cards dedicated to her, most of which can be purchased on sites like Etsy. Additionally, last Halloween, some folks made costumes of the rapper that played into the outfit she wore in the "No Clarity" video and a wig that tried its best to reflect her natural fro. Lil Nas X copied her look from "Munch (Feelin' U)" as well, sparking plenty of laughs among the people.
Hate it or love, there is no escaping Ice Spice. To prove that, XXL compiled a list of moments and items that prove how regarded she's become as a figure in hip-hop, on social media and much more. Check out the full list below.
The Ice Spice Street Fighter Character

In April of this year, a YouTuber named The Different Nerd uploaded a step-by-step video of how he created an Ice Spice character for Street Fighter 6. The full video is below, including some gameplay footage of Ice throwing haymakers to anyone standing in her way.

The Ice Spice Pokémon Card

VersiliLLC is a Virginia-based merchandise company, who creates Pokémon cards for celebrities. In 2023, they uploaded one for Ice Spice. On the holographic collectable, her HP is 2200 and the words draw lyrics from her gold-selling smash "Munch (Feelin ' U)." The card is currently on sale for $15.00 on that website and Etsy.

Back in mid-April, a toy-maker by the name of Tatyanna uploaded a custom Ice Spice Doll to her TikTok account (@DollsAreMyObsession). The detailed creation is equipped with a white Juicy Couture sweatsuit, Ice's custom $100,000 chain and a purse with her face on it. The doll can be purchased on Etsy for $850 via this link.

The Ice Spice Dollar Bill

Oil painter Claire Salvo has gone viral recently for turning former President George Washington's face on the dollar bill into an entirely new character and/or celebrity. She added Ice Spice to the collection recently and took social media by storm once again upon dropping it, thanks to the users who praised Claire's creativity. Peep the final product below.

The Ice Spice and Martin Luther King Jr. Memes

Ice Spice's lyrics can be both calm and moving at the same time. Because of that, her bars have comedically been compared to the wise words and movement of Martin Luther King Jr. (because, of course, the internet takes nothing seriously). In December of 2022, social media users started a trend of photoshopping Ice into pictures of the March on Washington. The captions were reworked to poke fun at Ice's bars on "Bikini Bottom" and "Munch (Feelin' U)," as well as the social justice initiatives of that time. Fans took it a step further by editing MLK's face onto Ice's body, placing side-by-side images of the two with a father-daughter-type comparison. A few examples can be found under this blurb.

The Ice Spice and Joe Biden AI Creations

It'll be interesting to see how this Artificial Intelligence thing plays out. Things have already seemingly gotten out of hand, with innovative people all around the world coming up with suspect, yet hilarious ideas. One of those was to make it seem like President Joe Biden was having a conversation with the Bronx rapper, although there is no confirmation that they have actually met in real life. On an even funnier note, someone also created a clip of Joe Biden performing Ice and PinkPantheress' Billboard Hot 100 top 10 single "Boy's A Liar (Pt. 2)." Plus, Ice's gold-selling single "In Ha Mood." Drake received his own Ice Spice/AI mashup as well. As crazy as this sounds, all of the evidence from the top of this year exists. Check it out.

The Ice Spice Halloween Costume

Ice's breakthrough song "Munch (Feelin' U)" came out in August of 2022. By October of that year, she was already a viral sensation. So around Halloween, someone created a costume that rivals her 'fit in the "No Clarity" music video. Screenshots of the drip, which consists of a holey jumpsuit, a red bubble coat and an orange afro wig, was apparently being sold at Spirit Halloween costume store. However, a quick search on the site shows no evidence that it actually existed, unless it was taken down within the last few months. Nonetheless, someone came up with the idea and it started circulating around the internet, prompting a response from Ice who wrote on her since-deleted Instagram story, "Nah this is outrageous."

A person's nails, man or woman, can be inspired by any and everything. Throughout the last few months, plenty of sets have been dedicated to Ice Spice. Some feature her face, some feature her chain and others mimic the nail design that Ice had in her music videos. Either way it goes, it's clear that these custom sketches are being chosen to spice up somebody's hand and show love to the budding artist. See some examples below that were uploaded to Twitter by Nailz by Dev and onto Instagram by Maddox and Timothy.

Ice Spice continuously switches up her look. However, when she first got popular, it was her ginger-colored, natural curly hair that made her recognizable and unique (See the music video for "Munch (Feelin' U)"). Wigs of her perfectly rounded fro can be found on Etsy for around $50, created by a merchandiser named Haus of LC. Kanye West's daughter North West got her hands on a brighter one as well a few months back.

The Ice Spice Dating Rumors

Nobody really makes it until people started making up random rumors about them. A belief that applies in the case of Ice Spice, too. A few months back, users got on Twitter and joked about her dating comedian Pete Davidson. This was all cap, but the unconfirmed notion was on social media timelines for days on end. This joke stems from Davidson's dating history of bagging attractive women, such as Kim Kardashian.