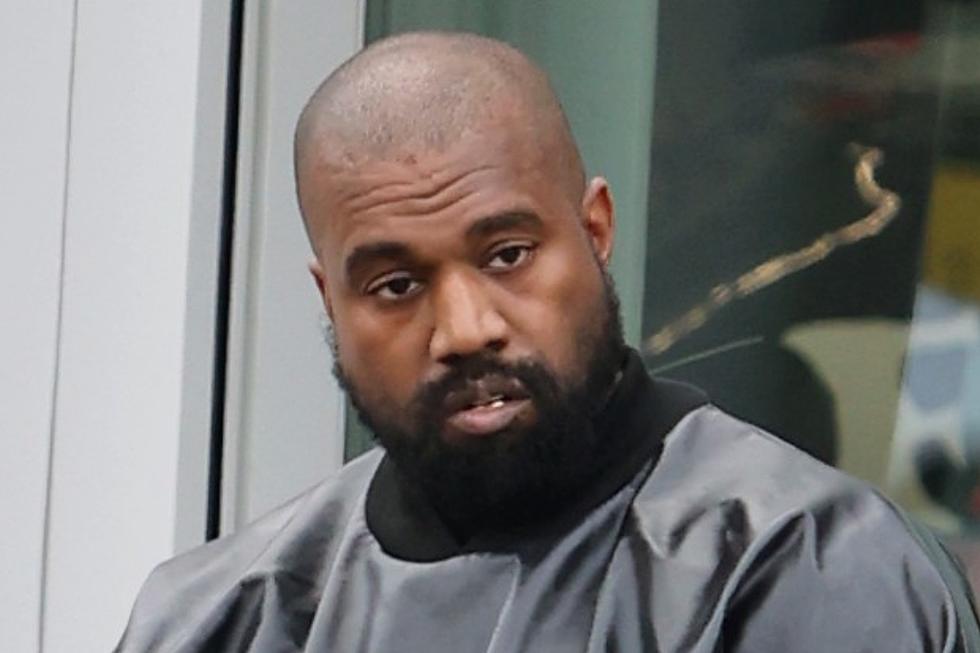 Kanye West Spotted in German Police T-Shirt With Shoulder Pads and Blue Sock Shoes, Fans React
MEGA/Getty Images
Kanye West is again stepping out in some eye-grabbing attire. This time, it's a police-inspired shirt and socks that appear to be shoes.
On Thursday (May 25), Kanye West was spotted out and about with his wife Bianca Censori. The rapper-fashion designer was rocking a black T-shirt with the word "Police" on it in white letters in German. The shirt has bulky shoulder pads embedded in the front and back. Ye is also wearing flared sweatpants and a Blue Man Group-color pair of his signature sock shoes.
One photo (below) shows Kanye and Censori walking across the street. Censori is wearing a cloth wrapped around her head and only her eyes are visible. Another photo shows Ye inside an ice cream shop. Of course, the pictures have had the internet going nuts.
"He so unserious why he look like Number 1 from Umbrella Academy," one person commented about Kanye's new look.
"They Look Like Randomized Sims," another person posted.
"He looks like he is about to suit up and play OLB for Bishop Gorman High School," another comment reads.
This is just one of Ye's recent moments being spotted out wearing something that went viral. Earlier this month, he was spotted wearing leggings, which fans hilariously nicknamed "Yeggings." A few days later, he was seen wearing padded knee-high sock boots and was mercilessly clowned. Pro wrestler Matt Cardona even called Ye out for the flagrant footwear.
"Kanye is wearing kickpads now?!" Cardona captioned the now-viral photo of Kanye West and Censori. "He looks like an Indy worker now. Is he coming after THE INDY GOD?! Be a man Kanye..c'mon don't be scared…you're running from Broski…that's what I heard!!!"
Earlier this month, Kanye West filed for a trademark for his sock shoe design.
Check Out Kanye West's New Shoulder Pad German Police T-Shirt and Blue Sock Shoes, and Reactions Below
See Controversial Shirts Rappers Created
Which rapper has the most controversial shirt?