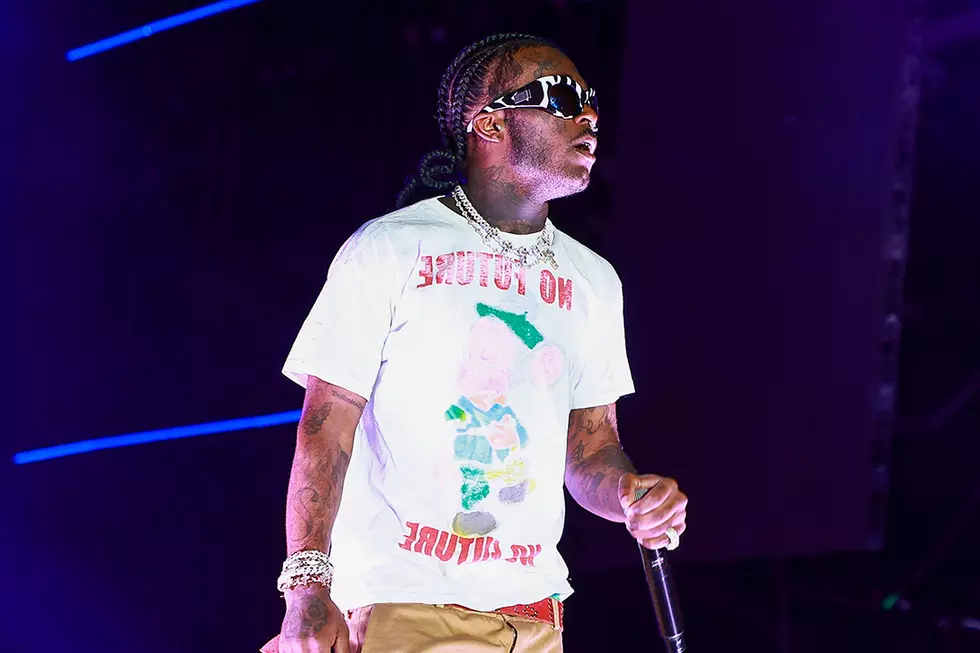 Lil Uzi Vert Puts Finishing Touches on The Pink Tape on Instagram Live – Watch
Arturo Holmes/Getty Images
Lil Uzi Vert went on Instagram Live last night to showcase their presence in the studio as they add the final touches to their highly anticipated album, The Pink Tape.
Lil Uzi Vert Goes Live on Instagram, Previewing Final Touches on The Pink Tape
On Thursday night (June 8), the "Just Wanna Rock" rapper went live on Instagram, informing fans that they were witnessing Uzi incorporate some last-minute additions to their upcoming album.
Throughout the livestream, the Philadelphia native finds themself in a dimly lit studio, bathed in a deep red light, donning headphones as they add their signature ad-libs like "Let's go!" Wearing a skate brand DC hoodie, Uzi exudes an energetic aura, jumping around while recording, and periodically returning to the camera to interact with the live audience.
Lil Uzi Vert Announces The Pink Tape Dropping at the End of June
While on the same Instagram Live, Uzi confirmed that the new album is coming at the end of the month without mentioning a specific date.
Uzi reassures fans in the comments about the arrival of The Pink Tape. "The album... The album is coming at the end of this month. I can't hold off anymore," Uzi says. "Like you know me, I am crazy. Even if I have to drop it myself, it's coming out at the end of the month."
During the Roots Picnic on June 3, Uzi also shared with Perfect Timing Media Group that The Pink Tape would be released at the end of the month.
In a clip posted to Perfect Timing Media Group's Instagram, a voice can be heard asking, "Hey, bro, when is The Pink Tape dropping?" to which Uzi replied, "End of the month."
Uzi's latest viral hit, "Just Wanna Rock," peaked at No. 10 on the Billboard Hot 100 Chart. Additionally, Uzi was recently featured on the rock band Bring Me The Horizon's single, "AmEN!"
Watch Lil Uzi Vert Put Finishing Touches on The Pink Tape Album on Instagram Live
See 20 of the Best-Selling Hip-Hop Albums of All Time