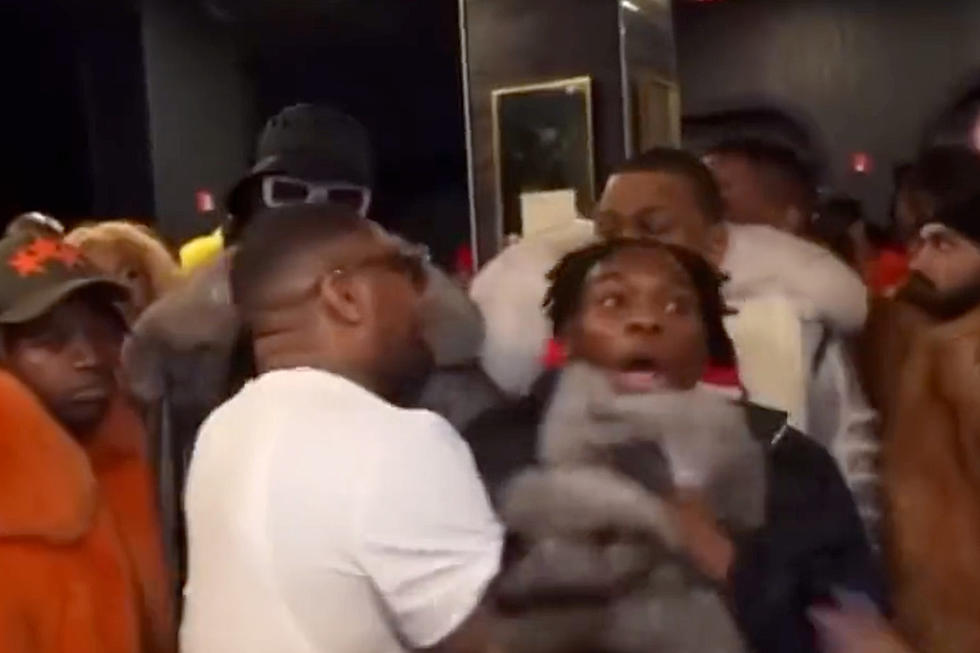 Maino Chokes YouTuber Buba100x for Asking 'How Badly Would I Beat Your Ass?'
nojumper/Twitter
Maino choked out YouTuber Buba100x after the provocative interviewer asked him "How badly would I beat your ass?"
On Sunday (Feb. 26), video footage began to go viral showing Maino getting violent with a YouTube star who has become known for pressing buttons during conversations with rappers. When Buba100x asked the New York rhymer if he could borrow his chain, things became increasingly contentious before Maino, never one to hold back his words or his hands, wrapped his hand around the YouTuber's throat and choked him out.
"Can I borrow your chain?" asked Buba100x in the video posted below. "I can't borrow your chain? Let me borrow it. Let me put on your chain so I can see how it feel. I want to see how it feel to have on the chain."
Slightly agitated, Maino replied, "See, now you just chatting. I gave you a time, now you just chatting."
From there, the interview really went downhill as Buba100x posed a question that Maino seemingly saw as a direct invitation for a physical run-in.
"On a scale of 1-10, how badly do you think I can beat your ass?" asked the YouTuber.
Without hesitation, Maino began to choke the social media prankster. As the crowd of people surrounding the situation stood there in shock, Maino pinned Buba100x to the nearby bar and yelled out, "I just told you, it's just a stupid video. Don't play with me."
Similar confrontations between social media users and rappers have become a bit of a trend lately. Back in August of last year, an unnamed person, who doesn't appear to be Buba100x, pulled up on G Herbo and asked the very same question—"How badly would I beat your ass?"
Fortunately for that particular individual and unlike Maino in the video below, Herbo didn't choose violence but instead, he threw a swift verbal jab at the man while holding his son, Yosohn, in his arms.
"My son will beat your ass," said G Herbo. "Fuck you talkin' 'bout, nigga?"
When the unidentified camera operator doubled down on the not-so-funny prank by asking "Who, him?" the Survivor's Remorse spitter took even more exception to the uncalled-for interaction.
"Say something," said Herbo as he immediately turned back toward the person holding the camera. "I want you to say something crazy about my son. I'll knock your ass out right now."
See Maino Choke YouTuber Buba100x in the Video Below
See the Definitive List of Bizarre Tweets From Rappers