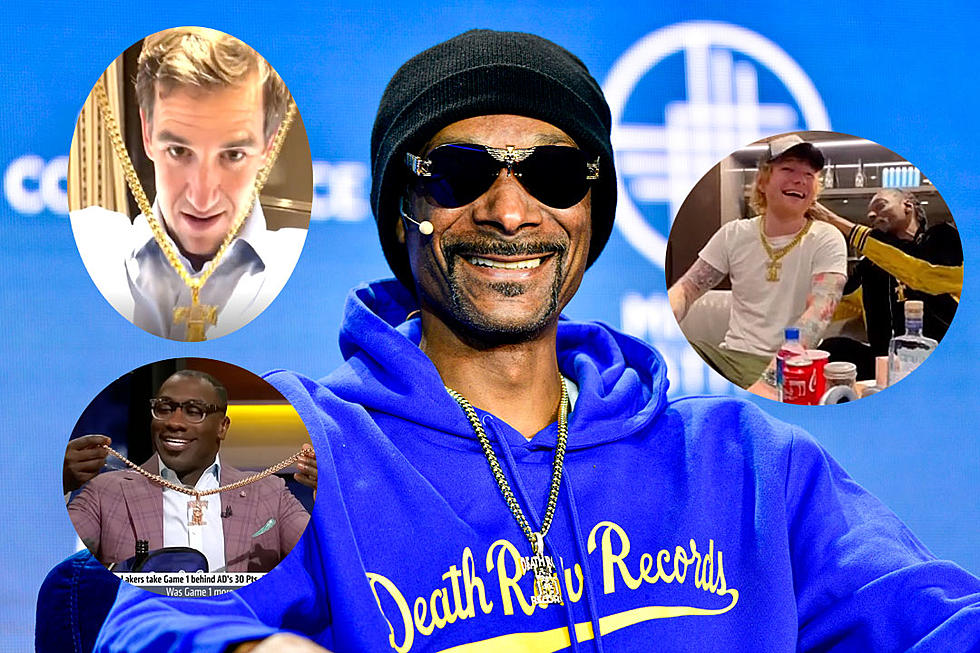 Every Time Snoop Dogg Gave Other Celebrities Death Row Chains
Jerod Harris/Getty Images
Two years ago, Snoop Dogg announced he had purchased the rights to the infamous label Death Row Records from MNRK Music Group. That move was major because prior, the imprint where Snoop was once signed to and which was run by polarizing character Suge Knight, had a number of owners after that legendary run in the 1990s. However, none could do the brand justice like Snoop as a person who largely helped define the imprint's legacy along with Dr. Dre and Tupac Shakur.
Since acquiring Death Row, the multiplatinum-selling rapper has been on a gifting spree. Snoop has been handing out Death Row chains to celebrity acquaintances in support of the label's latest generation. One of the people who got blessed with a Death Row chain was Ed Sheeran. Now, Ed the pop sensation has always been a part of rap's friends and family package so his connection to Snoop isn't at all shocking, but it's clearly valuable. In March of this year, during a tour stop in Australia, Snoop surprised Sheeran with a label chain backstage. Attached to that same moment was established actor Russell Crowe, who received a chain from Snoop as well.
Snoop hasn't just been giving chains to singers and actors though. He's shown love to athletes as well. Rewinding back to August of last year, Snoop hit the four-time NBA champ Steph Curry with his own gold chain. Continuing the trend of spontaneous chaining days and fast-forwarding up to more recent news, Snoop did the same for three-time Super Bowl winner Shannon Sharpe in early May of 2023. The honor was presented on Sharpe's ESPN show Undisputed, co-hosted by Lil Wayne associate and commentator Skip Bayless, who got iced out as well. Same thing in the case of former Giants quarterback Eli Manning.
Those are just a few mentions, but best believe that there are indeed more. In light of the idea that right now, Death Row chains are as hot as Patti LaBelle pies in November, XXL looks at all of the celebrities who have been christened with the famed pendant. Check out the full list below.
See All the Times Snoop Dogg Gave Other Celebrities Death Row Chains
See Rappers Who Had Their Chain Snatched Over the Years
Fetty Wap, Tyga, Quavo and more.