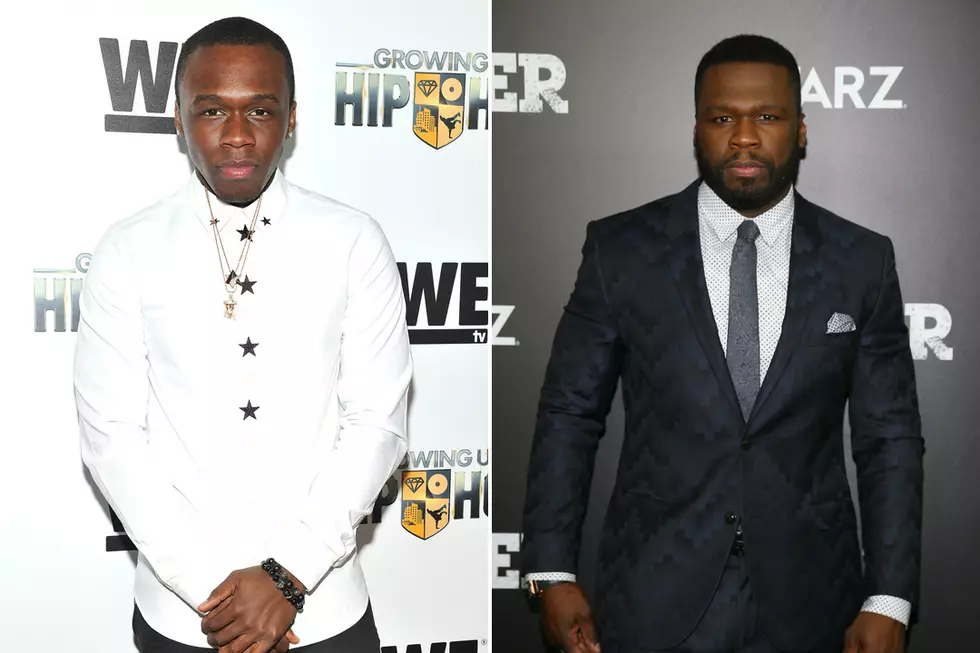 50 Cent's Son Responds to Fif Disowning Him With Maury GIF
D Dipasupil / :Paul Zimmerman, Getty Images (2)
The soiled relationship between 50 Cent and his oldest son Marquise made the hip-hop headlines once again recently when the rapper disowned the 21-year-old on social media over the weekend. 'Quise has gotten wind of Curtis' statement and has responded.
On Sunday (June 30), Marquise posted a GIF on his Instagram Story, which is a clear response to 50's claim. The image uses a clip of Maury Povich, the talk-show host known for settling paternity disputes on his show. The GIF shows Maury nodding his head with a crying laughing emoji in the center.
This stems from a statement made by 50 on IG after Marquise showed up for a show the Queens rapper was billed on alongside Cam'ron, The Lox, Fabolous, DMX, T.I., Snoop Dogg, Das EFX, Junior Reid and M.O.P. on Friday (June 28). 'Quise appeared to enjoy his father's set in the video he posted on social media as he jammed to tracks like "Magic Stick" and "I Get Money." 50's son watched the show from the crowd with the rest of the commoners. Someone called 50 out in the comments of one of his IG posts for not getting his kid better seats.
"Negro why you didn't give your own son backstage passes he in the crowd like regular people smfh," the person wrote.
50 fired back, "I got a blood test that's not my kid fuck outta here."
Judging by his response, Marquise seems to be brushing the whole thing off. He and 50 have had a very strained relationship over the years, with Marquise claiming the Queens rap mogul was not there for him at times during his youth. 50 hasn't been shy about letting his feelings be known in the past as well.
See Hip-Hop Fans Name The Most Disrespectful Diss Track of All Time