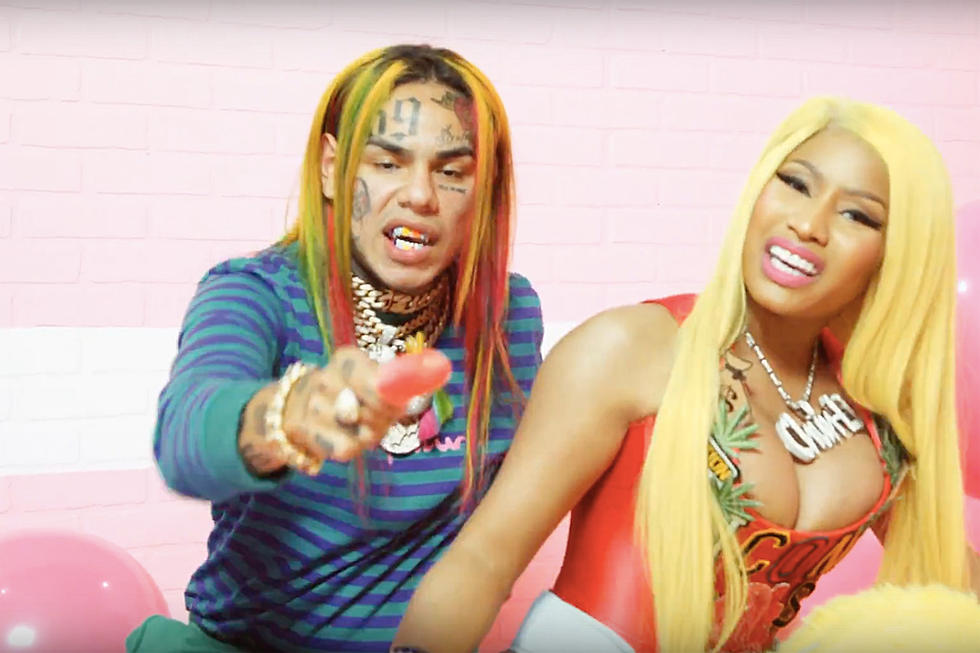 6ix9ine, Nicki Minaj and Murda Beatz Drop Colorful "Fefe" Video
Tekashi 6ix9ine via YouTube
Just a few days after fans speculated that 6ix9ine would be on a new track with Nicki Minaj, the rapper unloads "Fefe," a new, Murda Beatz-produced single that proves the rumors to be true. They've also unloaded a colorful video accompaniment for the track.
Mirroring the playful raunchiness of the single, the "Fefe" cover art includes some suggestive 3-D cartoon artwork that finds Nicki and Tekashi sharing an ice cream cone. Cartoon Nicki is rocking a G-string.
The video for the track features a variety of pink, yellow and red balloons, toddler-sized lollipops and a ton of baddies. It looks sort of like a Willy Wonka's chocolate factory.
The track itself is one that finds the two New Yorkers delivering confident flexes as they spit about their prowes in bed. Murda's thumping, club-ready beat serves as an appropriate audio canvas for the song, which checks in at just under three minutes.
"Pussy got that wet, wet, got that drip, drip/Got that super soaker/Hit that, she a Fefe/Her name Keke, she eat my dick like it's free free," Tekashi raps, showcasing a much gentler delivery than the one he used on tracks like "Gummo" and "Keke."
Matching Tekashi in terms of tone, Nicki, whose Queen album is set to drop next month, offers some ultra-sexual bars of her own. "P-Put it all up in his face, did I catch a case?/Pussy game just caught a body, but I never leave a trace/Face is pretty, ass for days/I get chips, I ask for Lays/I just sit back and when he done, I be like, 'Yo, how'd it taste?'"
With some authentic NYC confidence and a memorable hook, "Fefe" is definitely a slapper. Unfortunately, it arrives on the same day as a very unfortunate incident affecting Tekashi.
Earlier today, it was reported that 6ix9ine was pistol-whipped, robbed and kidnapped after shooting a music video in Brooklyn this morning. During the robbery, an estimated $750,000 worth of jewelry and up to $20,000 worth of cash were taken from his home. At press time, he is still hospitalized and doctors are running a series of tests to assess his condition.
Watch the video for "Fefe" below.
Check Out the 2018 Hip-Hop Music Festivals You Need to See