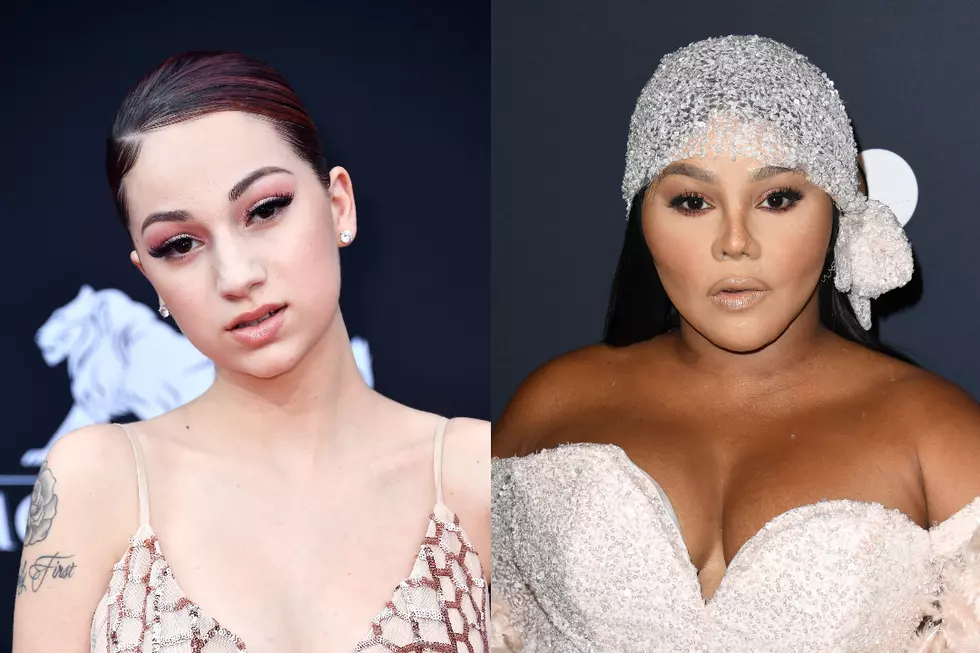 Bhad Bhabie Believes Lil' Kim Got Surgery to Look Like a White Person
Frazer Harrison / Jon Kopaloff, Getty Images (2)
Bhad Bhabie has used Lil' Kim to defend herself against haters who made comments about her on social media.
On Tuesday (April 14), footage from Bhad Bhabie's Instagram Live surfaced, in which she defended using darker foundations that she says makes her look tanned. The 17-year-old rapper went on to include Lil' Kim in her explanation, making comments about her facial features, claiming that the Brooklyn rapper "got surgery to make herself look like a White person."
"Lil' Kim wears fucking foundation, and no disrespect towards Lil' Kim, I am actually a fan of her," Bhabie said. "No disrespect towards her, but the girl wears foundation that's too light for her face. The girl went and got a nose job to have a smaller nose like white people. Like, y'all don't see that? And like I said, no disrespect towards her. I don't have a problem with it. She do what makes her happy. That's on her." 
Bhad Bhabie continued the comparison between herself and Kim. "But like I'm saying, she literally got surgery to make herself look like a White person," she said. "She's wearing makeup that's light and y'all don't say a goddamn word about her. Y'all don't say a goddamn fucking word about her, but I put on a foundation that makes me look tan."
On Wednesday (April 15), Lil' Kim responded to Bhad Bhabie's claims on her Instagram story, writing, "There's more important things going on in the world right now but you better believe when this is all over ima put a date and address on it and seal it with a kiss." In another post, the Queen Bee said, "There's a lot of rodents running around with COVID-19."
In what appears to be the same Instagram Live video, Bhabie addressed claims that she is trying to be Black, and in doing so, she used the Disney movie Tarzan to support her stance. The clip from her IG Live cut off before she could explain in detail, but her comments resulted in backlash on social media.
"And then another thing I'd like to say is, y'all say that I try to be Black because I...and maybe a reason in me trying to be Black is 'cause I grew up in the hood. Tarzan, right? The story of Tarzan," she said.
Bhad Bhabie's efforts to clear her name of cultural appropriation comes after she was criticized for wearing box braids in December 2019. At that time, the rapper pointed fingers at all Black women who claimed that her hair should not be styled that way. Bhabie later clarified her statement, saying that she wasn't referring to all Black women, only those who made comments about her hair.
XXL has reached out to a rep for Bhad Bhabie for comment.
See 12 Rappers Who Have Deleted Their Social Media Accounts