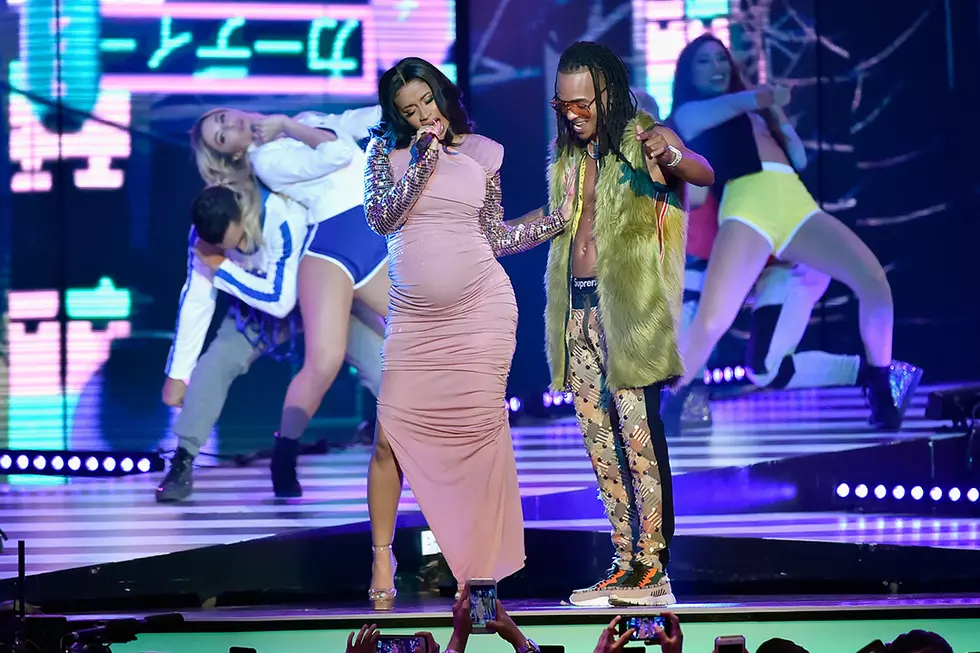 Cardi B Performs "La Modelo" With Ozuna at 2018 Billboard Latin Music Awards
David Becker, Getty Images
Cardi B may be putting touring on hold but the "Be Careful" rapper was able to get in one more performance at the 2018 Billboard Latin Music Awards on Thursday (April 26).
The Invasion of Privacy rapper joined Ozuna to perform "La Modelo"—their first time performing it on live television together. Cardi wore a pink, form-fitting dress that showed off her baby bump but still managed to bring the same energy she always does.
The two danced on stage together as Cardi showed off her Spanish vocals singing with Ozuna, "Bésame, báilame ahora/Me mete sudando, su cuerpo demora/De todas las babies ella es la championa/Se pone loquita si me escucha en la emisora, y ahora."
Following the Billboard Latin Music Award performance, Cardi B has one performance left on her schedule before taking a break. On April 25, the "Bodak Yellow" rapper announced her performance at the upcoming Broccoli Festival will be her final one before a short hiatus.
"Broccoli Fest will be my last performance for a little while and everything," she said. "Because you know, shorty keep growing and it's just like...you know, I be looking like I be moving and everything, but in reality, a bitch barely can breathe. I wanna thank y'all for understanding."
Luckily for fans of the artist, the break won't be for too long. Cardi revealed she will be back on stage in time for the Bruno Mars 24K Magic Tour which kicks off on Sept. 7. "I'll be back for the Bruno Mars tour and everything," she added.
Check out a few clips of Cardi B and Ozuna's performance at the 2018 Billboard Latin Music Awards below.
Check Out the 2018 Hip-Hop Music Festivals You Need to See