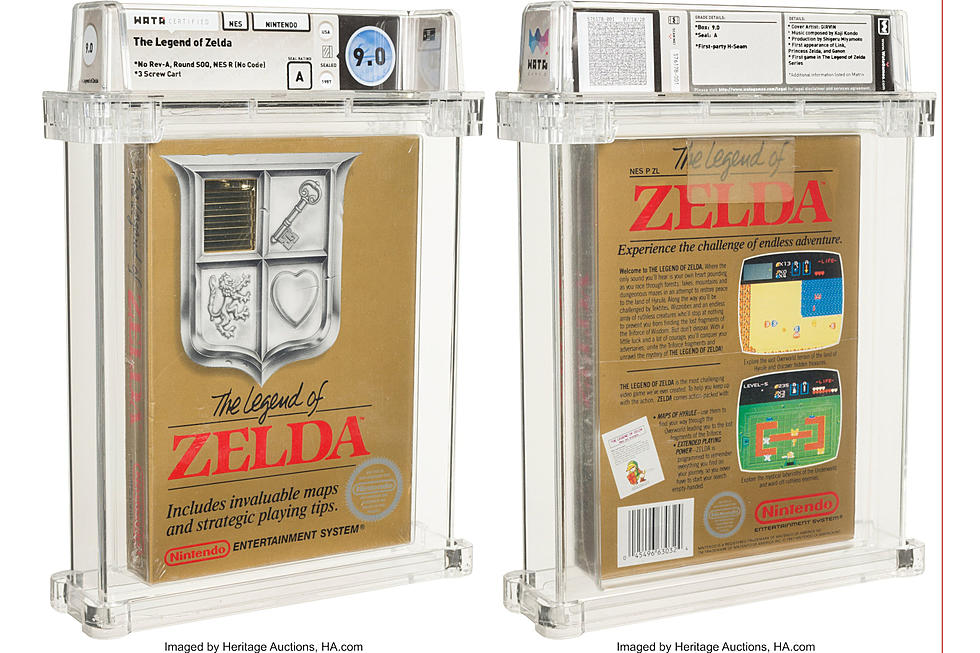 Dallas Auction House Sells Sealed Zelda Game From '87 for $870k
Heritage Auctions, HA.com
If you were a kid in the 80's or early 90's, you probably remember seeing those shiny gold Legend of Zelda Nintendo cartridges.
Rumor on the playground was that they were made of real gold, but you knew better after the gold paint started flaking off. Still, it felt like a real treasure, especially if you loved playing the game itself.
Check Your Old Toybox
If you have one of those gold copies now, it could be worth some decent money if it's in good shape.
But, if it's still sealed in the original packaging, it could be worth hundreds of thousands of rupees!
Um...I mean dollars.
---
---
You Found the Golden Cartridge! Joy!
Someone out there not only had an unopened copy of the game, but theirs was an "NES TM" cartridge believed to be one of the earliest copies produced for the American version of the Nintendo Entertainment System (known as the Fammicom in Japan) in 1987.
A True Treasure
The game is still shrinkwrapped, and I love that you can see a shiny gold corner of the cartridge peaking out of the top left square of the crest just teasing you. I was born in '86, so I can only imagine how mysterious and exciting it must have been to be a kid and see this on the shelf of a toy store.
There's not much information on the front of the box, but that gold glint and the promise of "endless adventure" on the back of the box were genius strokes of marketing.
Remember, very few people had internet access back then, and unless you were subscribed to Nintendo Power magazine, you'd have no clue what was in store for you when you bought this game. You either went in blind, intrigued by the package and that gold cartridge, or you heard about all the secrets and adventure the game offered on the playground at school and mowed lawns all summer to raise the money to buy it.
So, How Much Was It Worth?
When The Legend of Zelda premiered in the U.S.in August of 1987, the cartridge would have cost between $40 and $60.
Heritage Auctions in Dallas recently sold the unopened copy mentioned above for a world-record shattering $870,000.
The copy has a Wata grade of 9.0 A Sealed and was featured in Heritage's first standalone video game auction held over the July 9 weekend. The astronomical price it went for was $210,000 more than the previous record-setter from the same auction house - a sealed copy of the original Super Mario Bros. cartridge that sold for $660,000 back in April.
What Make It So Valuable?
There are two key reasons the cartridge was worth so much.
First, the staff at Heritage Auctions have reason to believe it's one of only two sealed copies of the earliest Legend of Zelda cartridges produced for North America. It would have been manufactured in late 1987, when the game was just hitting our shores after its massive success in Japan. In early 1988, Nintendo of America began producing variant cartridges, so the first-run cartridges are rare, especially unopened.
Second, there's a great deal of intangible nostalgic value. The Legend of Zelda was a groundbreaking game that changed the industry forever and introduced an entire generation to fantasy/adventure gaming. Some of my earliest memories are of exploring its dungeons and trying to find all the little secrets and hidden treasures, of which there was an abundance.
Countless people associate this game, especially those shiny gold copies, with their halcyon days of childhood. My hope is that whoever dropped that huge stack of cash for this sealed copy has fond memories of late night Zelda dungeon crawls and treats it like the priceless treasure it is.
Are There More Hidden Treasures Out There?
I wish I knew about this cartridge's story. It's over 30 years old, and I'm dying to know where it's been all these years and how it's managed to stay in such great shape.
Did someone in the late 80's keep an unsealed copy hoping it would pay off some day? Did some parent tuck it away in a drawer and forget about it? (That's what happened with the Mario cartridge.) Perhaps it was hiding in the corner of some warehouse for years.
Whatever the case, I can't wait to see what's discovered next. Someone out there probably has at least one sealed game cartridge that will drop like a nostalgia bomb at a future auction and perhaps shatter the new $807k record. It'll be tough to beat Mario and Zelda, though.
Pac-Man Facts: 40 Easily Digestible Bits of Arcade-Game History
From his arcade-game fame to his own TV show and appearances on all kinds of collectibles, a look back at Pac-Man.
KEEP READING: 10 classic board games that will take you way back
Top 15 Under the Radar Cities in Texas
Texas is booming, and as more people move here, they'll be looking at areas like Austin or Houston to settle down. There are plenty of others places they ought to consider, though.
Using data from the U.S. Census Bureau, along with data about home sales and public school ratings,
Orchard
recently ranked and graded the Top 15 Under the Radar Cities in Texas.
These are unexpectedly good places to make a life for yourself and your family in the Lone Star State. Did your hometown make the list?