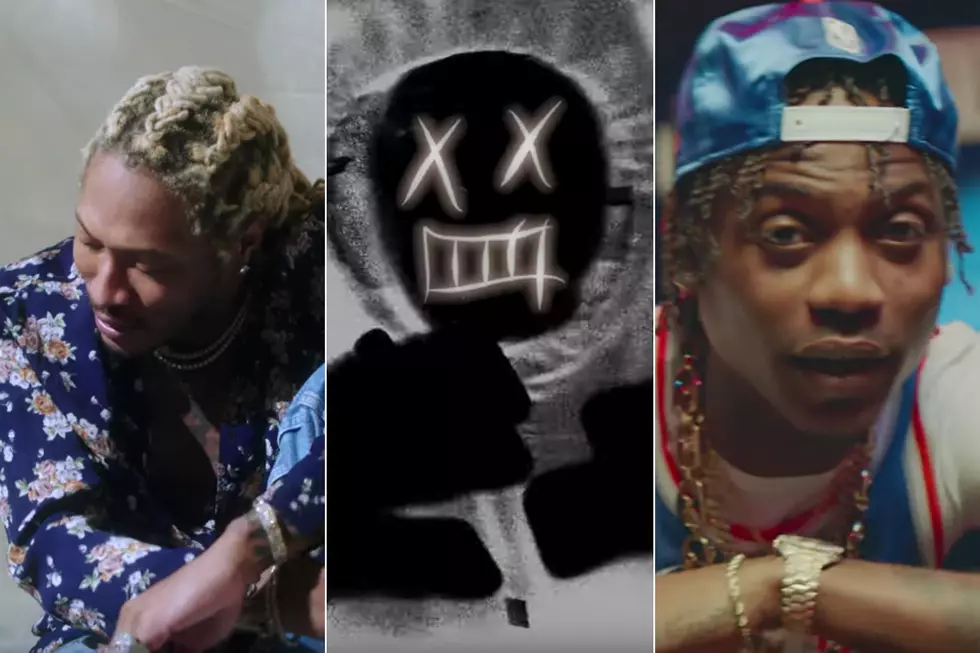 Future, YG, Flipp Dinero and More: Videos This Week
Future / Lyrical Lemonade / Flipp Dinero via YouTube (3)
Hip-hop artists have always understood the importance of a good visual—just look at the genre's history to view some classics. Nowadays, with internet savvy fans and artists, it pays to have a fly video to go with that song. And there are plenty this week. Watch and enjoy this week's video roundup.
Future unleashed a three pack of videos this week, all from his new EP, Save Me. One of the three is the gripping "Xanax Damage" visual, which is kind of like an art piece, with models and Future pacing through the video, devoid of emotion. The song is sad, which is well-reflected in the various scenes of an exasperated Future singing into a phone.
YG's "Stop Snitchin" made a lot of noise for a multitude of reasons, but he decided to remix it with one of the hottest rappers of 2019. For the remix, YG recruits DaBaby and they both run wild in the video. There's also an interrogation scene and things go as left as you'd imagine when you have two personalities like these guys.
Brooklyn rapper Flipp Dinero has always stuck out thanks to the array of styles in his bag. "If I Tell You" is a prime example of that. In the video, Flipp chases the object of his affection through a variety of locales, from a diner to a skating rink. Unfortunately, her dad is kind of a hater.
"Stop Snitchin Remix"

YG featuring DaBaby

"If I Tell You"

Flipp Dinero

"Ayy, Part 2"

SOB X RBE (Slimmy B)

"Handful"

Chaz French featuring Rich The Kid

"Fck Boy!"

Mr. Muthafuckin' eXquire

"Government Official"

Future

"Alone as a Facetat"

Wifisfuneral

"Sweet Thangs"

Tee Grizzley

"Call Me Daddy"

PopLord featuring Lil Baby

"Easy (Remix)"

DaniLeigh featuring Chris Brown

"Down"

Global Dan featuring Global Krayzie

"Gxing the Distance"

Scarlxrd

"Type of Way"

Eric Bellinger featuring Chris Brown and OG Parker

"Breakout"

Almost Famous featuring Soulja Boy

"Paint the Sky Red"

Rod Wave

"Where Was You At"

Good Gas and FKi 1st featuring Matt Ox

"Loco Contigo"

DJ Snake, J. Balvin and Tyga

"Sucka Free"

Jozzy featuring Lil Wayne

"I Had Enough"

Stro and 070 Phi

"Camp America"

Vic Mensa with 93Punx

"Boss"

DJ Pharris featuring Young Dolph and G Herbo