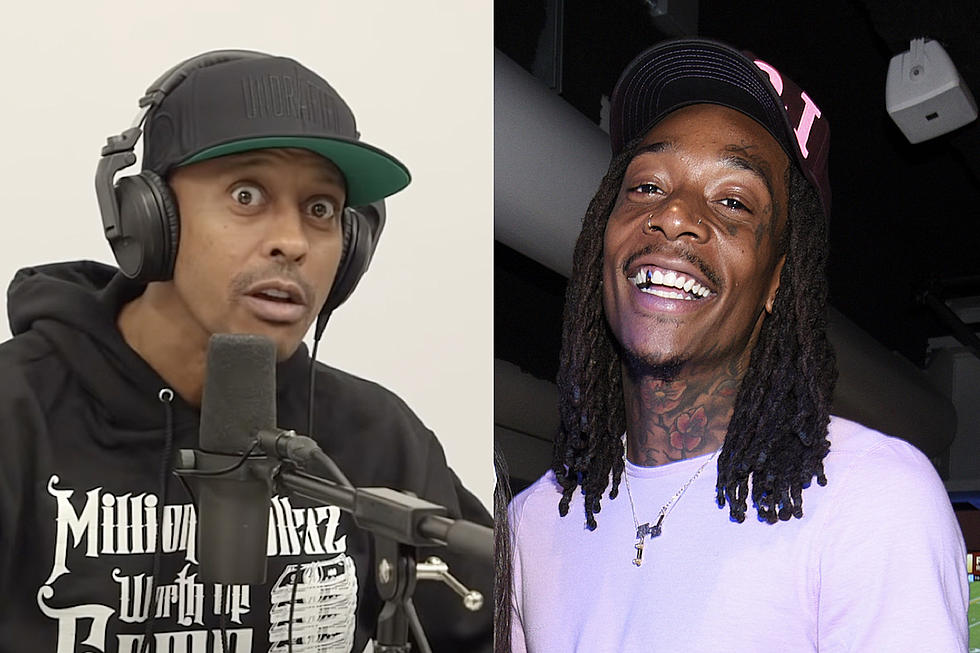 Gillie Da Kid Implies Wiz Khalifa Got Gillie's Instagram Removed for Bullying
Million Dollaz Worth of Game / Vivien Killilea, Getty Images
Gillie Da Kid's Instagram page has been deactivated and he thinks Wiz Khalifa had it removed for bullying.
On Saturday (April 9), Gillie Da Kid jumped on Twitter to inform his followers that his Instagram account has been removed. The rapper-turned-podcaster implied that Wiz Khalifa got his page shut down for bullying after Gillie Da Kid clowned him for his tight gym shorts on Thursday (April 7).
"U tell a ni$$a put sum shorts on he tells IG ur bullying him and gets ur page deactivated," Gillie tweeted along with a face-palm emoji. "Ni$$a I was playing des rappers so pu$$y."
It's unknown if Wiz went to Instagram and reported Gillie for bullying. However, the social-networking platform has a zero-tolerance policy when it comes to bullying and has tools in place to protect users from such harassment.
But not to worry, Gillie announced that he has a backup IG page called @gilliedaking_newpage. The veteran Philadelphia rhymer also wrote a message seemingly to Wiz. "I can't wait till I see u again," referring to Wiz's diamond-selling single, "See You Again" featuring Charlie Puth.
As previously reported, on Thursday, Gillie posted a video poking fun at Wiz's workout clothes, which he felt were a little too tight.
"It's a little crazy today 'cause I had to unfollow one of my brothers," he told his followers. "Wiz Khalifa, man. I love you brother. I'm still riding around banging 'Black and Yellow' and when I '[See You Again].' You a legend, man. It's Pennsylvania, baby. Philly to Pittsburgh, but I had to unfollow 'em today, man. Every time I come on my page, man. You in ya draws, man. You giving up strap and ball action, man. Everyday, man? I can't do eight balls in the corner pocket when I wake up, man. So, I had to unfollow you, playa. But I love you, though. You know you my brother for life."
Wiz responded to Gillie's jab by uploading a photo of himself in the gym, standing behind a rack of barbells with the caption, "Not responsible for your childhood trauma."
Gillie Da Kid replied to Wiz's since-deleted post, writing, "Childhood drama man put ur shorts on wiz," along with several laughing emojis.
The Taylor Gang leader then dropped an IG video to address how he deals with negativity on social media.
"The same niggas who be telling me to put clothes on in the gym or unfollowing me because I make them uncomfortable, y'all the same niggas who laughed at people when they read in high school or said that you sound stupid because you sound smart," he stated. "Y'all are negative, and you know what I do with negativity? See ya."
On Saturday, Gillie posted his own video of himself boxing in the gym with a trainer. The Philly rapper was rocking a white T-shirt and tie-dye black joggers that were noticeably loose along with white sneakers. It's an obvious wink and a nod to Wiz Khalifa. Watch Gillie Da Boxer below.
See 10 of the Shortest Beefs in Hip-Hop
Beefs within rap that ended quickly.