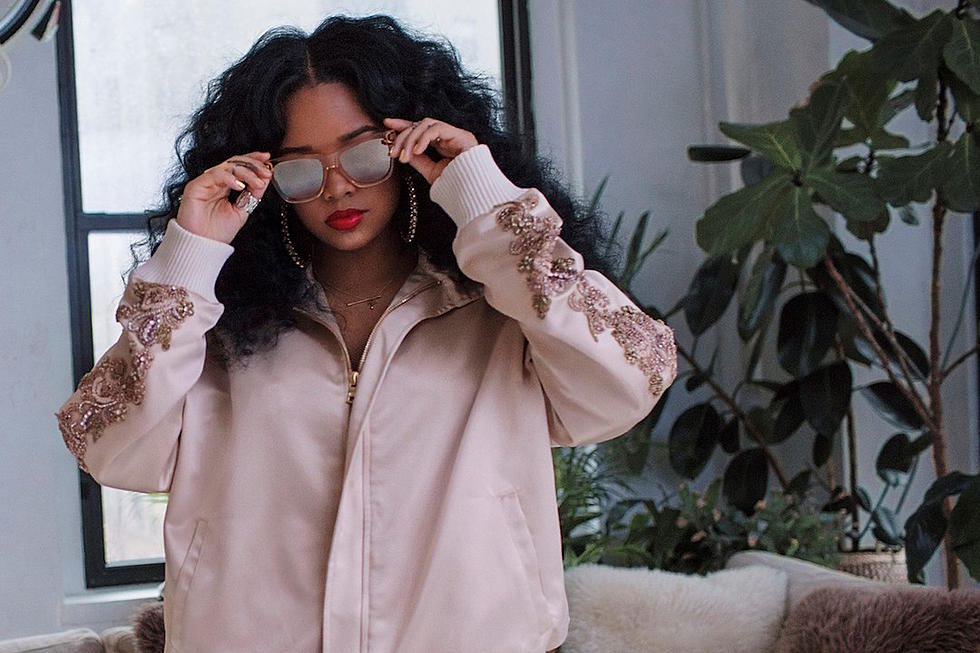 H.E.R. Wants to Work With J. Cole and Drake
Sue Kwon
[LET EM KNOW]
The Real Her
H.E.R. may be an R&B darling but her heart beats for hip-hop.
Words: John Kennedy
Editor's Note: This story originally appeared in the Winter 2018 issue of XXL magazine, on stands now.
H.E.R. is an enigma: The 21-year-old singer shrouds her identity and image in shadowy mystery, yet bares all via emotional, lovestruck lyrics. A total-package vocalist from Vallejo, Calif., H.E.R. mesmerized the music world back in 2016 with a breathtaking cover of Drake's longing track, "Jungle," helping her grow a rabid fan base that's desperate to hear the two sentimental souls collaborate. In the meantime, the elusive chanteuse has incorporated hip-hop into her work, particularly on her 2018 EPs I Used to Know Her: The Prelude and I Used to Know Her: Part 2. Because to H.E.R., it's all about finding the words (and sometimes, bars). She phoned XXL to speak about channelling Lauryn Hill, her poetic roots and which Drake song she wishes she'd wrote.
XXL: Your lyrics have a poetic feel to them. Do you write poetry?
H.E.R.: Yeah, I'm a poet above all things. I started writing the most silly rhymes when I was 5 [or] 6 years old. In school, I used to compete in poetry slams. There used to be a club in my hometown called Listen & Be Heard. That's where I experienced spoken word. It made me approach my songwriting differently.
You can hear that in "Lord is Coming," where you open with a spoken-word verse about issues like gun violence and President Trump's immigration policies. Why did you choose to record that way?
I felt like it was an opportunity to talk about the issues that I feel passionately about without being controversial [or] political. I wanted to find that balance of being passionate, resonating with everybody and telling the truth. Spoken word was the best way to do it. I've been very reflective lately, thinking about what's going on, how I want my project to sound, my perspective. I felt the need to say those things.
You also rap about feminism and self-confidence on "Lost Souls," which
channels Lauryn Hill.
I was stepping out of my comfort zone, being a little bit more aggressive and having Lauryn in mind. I wanted to shock people. I was nervous at first, but felt very confident about it right before the project came out. When I heard the beat I was like, "This has to be musical but I have to be rapping. There's just no other way." DJ Scratch scratched on it. He's super dope.
What new hip-hop artists are you listening to?
Ryan Trey—he's kind of in that rapping/singing vibe. He's super dope. I like J.I.D. There's a lot of new people out right now. YBN Cordae—he's one of my good friends. I love his music and his work. He's so talented. He's definitely one of my favorites out.
Yeah, we did. We have to finish the song that we started, but we've both been so busy,
in and out of town. We're gonna make time, 'cause that's definitely my homie. He's hilarious. He's quick, too; we bounce ideas back and forth, sing melodies and just talk about life. It's good vibes.
Is there anyone else that you would like to work with that you haven't already?
Yeah, I mean J. Cole is in like the top three people who I wanna work with. And Drake, for sure.
Why did you decide to cover Drake's "Jungle" on your H.E.R. Vol. 1 EP?
The lyrics really hit home for me. I just felt like I could kill this, like this is a song that I wish I would've wrote. I think about this rapping/singing thing that Drake kind of re-invented. There's so many other artists before him—like James Brown—who did that. I felt like I could do it as well. Sometimes in rap and poems you can go into more detail with what you wanna convey. That's what "Jungle" did.
If you could cover another Drake song, which would it be?
He did this really cool thing on his new album [on "That's How You Feel"]. He made the last word of every line [begin] the next line. That's so clever. I wish I'd wrote it. We've been talking about getting in the studio together but he's extremely busy and so am I.
Here's the Ultimate Guide to Rappers With Acronyms in Their Name