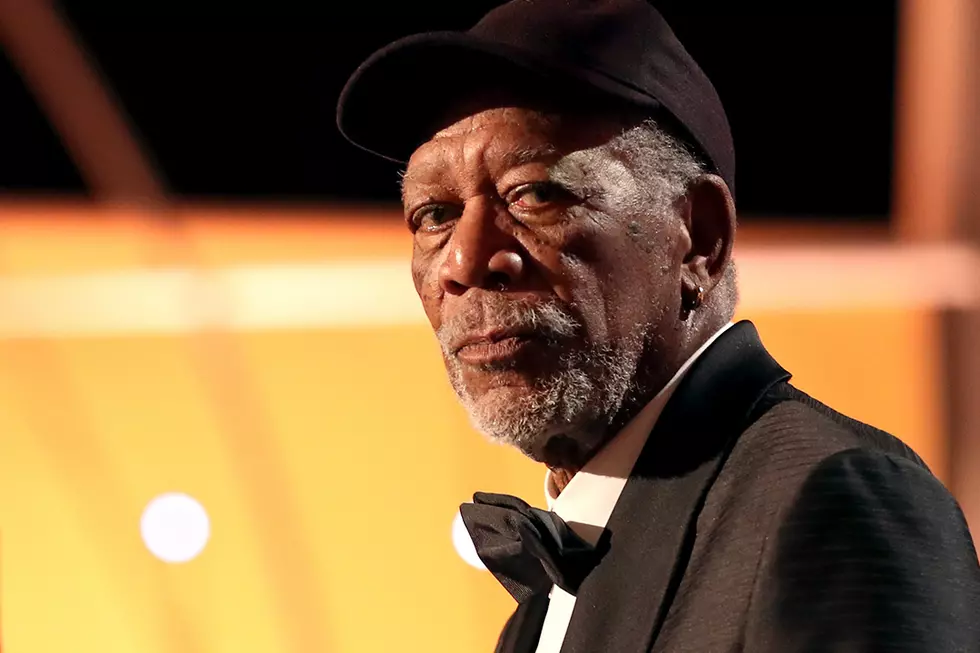 Here's Everything Morgan Freeman Says on 21 Savage and Metro Boomin's Savage Mode 2 Album
Christopher Polk, Getty Images
On Friday (Oct. 2), Metro and 21 unleashed their second joint album, Savage Mode 2, with the help of rappers like Young Nudy, Drake and Young Thug. Alongside Savage and Metro tapping some of their hip-hop peers for the Slaughter Gang and Boominati Worldwide project, a surprising co-collaborator makes an appearance on the LP.
Morgan Freeman lends his narrating skills to Savage Mode 2, dropping monologues throughout the record. From the start, The Shawshank Redemption actor delivers gems from the top to the bottom of the LP.
Three days prior to the project's release, a video teaser directed by Gibson Hazard and narrated by Morgan Freeman materialized on social media, hinting at the project's arrival. In the minute-long trailer, Freeman breaks down the true definition of savage mode, saying, "Savage is defined as fierce, beastly and untamed. Mode is defined as a way of operating or using a system. So to be in savage mode is to go hard, not allowing anything to stop or deter you from your mission. Basically, this means if someone is in savage mode, they're not to be fucked with."
Actors and comedians have participated in album announcements with rappers plenty of times over the years, but Morgan Freeman's involvement in Savage Mode 2 was a welcome surprise. The 83-year-old Academy Award-winning actor addresses topics like love, lust, snitching and enemies on the album. His signature baritone voice elevates the listener's experience as he breaks down the difference between a snitch and a rat.
See everything Morgan Freeman says on 21 Savage and Metro Boomin's new album Savage Mode 2 below.
"Great men with great ideals can be separated by hundreds or even thousands of miles and still be in the same place. They can be years or even generations apart in age. And yet, somehow, find themselves on the exact same page. When these men join forces to put the focus of reaching the same goals, to attain the same outcomes, they are not two, but one. Instead of simply adding one's common attributes to another's, they somehow tend to multiply all attributes of both. Whether from St. Louis or East Atlanta, whether from a savage land or a booming metropolis, whether they are two or two billion, the greatest their numbers could ever become, is to truly become one. I now present to you Savage Mode II."

"Are things better or worse the second time around? Can we really do anything more than once?"

"When your vision is crystal clear, they say it's razor-sharp. A focused mind is said to be like a knife, but the scalpel is wisdom. All one can do is accept that life is a double-edged sword. Stay on the edge."

"The evil man envies the good in others. What this means is all hatred is really born from hatred itself and can only serve to aid in one's own destruction. This is the downfall of many men."

"Snitches & Rats (Interlude)"

"A regular citizen who reports seeing a crime isn't a 'snitch' or a 'rat.' The criminals were just sloppy. Snitches and rats are not the same thing. Let me break it down to make sure y'all see what I mean. A 'snitch' is someone minding other folks' business. To find information they can sell for a price or trade for some other form of compensation. A 'rat' is a traitor, a conceiver, planner or physical participator. He doesn't sell secrets for power or cash. He betrays the trust of his team or his family hoping to save his own cowardly ass. The difference is, at least a snitch is human, but a rat is a fuckin' rat, period."

"A wise man knows not to have a lot of enemies. The friction of constant conflict is a distraction in life. And left unchecked can end up being what subtracts him from life. If possible, all enemies should be eliminated."

"Truly genuine love never really dies. But lust, infatuation and unrevealed attraction are all things that over time rarely survive."

"When all is said and done, we can only judge, punish, reward, enslave and free ourselves. There will always be doubters and haters, but they only have the power you give them. Remain focused, move forward and never lose faith in yourself. Until next time, stay in savage mode because anything else would be too damn civilized. Peace."