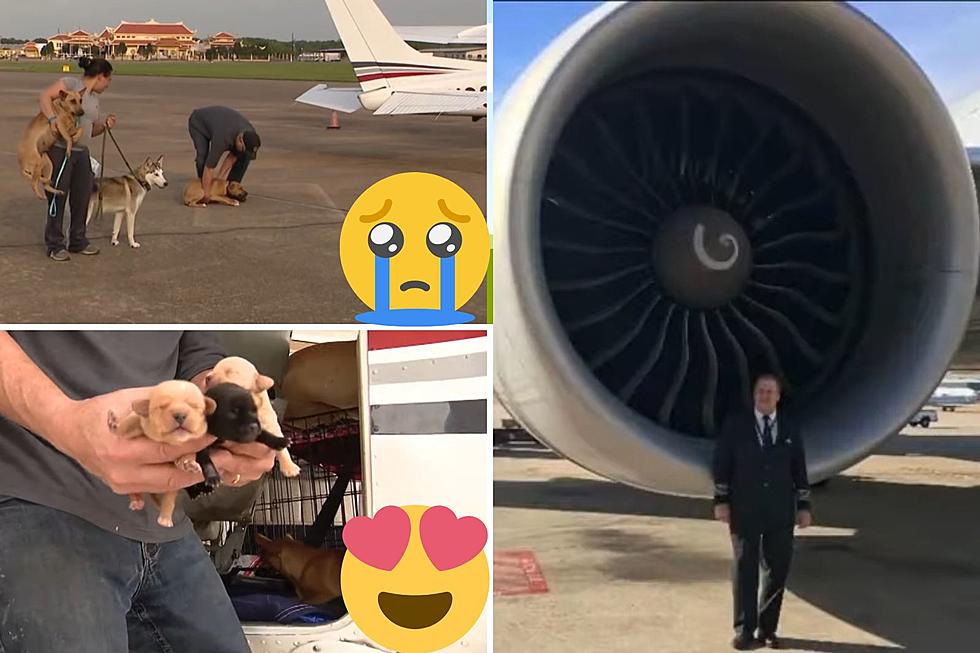 Fantastic Furry Rescue – Houston, TX Pilot On Mission to Save Puppies
Fox 26/Canva
Controlling the pet population is something we should be aware of. After all, there is a reason at the end of The Price is Right tell us to "spay and neuter" our pets. But even with our efforts, we've all seen a cat or dog running around Texas without a tag.
Yes, while moves are being made to help keep the amount of dogs and cats in check, there are still ones in the wild. Unfortunately, when these animals are picked up, some are euthanized. But one high flyer in Texas is making strides to help land dogs in forever homes.
A pilot has taken to the friendly skies of the Lone Star State, picking up pups that are finding their ways into people's hearts and homes.
Houston, Texas Pilot And His Noble Cause
KRIV-TV reports that Wayne Wickline bought a plane right before the COVID-19 pandemic. What did he do with this plane, you ask? Well, he started saving dogs of course!
Wickline has rescued 3,500 dogs so far. He also told FOX 26 that he doesn't really do it for himself, moreso for the end result of the dog finding a home:
"I like the ending part. I always like to hear what they name them when they get into their new home. You ask what they named them. They've got a new life when they came from something terrible."
I think we speak for all Texans (four-legged and otherwise) when we say thank you for your service, Wayne.
Adopt, Don't Shop
Personally, I just want to add that if you're looking to add a new member to your family, you really should check out your local pet shelter or rescue operation. Not only would you be saving a life, but you'd be making a friend who'll shower you with love and loyalty. Shelter pets make great companions.
Many dogs sold at pet shops and online come from puppy mills, where mama dogs often live in horrific conditions and are constantly bred for more puppies until their poor bodies are just destroyed.
So a shelter pet can enhance your life while you save theirs. It's a win-win.
LOOK: 15 Pets You CAN'T Own in the City of Temple
Temple is a super pet-friendly place to live, but there are some animals city officials would really rather you not try to tame and keep in your home. Let's take a look at a few of the critters on the
banned list
.
10 Most Beautiful Cities In Texas Includes Salado
MoneyInc.com compiled data of the most beautiful cities in Texas.
Strange And True, Have You Heard These Name Origins Of Certain Texas Towns?
With so many towns in the Lone Star State, there's a few that might leave you scratching your head for their names.
Step Back In Time And See The Temple, Texas Mall From 2010
As Temple continues to grow, it's interesting to look back and see what once was. Take a look back at the Temple Mall as it appeared over a decade, with commentary from my coworker, Aaron Savage.