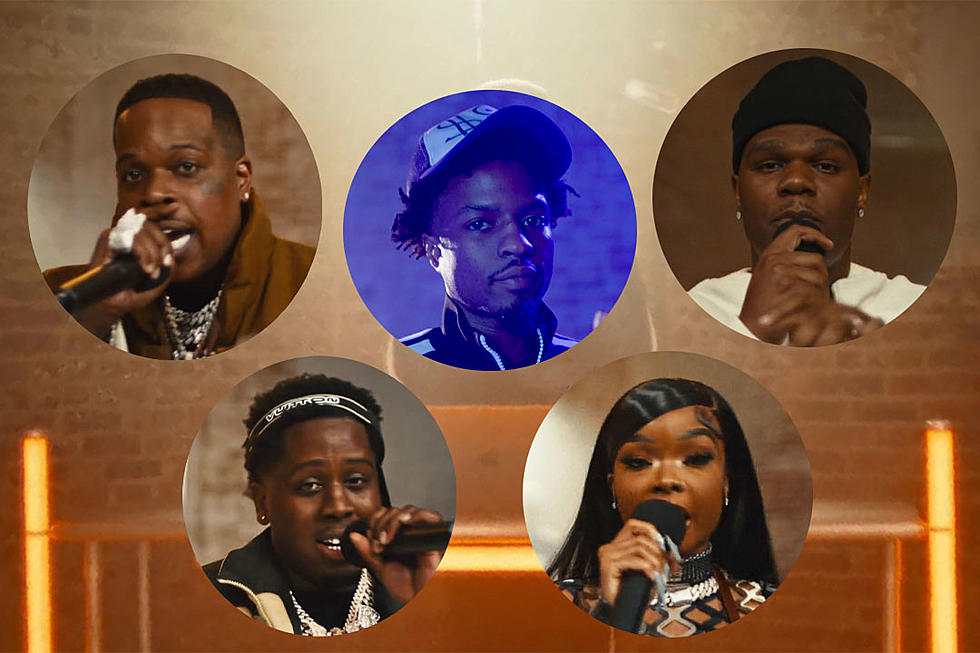 2023 XXL Freshman Cypher With Finesse2tymes, Lola Brooke, Fridayy and Real Boston Richey – Watch
XXL
The 2023 XXL Freshman Class has had all eyes in its direction over the last month. They've clapped back at mean comments, offered up their own version of the ABCs and recounted their come up. Now, they're pulling up with a hefty supply of bars for this year's Freshman cyphers.
For the first cypher, Finesse2Tymes, Real Boston Richey, Lola Brooke and Fridayy. Cruising over a haunting beat from this year's Freshman cypher producer Pi'erre Bourne, the four spitters unload a barrage of acrobatic couplets and emphatic flexes, showcasing the skills that got them all a spot in the class.
Taking the lead, Finesse2Tymes makes it a point to contextualize his legal struggles as a convict who was just released from prison a year ago. "I'm from Memphis, R.I.P. to Billy Bo/Wrestling with my freedom, now I got s**t in a figure four," he raps over the pummeling beat. Next up is Real Boston Richey, who lets loose philosophies on loyalty and block logistics. "Slidin' in the Mustang, half a brick, I'm duckin' undercover/You know I been havin' s**t, I ain't never been no f**kin' runner."
While Richey and Finesse dismantle the beat with percussive flows and spurts of venom, Philadelphia's Fridayy leans into his melodic instincts, singing his way through a tale of self-belief and perseverance. "They wasn't with me, back when I was driving in my '03/I was sitting on that bench, they wouldn't play me/Now I'm up on n***as like I'm KD," he sings in a tone that's at once husky and gentle.
Hailing from Brooklyn, Lola Brooke closes things out, unspooling a barrage of not-so-humblebrags with her signature authoritative delivery. She's got quippy bars, but her tone is embedded with a deadly seriousness: "Put my problems in a blunt, I'ma spark them Ls/Send shots to your mans while he pick up the shells."
Check out the full cypher featuring Finesse2tymes, Lola Brooke, Fridayy and Real Boston Richey for yourself below.
Watch 2023 XXL Freshman Cypher With Finesse2tymes, Lola Brooke, Fridayy and Real Boston Richey
The Freshman issue of XXL magazine hits stands everywhere on July 18. See Finesse2tymes, Rob49, Fridayy, GloRilla, 2Rare, SleazyWorld Go, Lola Brooke, Central Cee, Real Boston Richey, Luh Tyler, TiaCorine and DC The Don's official Freshman pages. In addition to interviews with all 12 artists in the 2023 Class and Freshman cyphers producer Pi'erre Bourne, it includes interviews with Lil Baby, NLE Choppa, Boosie BadAzz, Toosii, DDG, Saba, producer Go Grizzly, engineer Jaycen Joshua, singer Coco Jones, SinceThe80s' President Barry "Hefner" Johnson and AEW wrestler Swerve Strickland, plus a look back at what the 2022 XXL Freshman Class is doing, hip-hop's love for golfing featuring Scarface, OMB Peezy and pro golfer Harold Varner III, conversations with 10 new artists making noise and a deep dive into A.I. hip-hop songs. You can also buy the 2023 XXL Freshman Class issue here.
See the 2023 XXL Freshman Class