Seen It All
Fat Joe is known as hip-hop's best storyteller. That's a title he's earned because of all the iconic moments he's experienced during his 30 years in the game. And his witty way of recounting them. The Bronx native got his start with his 1993 debut album, Represent. To date, he's dropped 10 solo albums and four collabo albums, and created his own successful label, Terror Squad, which launched the careers of Big Pun, Remy Ma and more. He's been part of hip-hop history as an artist, a label head, a witness and a fan.

And after all these decades, Joe, 52, is arguably bigger than ever. In 2020, the rap star put out The Fat Joe Show podcast, which has offered a stage for his charismatic personality to shine. Last year, he put out The Book of Jose, an insightful memoir that has led to several upcoming TV projects. And with all that, the diehard rap fan and talented MC is just getting started.

On a cold February afternoon in lower Manhattan, Joe celebrated the upcoming 50th anniversary of hip-hop by looking back at the music genre's highlights and his own. Like Joe says, legends never die.
XXL: It's not about if you are a legend, but why you are a legend.
Fat Joe: I'm a legend in hip-hop more as a fan first, just being born in the Bronx, N.Y., birthplace of hip-hop. Having access. Could you imagine the whole world was just on my block, my community, and went from writing graffiti to breakdancing to rapping? MCing? Got my start at the Apollo. It's 30 years later, since I dropped my first album and we even more relevant today. Legends never die.
You got into rapping 30 years ago. Any idea that hip-hop would take you this far? 
I knew hip-hop would make it this far and much further, and I always knew that. My belief was always strong in hip-hop. Music, hip-hop culture. But would I have been here 30 years later? Would I have been in the game still doing things, and doing what I love to do, and sold-out concerts every week and stuff like that? Nah, I didn't think it'd last this long for me.
What do you remember about those days when you first started? What hip-hop was like?
When I first started in the Bronx, doing Club 2000, the Fever, it was the class of '92, '93. So, you had everybody from Diggin in the Crates, Lord Finesse, Diamond D to Gang Starr, to Craig Mack, Biggie, early Jay-Z, early, early Nas. This was the era that would change the whole game. There was nothing like it. It was just such a vibe, man. It was just, everybody trying to help each other. Everybody trying to succeed. Everybody trying to push this culture forward. And it was pretty much about the culture. Less about finances and making money and stuff like that. It was about getting your name out there. Getting your props. We call that clout now. Collaborating, you know, just lifting the hip-hop culture to another level. 
My first biggest moment was "I Shot Ya," LL Cool J's collaboration. I was going into my second album, and I got to work with Foxy Brown. That was the first time she ever rocked. LL Cool J was my idol, mentor. Keith Murray. R.I.P. Prodigy. It was just a breakout. It was letting people know I was real. It wasn't just like a rap hobby.
My next moment would be discovering Big Pun. I put him on the second album, and then we just focused on Pun, just making him a rap superstar. And Pun became the first Latino solo artist to sell 2 million records. Frenzy. Latinos never saw nothing like that. One of the greatest lyricists that ever lived in life. We dropped "Still Not a Playa" and played it on the radio in the morning show on Hot 97. By the time I made it to the lobby, Lyor Cohen, Craig Kallman, Steve Rifkind, every executive you name in the world was waiting for me at the lobby like, "Yo, you got any other Spanish cousins? I wanna sign them now." That was my moment of becoming rich at that point, you know?
Big Pun was nominated for two Grammys. He went and got the finger waves like Dru Down. It's that iconic picture where we look like the kingpin. The big-ass suits. I remember when we went to the Grammys, they had told us that they do the hip-hop awards before, and we lost. Ricky Martin was doing the "Living La Vida Loca" and I'm looking around. It's Aretha Franklin. It's Kirk Franklin. I waited my whole life to get there. Pun was like, "Yo, f**k these people, man. They jerked us." I was like, "What?" and he was like "Let's go." I was like, "Yo, Pun, are you serious?" He was like, "Yo, let's go." F**k that, you my brother, let's go. I was like, "Aight, f**k it. We gotta go." That was a big moment for us. We left. We left the Grammys. And we were strapped, like the cover, at the Grammys. 
I'll never forget the night before Eminem's first album came out. We waited on line at the Tower Records on Sunset. Me and Big Pun, we waited online, just to get the CD. We bumped that all night. Then unfortunately Pun passed away and I had to step up. And put out hits like "We Thuggin'" and "What's Love," and then it took me double platinum. I just kept fighting forever.
I've been blessed. A lot of people think if you win, win, win it's the biggest blessing, but you gotta know who's really here for you. Who's really with you. So, I went through ups and downs in my career. There was times where I was No. 1 in America, and then I fell off. So, I got to see who was with me, and then I came back and was No. 1 in America. And then everybody wants to jump back on, and then I fall back down. In this industry, when you fall, it's unapologetic how the people just run away from you and leave you. And then I came back again, No. 1. And so, I got to see who my true friends were. 
"A lot of people think if you win, win, win it's the biggest blessing, but you gotta know who's really here for you."
Who were some of those true friends?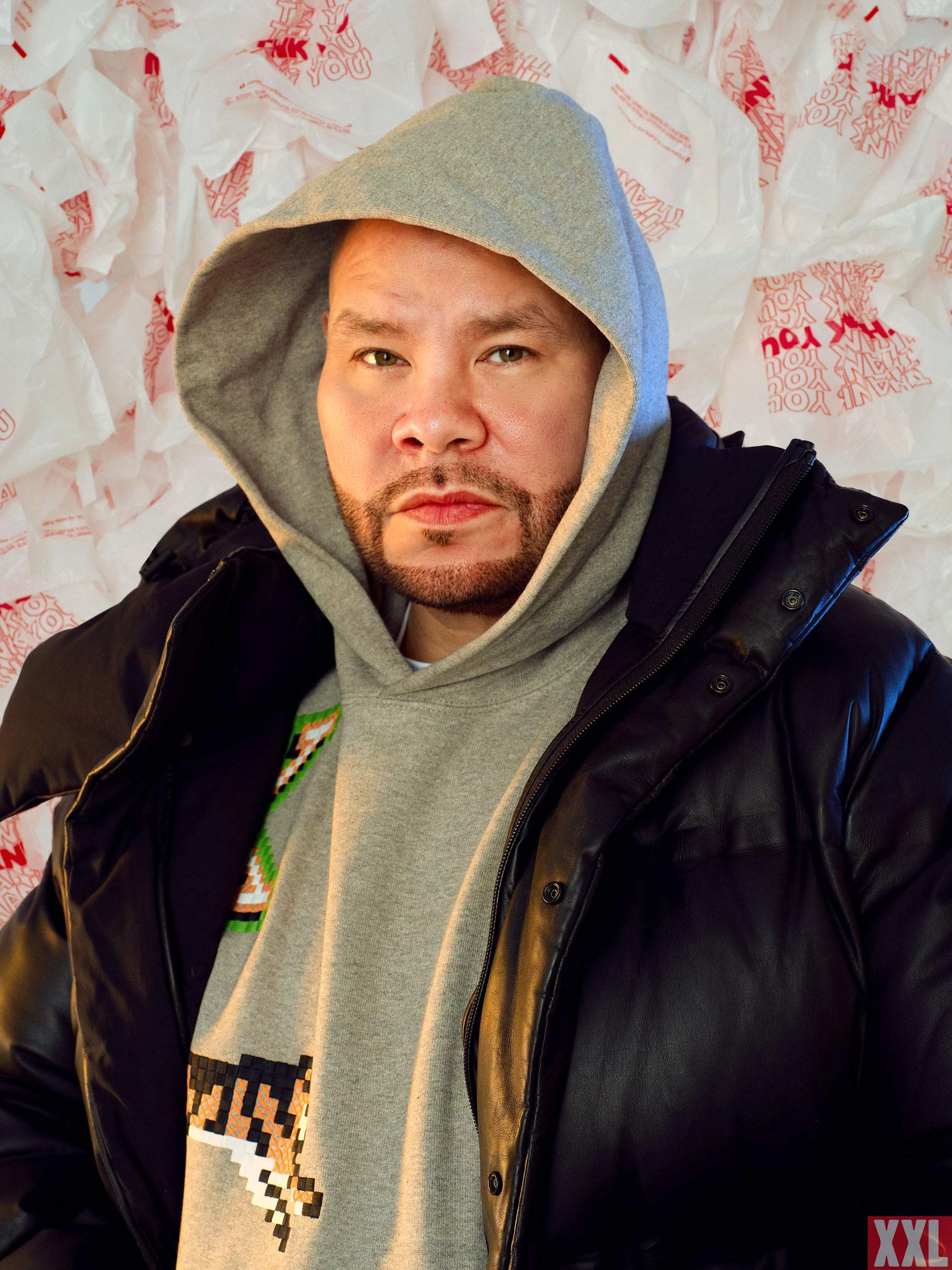 True friends is a N.O.R.E., Khaled, Remy Ma, Cool & Dre. You know, they were there for me at times I was depressed, and I needed to get talked to come out the house. When I hit 40 years old, I thought life was over. I thought, Who's gonna be a 40-year-old rapper. That was tough, bro. And I remember Dre came in and he started convincing me, he said, "Yo, man, you know Tina Turner made her first hit when she was 48." "What?" 
So, big moments, Remy winning the Female Rapper of the Year. You know, Nicki Minaj had the game on the chokehold for many, many, many, many years. At one point, we felt like she was the only girl rapper in the world. You just felt like there was nobody else rapping. And then Remy came and took the title. That was big for us. My Rucker Park coaching, you know that was big for me. Street basketball. If I pass away, I got in my will that my hearse gotta drive through the Rucker. They gave me like seven incredible summers out there when we did incredible things. I'm still the all-time winningest coach out there. You know, bunch of things. We've been celebrating success a long time.
What's been the soundtrack for you? Key albums that you've gone to over the years as a hip-hop fan that you listen to and enjoy that bring you back to whatever made you love it?
Key albums, for me, to go back and get me focused is Illmatic by Nas. I feel like it's the greatest hip-hop album of all time. Slick Rick's Great Adventures. Big for me. Biggie's Ready to Die. I go back to that. My second album, Jealous Ones Envy 'cause I was just so hungry then. So, you know, when you start getting all this wealth and living different, you know sometimes you lose yourself. And so, that's always been my true DNA. My true blueprint. Where I've been able to go find myself as an artist back to the second album. You see how f**king raw you was? You see how hungry you was? And it puts me back into perspective with everything that I know now. 
Paid in Full by Eric B. Rakim is a go-to album for me. The Chronic is just like, I don't go to the Chronic all the time, but when I do, magic happens. Because if you listen to "Lean Back," to me it feels like a lost tape of Dr. Dre. It just feels like that and, me and Pun with "Twins," "Deep Cover," you know, we sampled "Deep Cover." It's another big moment for us, when Pun hit 'em with that "Dead in the middle of little Italy, little did...," you know. That probably to me, being a hip-hop historian, was the greatest cover of any song. Like, it was the greatest flipping a classic into a classic, you know, which is hard to do, know what I mean? That was ahead of its time.
Similar to your highlights in your career, what are the highlights in hip-hop that you think have been amazing moments for the culture? 
The biggest moment I've ever attended was Verzuz, right out of the COVID, with The Lox against Dipset. You gotta understand, even though I grew up in the Bronx and I used to get these cassette tapes with the rap battles and all that, so when we heard these stories like Kool Moe Dee versus Busy Bee, you heard all these legendary battles. The Cold Crush against the Fantastic 5, Fantastic Romantic. This is stuff we heard of. This is almost like a unicorn or a Sasquatch. But when I was at the Verzuz, and Michael Buffer comes out and he goes, "Let's get ready to rumble! Here, out of Harlem, N.Y., Dipset. He goes by the name of Freekey Zekey..." I wanted to die. Like they could've killed me at that moment, and I'd've been straight with life. Like it was so f**kin' unreal. The environment was that raw, New York, gritty. Anybody that was somebody from outta town came in. And to see two super groups, The Lox and Dipset, go at it hit for hit…
I'll tell a story. I was going in a bathroom, it's a unisex bathroom in the theater in Madison Square Garden. They shooting dice in there. They smoking blunts. Girls are stepping over the dice to use the bathroom. It was the craziest s**t I ever been to in my life. The atmosphere was f**kin' unreal. And I never forget the moment where Cam was like, "Yo, we got the biggest New York song." And he plays "Welcome to New York City" with him and Jay-Z. And then Jadakiss comes out and just, "What? We got one, too." [Makes the sound of the Ja Rule "New York" beat]. I was like, "Oh, my f**king God." I've been playing like middleman, but I'm on "New York." The rapper in Fat Joe wanted to run up there so fast and say my verse, but I would never disrespect Jimmy or Cam or any of them like that, so I just had to enjoy it from the crowd.  
One of the biggest moments is seeing Eminem for the first time, Lyricist Lounge. He was this skinny, and he came out with the Outsidaz from New Jersey. And he was rapping so crazy. Years ago, if you came out for the first time and you was dead nice, the crowd would lose their mind. I don't know what you gotta do now, but I remember he was so skinny they kept holding him from the back of his T-shirt, so he won't fall off the stage.
I was there when Big Daddy Kane brought Jay-Z out for the first time in Manhattan. He was like, "This is Jay-Z." I was there when Biz Markie, in the Bronx, a club called Zodiac, too, when Biz Markie brought Big Daddy Kane out for the first time. And he did the "Supercalifragilisticexpialigocious," and muthaf**kas was running up the wall. KRS-One, I was at Cortlandt Ave., there was a jam, a block party, the s**t you hear about where they used to have the turntables, and f**kin' speakers to the sky, and plug it into the light pole. He was this skinny kid. He had a Bob Marley T-shirt, and a white leather Rasta hat. And he did the "South Bronx." And it changed my life. He did it, like, four times. And by the time that South Bronx, the whole crowd was like, "South Bronx, South, South Bronx, South Bronx." It was like a overnight sensation.
I was there the first time Lord Finesse brought out Big L and that was crazy. That was uptown, like 200 Street and Broadway, they had a club and Lord Finesse was like, "Yo, I got my lil' man. He rap." He tore that down. I was also there when I brought out Big Pun for the first time. And we used to play that Trigger tha Gambler "the chop rocker, the clock clocker," and Pun would just go stupid on that, and the whole crowd was just jumping up and down. I'll never forget, it was Virginia. First time I ever brought Pun out, and them boys was jumping to the sky, like, "Oh my God. This guy got the fatter Puerto Rican going crazy out here." Those were big, big moments for me as a hip-hop fan.
Also, the Apollo Theater, the series, when Ice Cube came to New York and performed at the Apollo. I remember we was all standing on top of the chairs. Big Daddy Kane came down in the Apollo from the sky. He had a toga on with two girls looking like Isis with him. Then you had Biz Markie, who used to slide out of a nose. He used to have a big nose and he was picking boogers. I remember I went to a show one time, when Slick Rick just before he went to jail, he was like four-times platinum, and he sat down the whole show on a throne, with a crown. And he was just like, "Once upon a time, not…" and we was going crazy. I never been to a show where the guy sits down the whole time, but rips it down. Everybody's going "La-di-da-di." Everybody's losing their mind. And you know, Slick Rick, his album got me through a lot, you know what I'm saying?
When I was young, I left my mother's house, I was selling drugs. I was living in a crackhead hotel. And people were really getting shot outside the door. I was still a kid. I thought I was tough, but I really was scared. And so, people was getting shot outside. I literally would open my door in the middle of the night and see women shooting heroin in front of my door. I knew I didn't wanna be home and Slick Rick's music just got me through. Every night I would throw on my Walkman and listen to his s**t and just be like, Wow. He got me through a tough time. 
You mentioned a couple of times about hip-hop has changed your life. What's your position like now? You have a new book, and a bunch of TV projects you are working on. Can you speak more about that?
You know, hip-hop, brothers like Puff, Jay-Z, Dr. Dre, showed us the way to equity and ownership and being entrepreneurs. And so, I always came in the game as an artist, a rapper first, an MC, but as an entrepreneur. Hence Terror Squad Records. And now, 30 years later, it's about diversifying. And sure, I tour, make music, but I also own clothing stores and sneaker stores as well as a lot of investments I've done. COVID gave me a unique position to turn on my IG, and I don't know if it's a podcaster or an iPodster, I don't know what we gonna call it, but I like to think I helped people get through COVID, along with my friends. Anybody you name, from a Floyd Mayweather to a DJ Khaled, to a Mike Tyson, to Alicia Keys, to a Kehlani, to a Saweetie and just, getting people through the times, you know?
Dr. Fauci, at the time we needed to hear what he said. I asked him the first question, "Yo, they wanna know, Fauci, when can we go back in the strip clubs?" He said, "Well, Joe, it's not time for that yet." But that was my first question because I knew the audience. And so, that has progressed to a TV show with Starz, executive-produced by LeBron James and Diddy. That's gonna be a talk show. 
Then I have a book I dropped, The Book of Jose, which is one of the greatest hip-hop memoirs ever made, and I read them all, so I know. I'm not delusional. Y'all need to get that Book of Jose if you ain't got it yet. It's almost like the hip-hop Bible. And it deals with everything, from depression to suicide, to selling drugs, to marketing, to promoting, to never giving up. It's all about bravery, that book. So, we have a TV show based on that with Kenya Barris, and Jesse and Uly Terrero. The series is based off The Book of Jose. We have a one-man show where I'm getting introduced by Dave Chappelle, and I'm pretty much doing like a Mike Tyson, John Leguizamo, Beastie Boys, Bruce Springsteen type of, you know, bring you through highs and lows, make you laugh, make you cry. Just explaining different stories in my life. People call me the best storyteller in hip-hop, so I might as well tell them some stories and, boy, do I got 'em.
"People call me the best storyteller in hip-hop, so I might as well tell them some stories and, boy, do I got 'em. "
Alright, you've shared a lot over the past 30 years through telling stories. Through music. What's something you haven't told anybody that you want to tell us about you?
I don't know what story hasn't been told yet, man. If you study my story and how hard it was for me. If you see what I had to go through to become successful, it'll teach you to never give up. I'm just a story within stories. It's a Pandora's box. I was around with Biggie. I was around with Tupac. Right now, you sound like a fossil if you say that. 
"If you see what I had to go through to become successful, it'll teach you to never give up."
Interview: Vanessa Satten  Images: Ahmed Klink for XXL
See Fat Joe Photos for XXL's Legends Cover