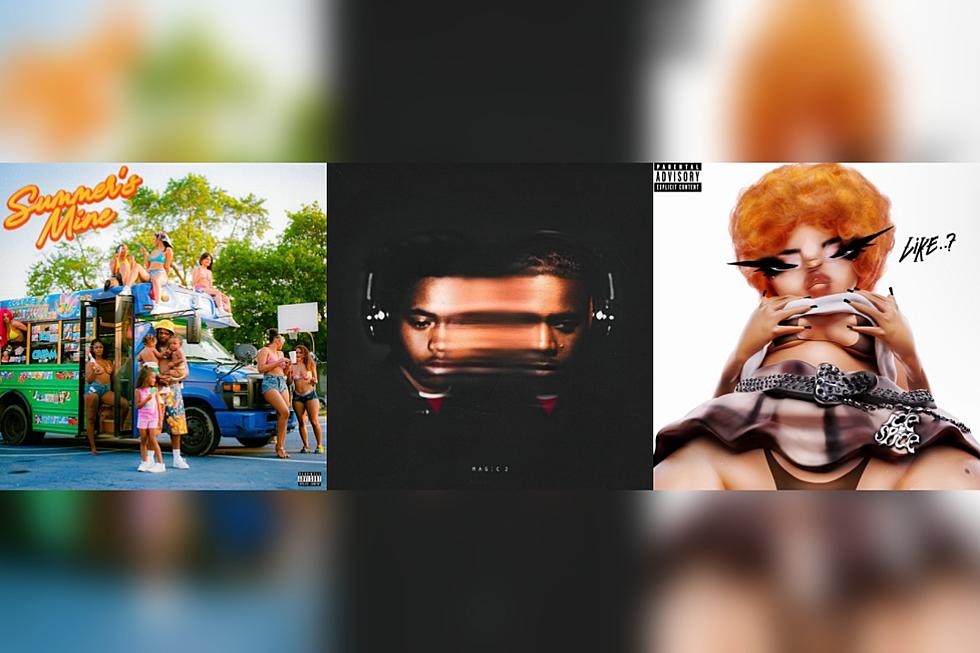 Nas, Babyface Ray, Ice Spice and More – New Hip-Hop Projects
Wavy Gang/Empire/Mass Appeal/10K Projects/Capitol Records
No matter the season, the new hip-hop projects keep it hot. This week, a New York rap legend debuts the second installment to an album he released nearly two years ago, a Michigan-bred rhymer drops a new album after ushering in two hit singles, one of hip-hop's hottest rising stars drops a deluxe album and more.
Nas Releases Magic 2, a Sequel to His 2021 Project, Magic
Serving as a follow-up to 2021's Magic, is Nas' new album, Magic 2. The rapper first teased Magic 2's release through two mysterious black-and-white visuals on his Instagram page in the past week, which can be seen below. Nas has once again enlisted Hit-Boy as the album's producer. The two have successfully delivered four other projects together: 2020's King's Disease, 2021's King's Disease II, 2022's King's Disease III and of course, Magic. 50 Cent told XXL in an exclusive interview on Tuesday (July 18) about his involvement in Magic 2 as well. The G-Unit leader unveiled that he will appear on Nas' "Office Hours." The Queens, N.Y. legend shared the LP's artwork on his IG on Tuesday too, which shows a merge of his younger and present self.
Babyface Ray Drops Summer's Mine
Babyface Ray claims the scorching weather as his own via Summer's Mine. The 14-track offering comes on the heels of his recent hit "Donda Bag" and the Space-produced single "All-Star Team." The Detroit-based rapper has been hinting at the album since this May by adding the hashtag #SummersMine to his Instagram posts. Babyface Ray also dropped a trailer on July 14 of himself working nonstop in the studio to showcase the album's artistic direction, which can be seen below. Summer's Mine follows 2022's Face and its companion album, Mob.
Ice Spice Debuts Deluxe Album for Like..?
Ice Spice's deluxe album for 2022's Like..? ushers in three new singles: "How High?," "Butterfly Ku" and her highly anticipated record "Deli," which the rapper first teased on TikTok on July 9. Among the 11-song track listing is her first hit single, "Munch (Feelin' U)," "Bikini Bottom," "In Ha Mood" and the Nicki Minaj-assisted record, "Princess Diana (Remix), which earned Ice Spice her first No. 1 on Billboard's Hot Rap Songs chart. The deluxe version of Like..? will also include some of the hottest drill and hip-hop beats from her right-hand producer, RIOTUSA. Prior to the album's release, Ice Spice dropped the artwork, which can be seen below. The cover art shows an animated version of the rapper donning her signature fro while playfully cupping her chest.
Check out other new projects this week from Black Milk, Valee and Harry Fraud and more below.
Summer's Mine

Babyface Ray

Like..? (Deluxe)

Ice Spice

10K Projects/Capitol Records

10K Projects/Capitol Records

Everybody Good?

Black Milk

Mass Appeal/Computer Ugly

Mass Appeal/Computer Ugly

Virtuoso

Valee and Harry Fraud

Resilience

Big Boss Vette

Amigos Records/Beatstaz/Republic Records

Amigos Records/Beatstaz/Republic Records

Simple Stupid Records/Geffen Records

Simple Stupid Records/Geffen Records