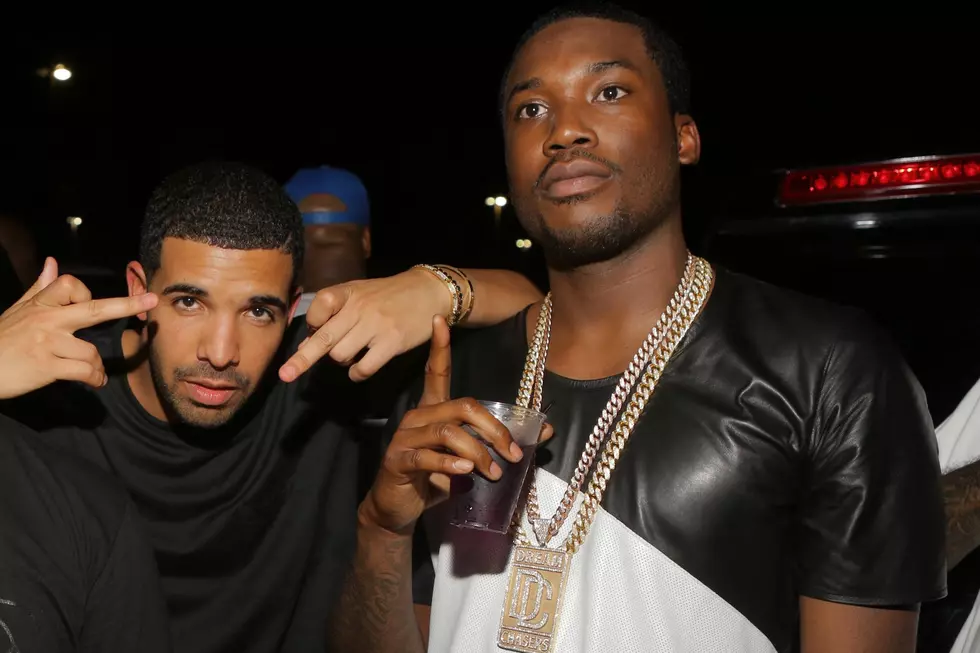 These Unexpected Collaborations After Rap Beef Prove Cooler Heads Prevail
Prince Williams, Getty Images
Plainly put, people will have disagreements. Sometimes, the issues can be big or even escalate to physical fights while others can be minor and worked out with a conversation. Egos play a huge part in a lot of hip-hop beefs and that's what can make them stretch on for years when they could have been ended in days. Hip-hop has gotten a bad rap for its beefs spinning out of control, when in reality, most of them either don't really turn into anything or they end peacefully. In many of the beefs that got put to rest, the parties let bygones be bygones, with some even hitting the studio to make a song together. Here, XXL showcases some of the songs by former rap foes that were truly unexpected.
Jay-Z and Nas were embroiled in one of the most vicious rap beefs ever. Each one launched personal insults at the other on songs, on stages, in interviews and anywhere it could be done. The beef lasted for nearly nine years, starting in 1996, peaking in 2001, with Jay's "Takeover" and Nas' "Ether," then officially being put to rest in 2005. Jay extending the olive branch to Nas on stage was shocking enough. The two dropping "Black Republican" together the next year, a Nas song which featured Jay, was just as much of a surprise.
Almost every rap fan heard about the Drake and Meek Mill beef, kicked off in 2015, because Meek accused Drake of having a ghostwriter. The story took endless twists and turns, including the ghostwriter, Quentin Miller, getting exposed and a number of diss tracks being released between Drake ("Back 2 Back") and Meek ("War Pain"). After Meek got out of jail in 2018 for a parole violation, the two buried the hatchet. Drake had Meek as a special guest at his concert in September of 2018, then Drake was featured on Meek's January of 2019 single, "Going Bad." For such a long beef to end in a song and a performance is beautiful, especially considering the two were friends before all this.
Check the list below for more post-beef rap collabs.
"War Ready"

Rick Ross and Jeezy

After a beef that started back in 2010, due to some perceived slights on wax and culminated in an actual scuffle at the BET Awards in 2012, Rick Ross and Jeezy ended their beef officially in 2014. Marking that event was the Ross single "War Ready," a cut off his Mastermind album that features Jeezy and Tracy T. The former adversaries collaborated in the past, but this was a bit different; it's been peace between the two since. With how popular these artists were within rap, it seemed unlikely they would ever end it, but time heals all.

"Fast Lane"

Eminem and Royce 5'9" (Bad Meets Evil)

Friends since 1997, and working together as the duo Bad Meets Evil since 1998, Eminem and Royce 5'9" once had a falling out due to the latter's issues with Em's rap group D12. The beef was reportedly mostly attributed to Em and Royce's relationship changing as their careers expanded and Em spending time pushing D12. Royce and D12 exchanged diss songs, but the beef ended in 2006, shortly before D12 member and Em's right-hand man Proof died in a bar shooting. By 2008, Royce was back doing shows with Em and D12, with all of this leading to Em and Royce's 2011 collab EP, Hell: The Sequel. That project was their first (and only) effort together, with its lead single being the song "Fast Lane." It took some time, but they teamed back up.

"Money In The Grave"

Drake and Rick Ross

Rick Ross and Drake have been friends and frequent collaborators since 2010, but hit a snag in 2015, due to Drake's beef with Meek Mill, who was signed to Ross' Maybach Music Group (MMG) at the time. Things escalated to the point of them dissing each other, with Ross doing so on "Color Money" in 2015, and Drake also firing shots on "Weston Road Flows" in 2016. They squashed it in 2017, with Meek and Drake publicly making things right in 2018. In June of 2019, Drake dropped a two-song EP, The Best In The World Pack, to celebrate the Toronto Raptors winning the NBA championship. One of the songs was "Money In The Grave," the first collab between Drake and Ross since they buried the hatchet. Totally unannounced, it was a welcome surprise.

"Going Bad"

Meek Mill and Drake

A long-standing and well-known beef that started in 2015 was Meek Mill vs. Drake. Meek accused Drake of having a ghostwriter, and the war of words resulted in diss tracks, most notably, Drake's "Back To Back" and Meek's "War Pain," years of sneak disses and fractured relationships outside of themselves, namely MMG leader Rick Ross and Drake not having a good rapport for some time. Upon Meek getting out of jail in April of 2018, after serving five months for a highly publicized parole violation, cooler heads prevailed. Meek and Drake officially ended the beef in Boston, at a September of 2018 stop on the Drake & The Three Amigos Tour, then teamed up on Meek's single "Going Bad" in January of 2019. The former friends picked up where they left off. With how personal the beef got, it was a shock that they wrapped it up and made a new song together.

"Black Republican"

Jay-Z and Nas

In what is likely the most popular rap beef of all time, Nas and Jay-Z sent shots back-and-forth to each other from 1996 and on. On its face, it felt like light competition that spun out of control. "Takeover," the Jay-Z song that he performed live at Hot 97's Summer Jam in 2001, and "Ether," Nas' scathing response, were the results of their feud. In these disses, everything was covered, from questioning Nas' musical consistency to Jay-Z's physical appearance and talent compared to his Roc-A-Fella Records signees like Beanie Sigel and more. The disses were pretty much two people who knew each other well, but had always been at odds. Jay-Z's follow-up diss "Super Ugly," on which he outright says that he was having sex with Nas' girlfriend at the time, Carmen Bryan while Nas was with her, meant the gloves were officially off. They deaded the beef officially in 2005 at Jay-Z's I Declare War concert, where he actually ended his wars rather than perpetuate them. In 2006, they dropped their first collab ever, "Black Republican,""a song off Nas' album Hip Hop Is Dead. No one saw this coming because this seemed like a beef that would never end.

"Who"

Future and Young Thug

Being close friends now feels like their past as adversaries was made up, but Future and Young Thug were at odds for a little bit. As two highly influential Atlanta rappers, they were in close proximity and had a mutual go-to producer in a then-rising Metro Boomin. In 2015, Metro tweeted about rappers trying to churn out projects like Future; Thug took offense and asked for clarity right there. This escalated to Future and Thug subtweeting each other and Metro telling Thug to pull up on him. This continued on into 2016, with Thug and Future going back-and-forth on Twitter without saying each other's names. There was plenty of chest-beating about whose music was better and who was more skilled. However, the negativity ended in June of 2016 when they collaborated on "Who," a cut from DJ Esco's project E.T. Thug even apologized online that same year. Even more surprisingly, Thug and Future actually dropped a collab album the next year, the cult favorite known as Super Slimey.

"Too Late"

French Montana and Jim Jones

Embroiled in a beef since 2005, French Montana and Max B had an ongoing issue with Dipset's very own Jim Jones. Originally stemming from Max B having a business-based falling out with Jim—Max was formerly a part of Jones' rap crew, Byrdgang— the two dissed each other on songs and in interviews. This continued to escalate, even when Max was imprisoned for conspiracy charges in 2009. French was Max's friend and frequent collaborator when the beef with Jim was going on, so, he was directly connected and rode for him. All of this ended in December of 2020, when French and Jim got on Instagram Live to call a truce, simply feeling the issue had gone on for too long. The two also collabed on "Too Late," a track from French Montana's CB5 mixtape from that November, shortly before they spoke on Instagram. The length of time in this beef made it seem unlikely common ground would ever be found.

"Real People"

Ice Cube and Common

Common, the well-respected lyrical rapper from Chicago, got his big break in 1994 when he dropped his single "I Used To Love H.E.R.," a song in which he personifies hip-hop as a woman. Ice Cube, then a burgeoning West Coast rap star, didn't like Common's bars about gangsta rap in the song. "Now she's a gangsta rollin' with gangsta bitches/Always smokin' blunts and gettin' drunk/Tellin' me sad stories, now she only fucks with the funk/Stressin' how hardcore and real she is," Com raps, implying that the genre was being worn out. Ice Cube responded on Mack 10's "Westside Slaughterhouse," rapping, "Used to love her, mad 'cause we fucked her/Pussy-whipped bitch with no common sense," along with more thinly veiled shots at Common. The Chicago MC would respond in 1996 with the scathing "The Bitch In Yoo," on which he insults Cube for his hypocrisy while questioning his rapping skills and much more.

The beef ended there when Minister Louis Farrakhan called a summit to end rapper beefs, Common vs. Cube's beef was cooled at the event. There was a scuffle amongst the two rappers associates at a Sprite video shoot that same year, but the beef was done. They then acted together in the film The Barbershop: The Next Cut in 2016, and teamed up for the song "Real People," their first collaboration and a song on the soundtrack featuring them actually rapping about being on good terms now. A happy ending.

"No Guidance"

Chris Brown and Drake

Drake and Chris Brown are part of an elite group as some of the biggest stars in music's history: one a rapper with R&B leanings, the other an R&B singer who has fully embraced rap's sound and aesthetics. While it seemed more likely that they would be friends, a beef over their mutual ex-girlfriend Rihanna, who Brown assaulted in 2009, turned into a violent, bottle-throwing contest inside of a New York City club in 2012. They took glancing shots at each other in songs and through the media for years after, ending in 2018 when Drake bought Chris Brown to the stage in Los Angeles. Breezy was a guest on Drake's Aubrey & The Three Migos Tour. In June of 2019, they teamed up for Chris Brown's "No Guidance," which would go on to be a mega-hit, as it is currently eight-times platinum. Considering their beef lasted six years and was based off someone who was so vital to both of their stories, it didn't seem possible Chris and Drake would make amends, but they did.