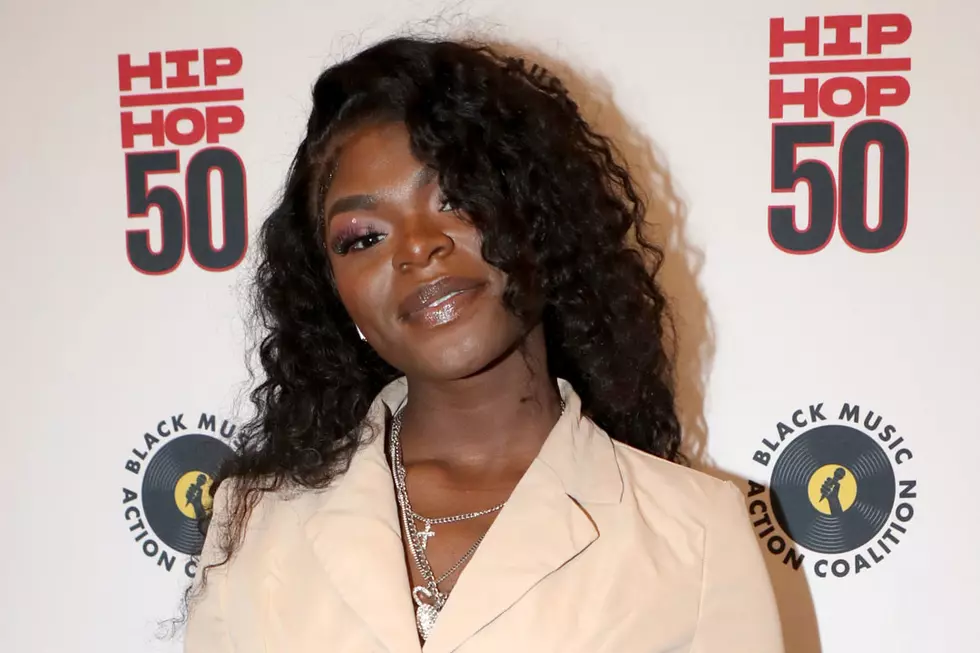 The Break Presents – Scar Lip
Johnny Nunez/Getty Images for Black Music Action Coalition
Permeating the streets of New York City and beyond is the gully voice of Scar Lip calling "next." Over the last two years, she's broadcasted her mainstream arrival with macho tracks like "This Is New York" and "Glizzy Gobbler." Both boast minutes worth of heavy-handed bars and brassy energy that would influence a fellow Bronx native to lace up their Timbs and stomp somebody out. Since they dropped, those songs have trended upwards on TikTok, YouTube, Twitter and Instagram. So it's safe to say that the masses are starting to peep that Scar is a force to be reckoned with.
The pressure of life has the ability to weigh people down forever. But with Scar, it's turned her into a diamond. After being kicked out of her aunt's house growing up, she was sent to foster care where she would write poems to get some harrowing experiences off of her chest. The first string of songs that she ever recorded between 2019 and 2020—"Therapy," "Foster Care" and "Suicide Awareness"—all detail some of the things that she was going through. They're stuffed with pain and vulnerability, similar to the output of her biggest influence DMX. Once she got a taste of the lightness that comes with releasing darkness on wax, she began finding her footing as an artist.
Scar's biggest break would arrive in 2022, upon the release of "Glizzy Gobbler." Understanding the current climate of hip-hop, she was successful in her attempt at creating a meme-able visual (which featured her rapping onto a hotdog), that would go viral without taking away from the quality of her bars. On TikTok, the video currently has nearly 5 million views on it and half of a million likes. She went back to the well in that regard with another TikTok freestyle called "Ramen," which soared over 6 million plays and earned an additional 1 million likes, and counting. It was then that people from all over began to take notice of Scar's talent and movement. To capitalize, she loaded up "This Is New York," an abrasive anthem that earned her cosigns from a number of hall of farmers in rap.
Some of those people include Busta Rhymes, who will be featured on the upcoming remix to the aforementioned track, 50 Cent who offered his endorsement, Funk Flex who invited her to commit homicide via freestyle on his famed Hot 97 show and Swizz Beatz, who took the brewing talent under his wing as a mentee. On that note, Scar was also the sole newcomer on Swizz's April release Hip-Hop 50: Vol 2, where she held her own on "Take Em Out" alongside Benny The Butcher and Jadakiss.
The first quarter of 2023 has shaped up nicely for Scar Lip already, and she plans on going even crazier as the months go on. In terms of what's in the works, she's currently readying her debut EP Scars & Stripes, which will be executively produced by Swizz Beatz. Fans can stay tuned for that. However, in the meantime, she stopped by The Break: Live to talk about her bevy of co-signs, the story on how she got her signature Scar, hopes to act in her own biopic and much more. Check out the interview below.
Follow Scar Lip on SoundCloud and Instagram.
Standouts:
"This Is New York"
"Glizzy Gobbler"
Swizz Beatz's "Take 'Em Out" featuring Scar Lip, Jadakiss and Benny The Butcher
Funk Flex Freestyle Produced by Swizz Beatz
"Therapy"
The 45 Most Important Hip-Hop Producers Since 2000
Here's XXL's picks of the most important hip-hop producers since the year 2000.