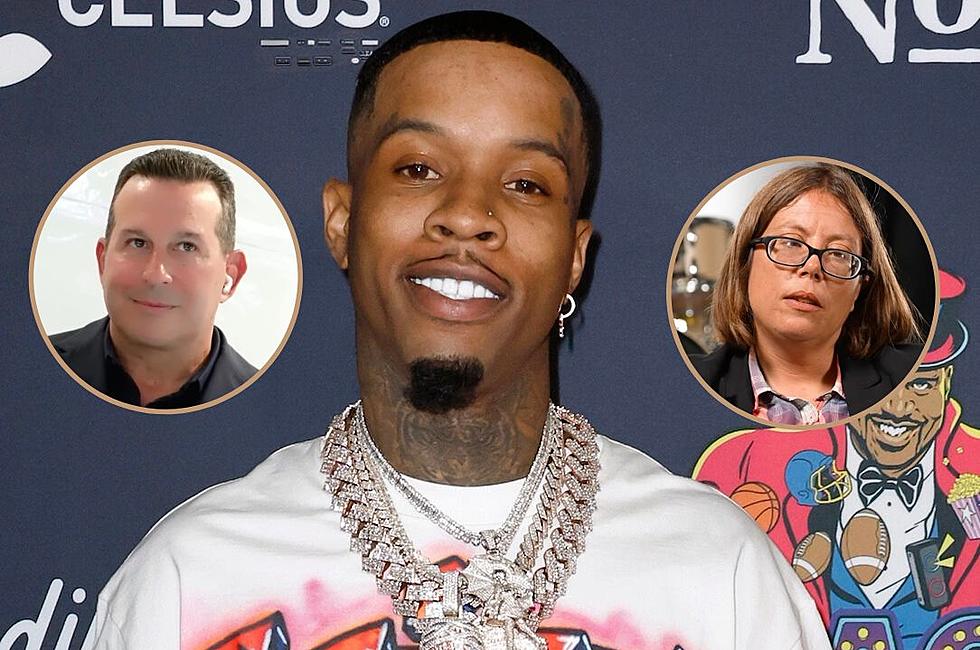 Tory Lanez's Lawyer and Trial Reporter Go at It Over Rapper Being Prioritized Ahead of Italy Vacation
Frazer Harrison/Getty Images/Megyn Kelly/djvlad/YouTube (2)
Tory Lanez's shooting case continues to be a hot-button topic as the rapper's attorney and trial reporter go at it over Tory being prioritized ahead of the lawyer's Italy vacation.
Tory Lanez's Lawyer Calls Out Trial Reporter Over Her Reporting
On Friday (Aug. 25), journalist Meghann Cuniff, who has been covering the Tory Lanez shooting case from the very beginning, hopped on Twitter to give her followers an update on the embattled rapper's legal case thus far. In her tweet she wrote: "2+ weeks since Tory Lanez's lawyer Jose Baez said he'd file a motion to bail Lanez out of jail as he appeals his convictions and 10-year prison sentence. No motion has been filed, and I'm not sure how much of a priority it is for Baez: He's posting Instagram stories from Italy."
Cuniff's tweet also included a screenshot of a photo that Baez had posted on his Instagram Story, which showed him on vacation in Italy. Although the tweet may seem harmless, Tory's lawyer, Jose Baez, was offended by it and accused the journalist of biased reporting. On Saturday (Aug. 26), Jose Baez went on his Instagram Story and lashed out at Cuniff. In a series of messages, the famed attorney called Cuniff a "blogger" and wrote that her reporting on Tory's case was biased and had no journalistic value.
"It has been brought to my attention that a blogger has claimed that Tory Lanez is not a priority because I'm allegedly in Italy," he wrote in one message. "For the record I travel to Italy 2 to 4 times a year. I have both business interests as well as clients who have business in Italy."
"This blogger has a clear bias against Tory and has attacked everyone associated with him as well as made numerous inaccurate assumptions," he continued. "In fairness to her, she has no legal training and has never worked in the court system, so her opinions have little to no merit whatsoever."
Baez also posted an image of a fake Meghann Cuniff Twitter account called "Meghan Cuniff Is a Drunk" and her real Twitter page and wrote a snarky caption that he didn't know which one of them is her real account.
Finally, Baez posted a message informing Tory Lanez's fans that his appeal on the rapper's guilty verdict is ahead of schedule and he's waiting for the court reporter to complete all the transcripts from the trial. Baez added that Tory is exploring all legal strategies that are at his disposal. Cuniff caught wind of Baez's acidic messages towards her and took the high road with her response.
"Ignoring the unprofessional comments, the takeaway from Jose Baez's Instagram stories today is he's no longer sure if he'll file a motion for bail pending Lanez's appeal: 'As for other motions, Tory is evaluating ALL of his options,'" she tweeted.
Meghann Cuniff would later talk about Tory Lanez's attorney and his "unprofessionalism" in a video that can be seen watch below.
The veteran journalist also shared an Aug. 15 letter that Jose Baez sent to her where he wrote very kind words to her, which is a stark contrast to the vitriol he gave her over the weekend. Cuniff highlighted the quote: "I have always been and always will be respectful towards you..."
Tory Lanez Sentenced to 10 Years in Prison
Tory Lanez, born Daystar Peterson, was sentenced to 10 years in prison for shooting Megan Thee Stallion during a altercation in July of 2020. The Canadian rapper-singer initially was facing up to 22 years and eight months in prison after being found guilty in December of 2022 on all three counts of assault with a semiautomatic firearm, carrying a loaded, unregistered firearm in a vehicle and discharging a firearm in a grossly negligent manner to cause bodily injury. Once his time is served, Tory could also face deportation because he is a citizen of Canada.
Currently, Tory Lanez is not in prison while his attorney, Jose Baez, appeals the verdict, which sparked this weekend's social media spat between Baez and trial reporter Meghann Cuniff.
See the back and forth between Meghann Cuniff and Jose Baez below.
Read Tory Lanez's Lawyer Calling Out Meghann Cuniff Over Her Reporting Below
Watch Meghann Cuniff Explain Her Back and Forth With Tory Lanez's Attorney Below
See Rappers Who Beat Major Legal Cases and Walked Away With a Victory
Hip-hop came out with a win in some way in these cases.