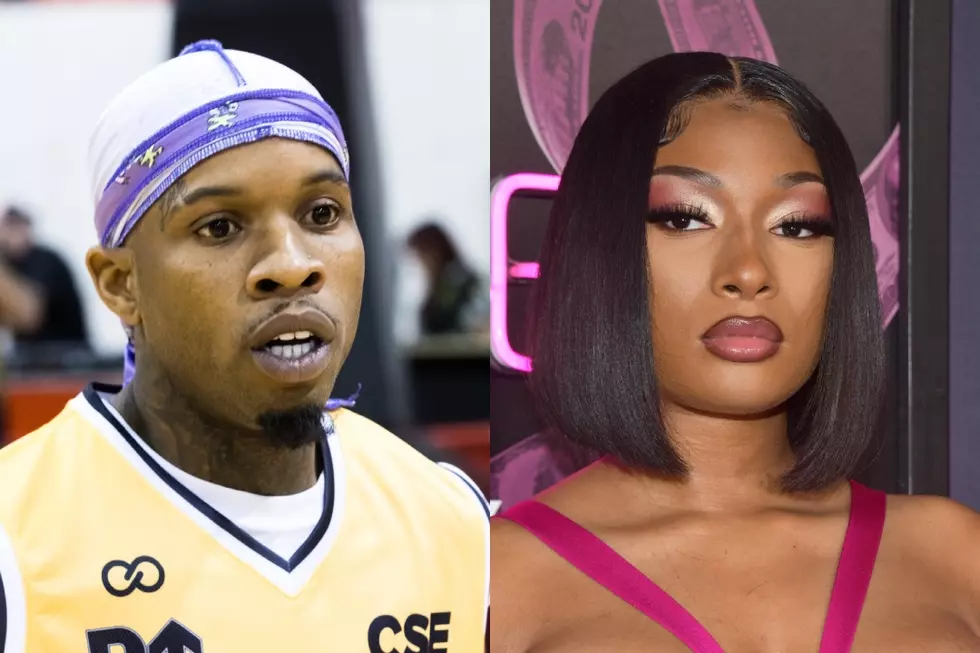 Tory Lanez Claims Prosecution Manipulated DNA Evidence to Get Guilty Verdict in Megan Thee Stallion Shooting Trial
Greg Doherty/Araya Doheny/Getty Images (2)
Tory Lanez has until May 8 to convince a judge he deserves a new trial in the Megan Thee Stallion shooting case and he believes he has evidence that proves his innocence.
On Tuesday (May 25), Tory Lanez delivered on his attorney's promise that the rapper would provide new information on the case. The incarcerated rhymer shared an audio message via his Instagram page where he calls out the prosecutors in his case and accuses them of manipulating DNA evidence.
"I've been incarcerated for almost half a year over a gun that the D.A.s lied and said I shot," Tory began in the jail recording. "In 2021, they demanded I take a DNA test. I took that test without no pushback, delay or question. Not only because I knew I never shot the gun. But mainly because I was 100 percent positive that I never even touched this gun. In my trial the verdict of innocent or guilty depended heavily on my DNA results."
He continued, "With the help of L.A. Crime Labs DNA expert Randy Zepeda, D.A. Kathy Ta, and Alex Bott completely manipulated my DNA results, and lied to the world, the media, and most importantly my jury, by stating that my DNA on the gun was inconclusive. That was an absolute lie."
Additionally, Tory Lanez shared a document on his Instagram Story from his motion for a new trial that states it is just as likely any member of the Black community shot Megan, according to the DNA results his team gathered.
"This is disgusting," he captioned the post.
XXL has reached out to the Los Angeles County District Attorney's Office for comment.
Tory Lanez was convicted of shooting Megan Thee Stallion on Dec. 23, 2022, following a two week trial where jurors were shown dozens of pieces of evidence and heard from several experts and witnesses. Tory did not take the stand during the trial.
Tory Lanez's sentencing date has been pushed back three times as his defense team tries to mount an appeal. Superior Court Judge David Herriford will render a verdict on whether or not to give Tory a new trial on May 8. Tory faces up to 22 years in prison when sentenced.
Check Out Tory Lanez's Social Media Posts Claiming DNA Evidence Was Manipulated in His Trial Below
See 44 of the Longest Prison Bids in Hip-Hop History
C-Murder, Max B, B.G. and more.