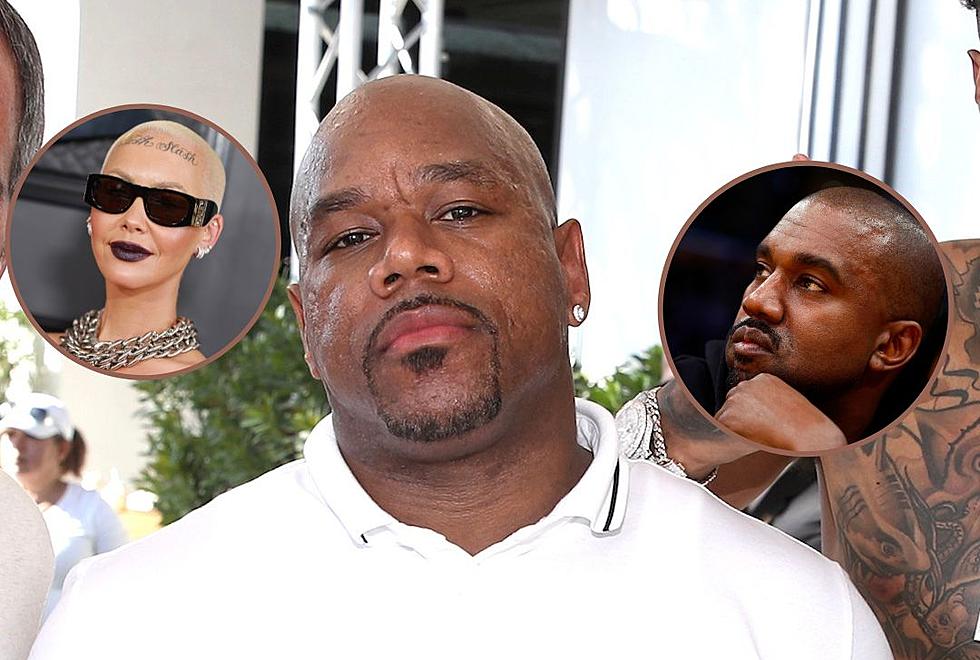 Wack 100 Goes in on Amber Rose, Claims She's Still Messing Around With Kanye West
Randy Shropshire/Matt Winkelmeyer/Ronald Martinez/Getty Images (3)
While on Clubhouse, Wack 100 decided to go in on Amber Rose and claimed that she's still messing around with Kanye West.
Wack 100 Calls Out Amber Rose for Allegedly Messing Around With Kanye West
On Friday (Aug. 25), gossip blog Neighborhood Talk posted an audio clip from one of Wack 100's explosive Clubhouse chats. This time the hip-hop manager decided to call out Amber Rose for allegedly messing around with her ex-boyfriend Kanye West. It appears that Wack was responding to something that Amber may have said about him in a separate chat room.
In the audio clip, Wack berated Amber Rose for her failed relationships. The 44-year-old manager called Rose's ex-boyfriend Alexander "AE" Edwards a "weird-ass baby daddy" who left her for a 70-year-old woman. Despite Wack saying that "AE" left Amber for Madonna, he probably meant that "AE" left Amber for Cher, a veteran pop star who is currently dating AE.
Wack then accused Amber of still allegedly messing with Kanye. "You sucked Kanye nine months ago," he claimed.
He also threw Amber's other former boyfriend Wiz Khalifa under the bus as well.
It's all messy. You can listen to the audio below.
Previously, Wack 100 Went After Amber's Other Ex-Boyfriend 21 Savage on Clubhouse Over Snitching Allegations
Last October, Amber Rose's other former boyfriend 21 Savage and Wack 100 got into a heated argument on Clubhouse after the rap manager called him a snitch. This after Wack questioned the Atlanta-bred rapper on why he wasn't deported since his February of 2019 arrest for being an illegal immigrant. In a clip that was posted on Neighborhood Talk, 21 denied he was an informant and told Wack to not speak on things about him that he knows nothing about.
"There's a lot of shit going on, right, and I don't speak on," 21 Savage said. "Like, I have seen you go through real life shit on the internet or whatever, right? And I don't speak on it. I don't make fun of it, I don't speculate about it. Just give me the same respect, gang."
"What you mean?" asked Wack.
"You calling me a snitch, man," 21 responded. "Bro, you on the internet saying you think I'm an informant. Come on, man."
"Bruh, I ain't made up nothing about you, that's messed up," 21 added.
Listen to Wack 100 call out Amber Rose below.
Listen to Wack 100 Go In on Amber Rose and Claim That She's Still Messing Around With Kanye West
See Hip-Hop Lyrics That Didn't Age Well