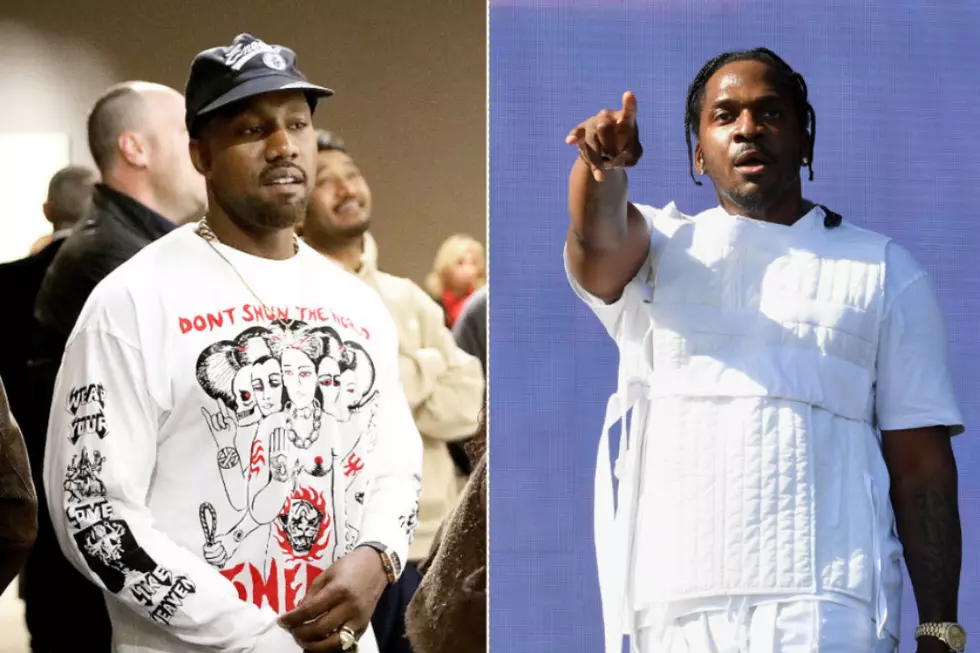 Kanye West and Pusha-T Sued Over 'Daytona' Track: Report
Rachel Murray / Kevin Winter, Getty Images (2)
Kanye West and Pusha-T have been named as defendants in a lawsuit due to an unauthorized sample that was used on King Push's Grammy-nominated album Daytona.
FAME Enterprises Inc. has filed the lawsuit, which alleges Kanye sampled the 1960s soul song "I Can't Do Without You," performed by George Jackson on Fame Records, for the track "Come Back Baby" on Push's critically-acclaimed LP. The suit was filed on May 24 in Colbert County Circuit Court in Alabama according to a TimesDaily report on Friday (June 7).
The suit claims Pusha-T's track uses, "repeated, unauthorized unlicensed samples" of the Jackson original. The song's content is also an issue with the owner, who claims Pusha's song is "about drug addiction and the money made from selling drugs." Therefore, the plaintiffs would not have okayed licensing the song "for such a use under any circumstances."
Fame is demanding a jury trial in the case, which also names Def Jam and G.O.O.D. Music as co-defendants. They are seeking a monetary judgement "for disgorgement of profits, compensatory, consequential, incidental and punitive damages in an amount to be determined by the trier of fact in this case, plus statutory fines, costs, interest and expenses."
Check out "I Can't Do Without You" and "Come Back Baby" below.
See 10 Rappers' Purchases That Broke the Bank