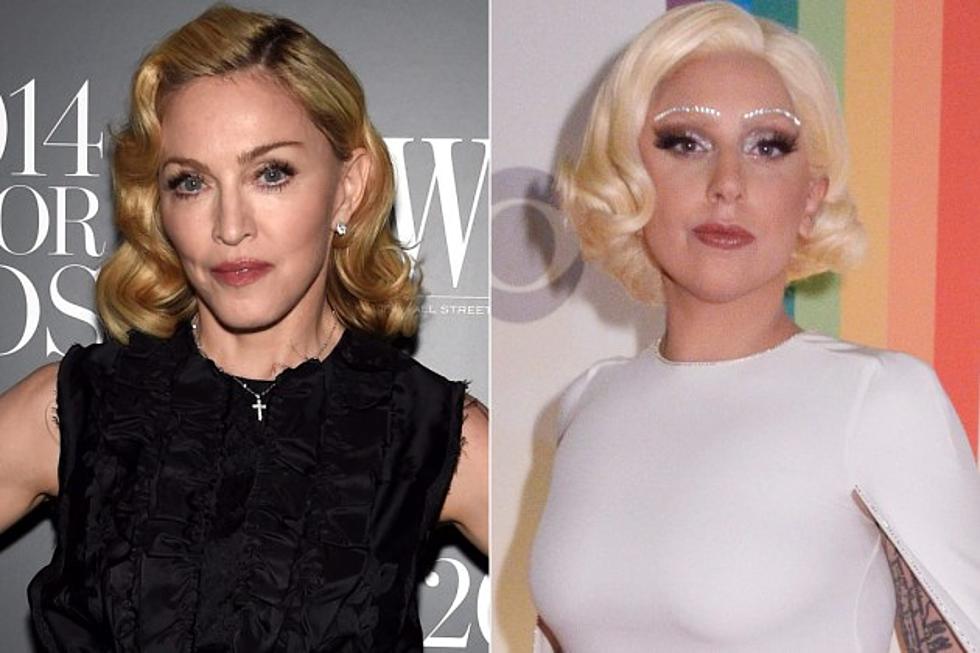 Madonna Denies Lady Gaga Feud: 'I Do Not Wish Ill Will Towards Any Other Female Artists'
Jamie McCarthy / Kris Connor, Getty Images
When one of her demos leaked, fans picked up on the line "You're a copycat / Get back" and somehow interpreted the lyric as being a direct jab at Lady Gaga. But Madonna decided to get the word out quickly via her Instagram in order to shut down the rumors before they had the opportunity to grow any legs.
She said, "There are those who want to shut me up but they cannot! We still live in a world that discriminates against women. Their [sic] are people that are so hateful, they want to create feuds between strong women that do not exist! I do not wish ill will towards any other female artist and I never have! The world is big enough for all of us! I will fight for my rights as an artist, a human and a woman till the end of my days! Because I am a #rebelheart and I walk in the world."
She went on to say that she refuses to defend her work that was not even finished yet and was posted without her permission. Madonna then went on to encourage her fans to spread love, and not hate, saying, "Do not post hateful words about other people on my page either. If you are my fan speak no evil!"
Madonna also posted a photo of Lady Gaga on Instagram, captioning it "Love this #rebelheart I said Iove and I meant it!"
Further proof? Madonna's manager Gary Oseary also spoke out against the rumors via Twitter, saying that the song was not about anyone at all. You can check out his tweet below.
So there you have it. The feud simply does not exist.
See Yearbook Photos of Celebs like Lady Gaga, Madonna + More!