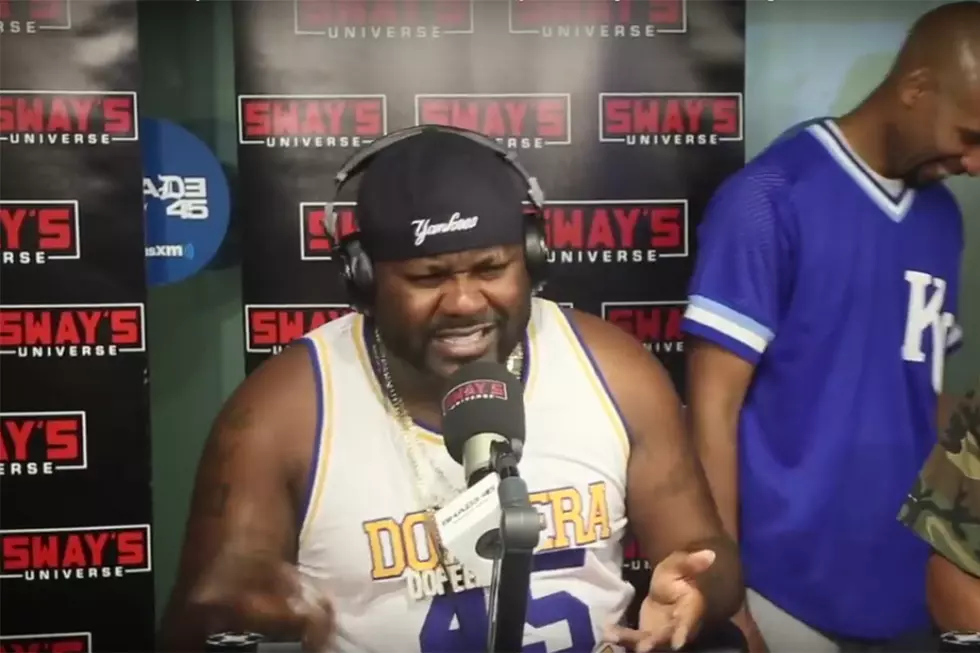 Mistah F.A.B. Freestyle: Watch Him Go In Over Wu-Tang Clan's "C.R.E.A.M." and More
Sway's Universe via YouTube
Many rappers take a swing at the 5 Fingers of Death segment on the Sway in the Morning radio show but not every spitter does as good of a job as Mistah F.A.B. did when he stopped by on Aug. 27.
As always, F.A.B. was given a number of beats and first tackled Freeway's "Flipside." "It's a flipside, when I dip sides/It got red bottoms, but it's Crip side/On the blue money, who money, chew money/Dog like a Cujo, homie I chew money/Do thangs that's a Raider gang/And it's Oakland never Vegas, man/Never been a hater, man," F.A.B. rapped over the classic 2000s instrumental.
The beat quickly changed to Jay-Z's "Change the Game" and the Bay Area rhymer had a few more bars saved up. "Wavy, they can't play me/They can't bathe me/I never had a job, corporations can't slave me," he rapped.
F.A.B. was also given the Wu-Tang Clan "C.R.E.A.M." beat to rap over. After spitting a few lines about violence in the community, the rapper offered his tips for improving the neighborhood.
"Shoutout to the youth, stop killin' each other/I think it's time we start healin' each other/I think it's time we start tickin' back and start killin' with each other/Like, getting this block and start building with each other/Let's take this shit out of the game/They take the sports out of the school, pushing niggas into gangs/Taking all the programs away in Oakland unified district/So, we gotta take all the money back and put it in our district," he rapped.
Earlier this year, Mistah F.A.B. dropped his Thug Tears album. The 18-track project features a number of guest appearances from Kevin Gates, Clyde Carson, The Jacka, Rexx Life Raj and more.
Check out Mistah F.A.B.'s freestyle below.
63 Hip-Hop Artists Who've Gone Gold in 2018