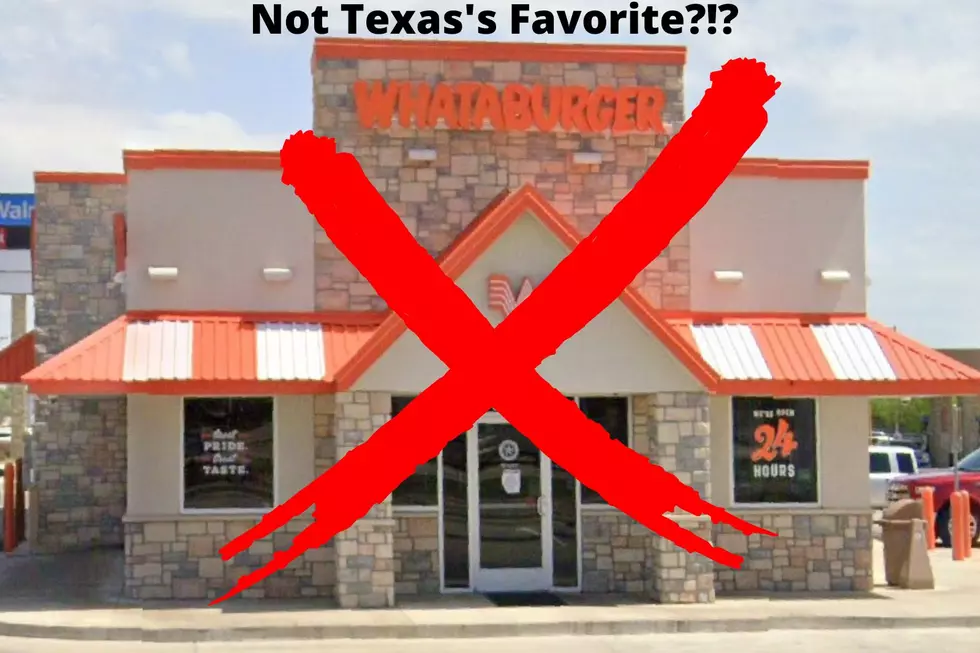 There's NO Way This Is Texas' Favorite Fast Food Place
Google/Canva
This cannot be real, right? I'm about to have a fit here. If this turns out to be true, it might be a time for a talk, Texas.
Regardless, what exactly are we talking about here? Well it involves most everyone's favorite subject: food. Specifically, food of the fast variety.
Top Data published the favorite fast eateries for every state, and I cannot believe how Texas ranked in terms of favorites. Here's the list:
1. A&W Restaurants
2. In-N-Out Burger
3. Chipotle Mexican Grill
4. Shake Shack
5. El Pollo Loco
Um, I have a simple question: HOW IS WHATABURGER NOT ON THIS LIST? This is some type of joke right?
I mean I've seen more Whatburgers around me than A&W's. Obviously, I'm not trying to say A&W is bad no way shape or form. But I haven't seen an A&W around Killeen or Temple in the longest time.
I have seen one In-N-Out, which once again seems like it's pretty high on the list. I also like In-N-Out, but we're in Texas, and Whataburger is a staple here.
Chipotle makes a little bit of sense at 3, I know a lot of friends who enjoy Chipotle. As for Shake Shack, I also enjoy it, but I also haven't seen one around Killeen or Temple recently. Same with El Pollo Loco.
Last time I saw one of those was as a kid in Georgia when they opened ones there. But how did Texas's own not make the top 5?
Am I losing it here? Let me know via our station app!
So I'm beginning to think this isn't legit. Or
Check Out This Giraffe Mansion in in Fredericksburg, Texas
If you've never heard of a giraffe mansion, there's now one in Fredericksburg, Texas. Let take a look at this very unique experience.
A Tremendous and Exquisite Treehouse Airbnb Awaits You in Fredericksburg, Texas
A Treehouse as an Airbnb seems rather interesting. Let's take a look to see if this is the place you'd want to rest and relax at.
Seashells By The...Forest? This Stylistic Airbnb is Bursting With Magic
Ever wanted to live in a seashell? Now you can! Mermaids aren't included, sorry for the inconvenience.
Feeling Free? Clothing Optional Boat Airbnb Sets Sail in Terlingua, Texas
Feel like getting a full-body tan on a deserted island? This
stranded boat
may be the ticket you're looking for!