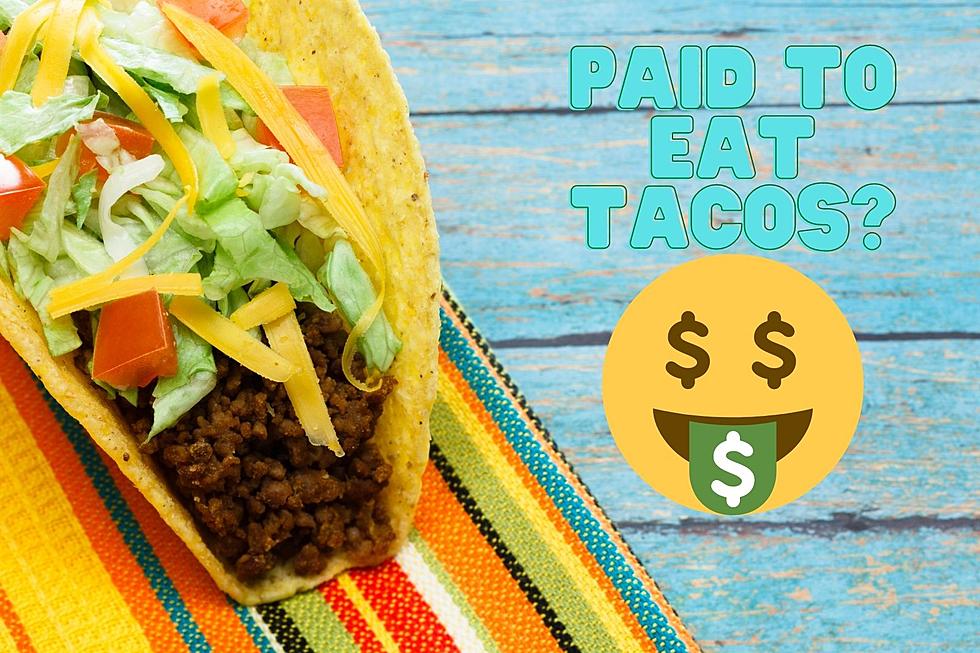 One Lucky Person From Texas Will Get $10K For Eating Tacos All Summer Long, Is That You?
Canva
When I read this story I honestly thought about quitting my job and risking all for the love of tacos! After all, who doesn't fantasize of traveling across Texas and pigging out on tacos? Well, now you could get paid for it.
Can You Say Dream Job?
Favor, the delivery company based here in Texas, is looking for a CTO ( Chief Taco Officer) to travel throughout Texas and sample tacos for two months.
Let me get this straight: You want me to eat my favorite food of choice (tacos) and you want to pay me $10,000 to do it?
Who's Eligible To Apply?
Texas residents over 21 are eligible. All you have to do is upload a 1 minute or less video explaining why you'd be the best CTO. After you do so, use the hashtag #Favordreamjob.
The Dallas Morning News reports that Favor's social media team will see who gets the most views and interactions. That means you'll have to really stand out in a crowd, so be sure to bring your A-game when you plead your case!
You Get More Perks Besides The 10K Being A Chief Taco Officer!
Favor will pay for transportation, food, and lodging, but it doesn't stop there. They'll also pay for massages and yoga classes! (Gotta keep in shape if you're going to put away tacos like a trash can for a living.)
Again let me reiterate just so I'm clear: FAVOR is going to pay someone $10,000 to sample tacos throughout Texas, pay for everything, plus I get massaged while all of this is occurring?
Great Taco Spots In Killeen, Texas
While we are on the subject of tacos, here are three spots to enhance your Taco Tuesday and also a good taco truck to check out in Killeen.
Taco Lovers Get Ready!
The deadline to enter is May 12th, but I gotta tell you as a taco lover, you got some competition.
So good luck, but not really...
Turkey Time? Here's Why Rudy's in Killeen, Texas Is The Best Place to Gobble It Up
I have driven past Rudy's in Killeen every day on the way to work for the past seven years.
But it wasn't until the summer of 2019 when I finally exited the expressway and checked them out for myself. I say to myself all the time: What took me so long? Here's what makes Rudy's a Killeen (and personal) favorite.
Wow! What I Saw When I Turned Left Inside Buc-ee's In Temple, Texas [PICS]
As the saying goes... everything's bigger in Texas.
Having said that, I've never seen a gas station with more than 50 gas pumps.
Then I visited Buc-ee's.
What is Buc-ee's?
If you don't know or have never visited the popular one-stop highway shop that has over 35 Texas locations in Texas, you need to!
You can get everything in Buc-ee's from gas, to keychains to candles to brisket to goat milk soap and everything in between.
Buc-ee's Has Expanded
According
to their site
, Buc-ee's, not only has multiple locations here in Texas, they have expanded to southern states like Georgia, Alabama, and Florida.
The World's Largest Buc-ee's Coming Soon
Later this year, Buc-ee's has
plans to open
"The World's Largest Buc-ee's" located in Sevierville, Tennesse. It will have 120 fuel pumps, a 250-foot car wash, and 74,000 square feet of indoor shopping.
Yikes!
I've Never Turned Left
In almost 7 years, I've been here in Texas, I've never turned left when I went inside a Buc-ee's.
I either walk straight to the bathroom or turn right to get water or gummy bears or chocolate almonds. (I get the same thing every time)
But yesterday, I decided to turn left and (I know I'm late) I was mesmerized!
For starters, I never had a reason to turn left.
I've visited the one in Waller County, Bastrop, and the Temple location.
Every time I've visited Buc-ee's, I've never had a reason to go "shopping" always a bathroom break and then back on the road.
So here are some of the cool things I saw when I turned left at Buc-ee's in Temple, Texas!
5 Sweet Bakeries To Check Out In Killeen, Texas
We all get a sweet tooth every now and then right?
But what do we do when it happens?
Do you go to the kitchen and bake a cake? Maybe hook up some cupcakes?
Cookies? perhaps?
Or do you visit the grocery store or your favorite bakery?
If your choice is to visit your favorite bakery I got a few bakeries that caught my eye that you may want to check out here in the Killeen area, if there's one or two we didn't mention that you go to, by all means, let us know!
In the meantime check out these 5 bakeries in Killeen: