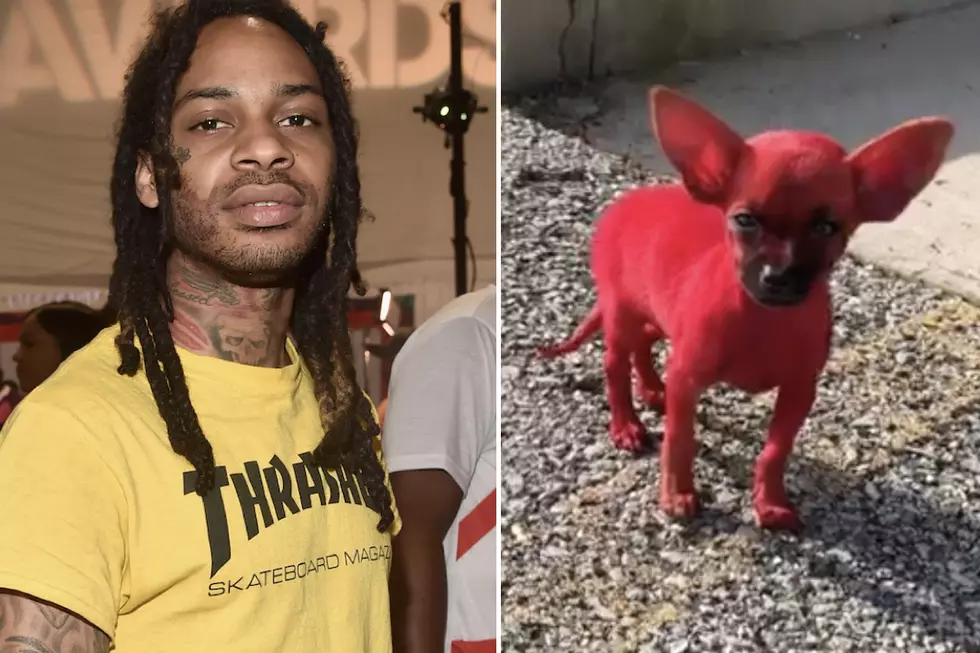 PETA Is Upset With Valee for Dyeing His Dog Red
Alberto E. Rodriguez, Getty Images / valee via Instagram
Last month, Valee caused an uproar on social media when he posted a video on his Instagram page of his small dog dyed in red. Now, it's been revealed that PETA caught wind of what the Chicago rapper did to his puppy and they are not happy with him.
On Friday (June 28), Valee jumped on his Twitter account and reposted a letter PETA sent to his reps. In the note, reps for the animal-rights organization implored the rapper to not dye his dog anymore. The letter reads, in part, "Valee should know that putting dye on animals is extremely dangerous. Although the dye used on Valee's dog was reportedly non-toxic and vegan, no animal has a natural desire to be dyed."
In addition, PETA wants Valee to remove his video so that it doesn't encourage his fans to start dying their own pets, which could put the animals in harm's way. "If he would consider removing this content across his social media accounts, it could literally save lives. Is there any way he could do that?" asks the PETA rep in the letter.
In the tweet, Valee writes, "PETA on my head. My dog do'n just fine," and adding a brown okay hand gesture emoji.
In a statement to XXL, a rep for PETA doubles down the sentiments the organization made known before: "Dogs are smart, complex animals, not toys. There is no safe way to dye a dog or any other animal, as there will always be risks of toxic poisoning or allergic reactions that can prove fatal to the animal. Putting a dog's health at risk by treating a companion animal like a novelty trinket is both unethical and unnecessary."
The folks at PETA weren't the first to call out Valee for his dog-dying ways. In the initial wave of Valee-directed criticism, people pointed to the potentially harmful side effects of using chemical-filled dye on an animal. Valee responded by saying that he'd only been using chemical-free vegan hair dye.
As of this writing, Valee has not removed the IG video of his freshly-dyed dog tippy-toeing on hot asphalt. The clip has garnered over 270,000 views so far.
Check out PETA's letter to Valee as well as the controversial video below.