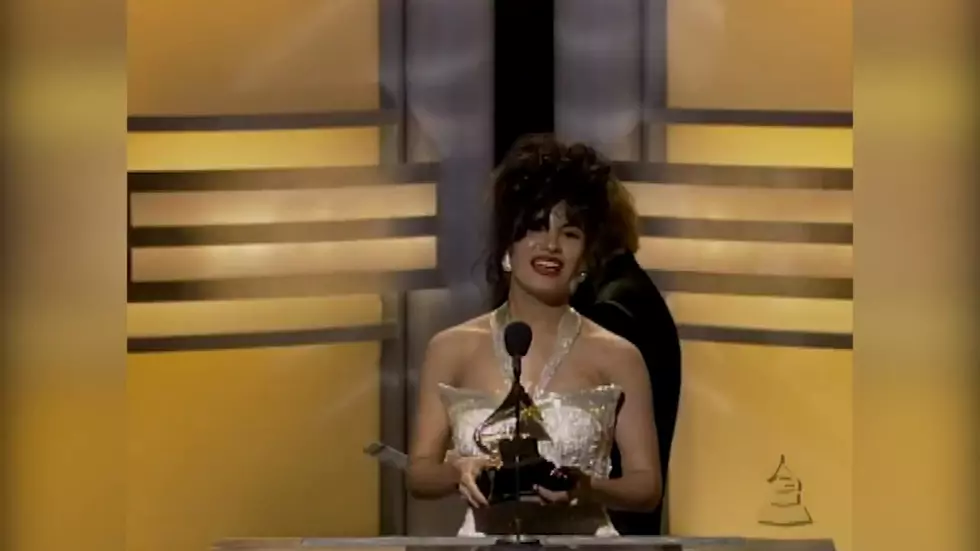 Texas Native Selena Quintanilla to be Honored with 2021 Grammy's Lifetime Achievement Award
Selena Via Grammys Rewind
Texas Native Selena Quintanilla's life and legacy will be celebrated at the 2021 Grammy Awards.
The late Tejano queen will be the first female Texas artist to receive a Grammy's Lifetime Achievement Award.
According to a report from the Recording Academy, AKA the Grammy's, Selena was announced as an award honoree for the Special Merit Awards and will be recognized at the 63rd Annual GRAMMY Awards this Sunday, March 14, 2021.
Selena's father, Abraham Quintanilla, spoke with People magazine and announced that he received the Lifetime Achievement Award statuette for Selena ahead of Sunday's show.
"I was very happy to open the box up and see this important award honoring my daughter's work," Abraham stated to People.
The Lifetime Achievement Award is decided by vote of the Recording Academy's National Trustees to performers who, during their lifetimes, have made creative contributions of outstanding artistic significance to the field of recording.
Selena was fatally shot on March 31, 1995 by her fan club president Yolanda Saldívar. She was only 23 years old, and just 16 days away from reaching her 24th birthday.
Despite her short time here on this Earth, Selena accomplished so much and broke musical barriers for women and Mexican-Americans.
Selena's 1993 album, Live, won Best Mexican-American Album at the 36th Annual GRAMMY Awards, marking the first time a female Tejano artist won the category.
"Selena would have been very excited for this honor, just like she was when she won her Grammy back in 1994," her father told People. "This award represents all the hard work and more importantly, represents our Latin culture."
Per usual, I cried writing this. Why did her life have to be taken so abruptly? I don't think I'll ever get over her death, she was such a sweet, courageous, strong woman, and she is missed greatly by millions every day.
Selena's legacy will continue to live on through her fans and her music, and for that I'm forever grateful.
Ten Weird World Records Set in Texas