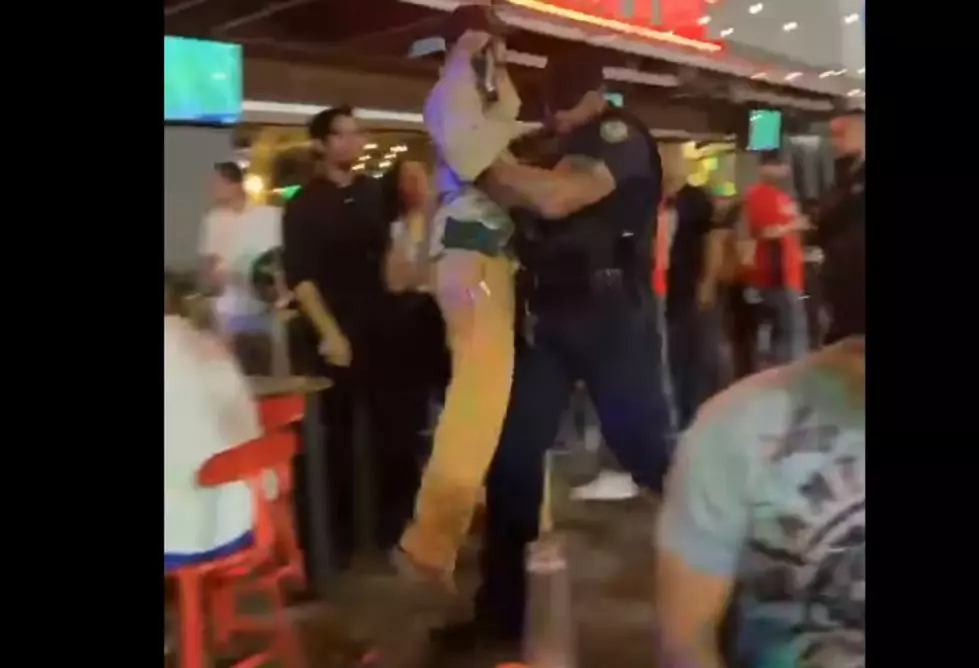 Texas Officer Uses His Gains to Carry a Grown Man Out From a Bar
via Geronimo Parra Cordova Facebook
The funniest thing you can witness at a bar is when a grown man is carried out like a child. We have all seen those particular situations play out at the bars in El Paso, but not like this. There is an officer from Houston, Texas that is going viral for his muscular bouncing skills.
Enter your number to get our free mobile app
We all know when you misbehave or become a problem inside a bar, you're bound to get the boot. Well, not sure what happened at the bar in Houston, Texas that landed a man getting kicked out of it. But it sure as hell was entertaining to watch the grown man being carried out like a kid.
The officer that has been going viral hails from H-Town and handled the troubled business like a professional. The Texas officer made carrying that grown man out of the bar look like a piece of cake. Luckily, Geronimo Parra Cordova recorded the entire thing from start to finish, above. If you've ever experienced this, and I mean getting carried out of a bar, then you understand the feeling.
Nothing is more humiliating than another man carrying another man like a child to teach them a lesson. Hence, why you should never act a fool anywhere you will be consuming alcohol. We have seen our fair share of people getting kicked out of El Paso nightclubs and bars over the years.
Another hilarious escort out of the bar happened to a woman who didn't remember anything of it. That was until she saw the evidence on her phone the next day and felt humiliated. You can check out her TikTok above.
It's funny because as the bouncer has a serious face she's laughing asking him if she is too heavy for him to carry. I don't know about you, but I've never seen this kind of escort out of the bar happen like this, ever in El Paso. So, let me know if you've ever been carried out of a bar like this before in the poll below.
MORE: Some of the Memes & Tweets That Have Made Us Laugh (and Maybe Think)
What Are the Signature Drinks From Every State?