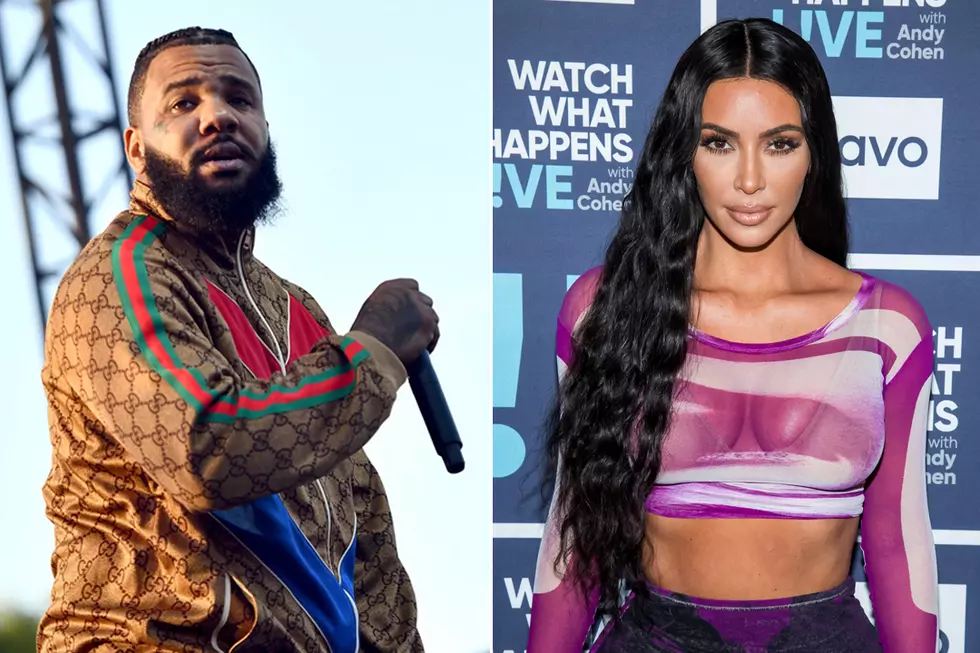 The Game Defends Lyrics About Having Sex With Kim Kardashian
Scott Dudelson / Charles Sykes / Bravo/ NBCU Photo Bank, Getty Images (2)
The Game has been getting a lot of backlash for his ribald lyrics about Kim Kardashian in a song snippet that was leaked onto the internet. While many fans believe that the Compton, Calif. rhymer crossed a moral line, or that he was clout chasing, Game himself has now denied both notions.
In a phone interview with 92.3 The Real's Big Boy's Neighborhood morning radio program on Monday (Jan. 28), Game insisted that he was only keeping it real.
"You got people that, you know, that watch movies that feel like, 'This is too much' or 'This is disrespectful," he explained. "And then when people say, 'Oh, she's a mother.' Yeah, my momma's a mother. How did I get here? I'm pretty sure my mom swallowed...let's be real. Everybody listening, like yo, your momma didn't get nasty? How did you get here?"
In the lyrics in question, Game raps about aggressive sex with Kim Kardashian-West, who is the wife of Kanye West. She and the Game dated before Kim and Kanye tied the knot.
On the offending song, Game raps, "I held Kim Kardashian by her throat nigga/I made her swallow my kids until she choked nigga/I should apologize, 'cause 'Ye my folks nigga/This for all my Vice Lords and locs, nigga."
While the lyrics are shocking and have led some people to wonder whether or not Game is simply "clout chasing," Game thinks it's silly to think that clout is his motivation.
"What makes a clout chaser? I don't get it—these new terms," he told Big Boy and company. "How do you chase clout? How is somebody that sold 20 million records, that is well established and is iconic in his own right, legendary in music—how do you chase clout?"
You can listen to snippets of The Game's full interview on Big Boy's Neighborhood below.
See 17 Hip-Hop Artists' Favorite J. Cole Projects