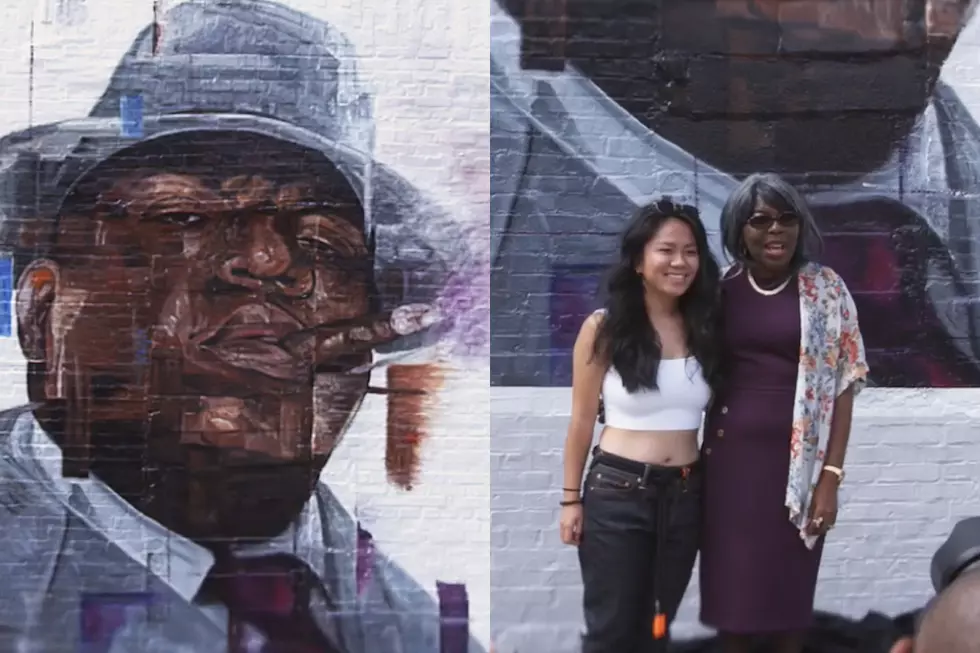 The Notorious B.I.G. Honored With Mural Inspired by Hoa Hong's Art
OPTIMO Cigars via YouTube
Earlier this year, the cigarillos company launched the Biggie Inspires art contest in which 170 artists submitted illustrations inspired by B.I.G.'s music, style and drip. Among the winners was Hoa Hong, who got a chance to see her artwork unveiled as a mural in Biggie's hometown of Brooklyn.
Hong, a high-school art teacher from Seattle, was inspired by watching documentaries about The Notorious B.I.G. and his friend-turned-rival Tupac Shakur.
"I wasn't even born when he passed away, but I grew up with a lot of hip-hop influence and watching every single documentary about Biggie and Tupac," the 23-year-old artist told the New York Daily News.
B.I.G.'s mother, Voletta Wallace, attended the event and watched the unveiling of the life-size mural located at 176 Flushing Ave., in the late rapper's Brooklyn neighborhood of Bedford–Stuyvesant.
"It's beautiful," Ms. Wallace said. "It gives me the shivers just to know he's not here to see all of this. It's sad, but it's also kind of nice, nice to know that he's remembered in such a very, very beautiful way."
A second Biggie Inspires mural, by contest winner Cinque Smith, was unveiled in Williamsburg, N.Y., and another one was unveiled in Atlanta by Brian "JEKS" Lewis.
In addition to the murals, Optimo Cigars held a Biggie Inspires exhibit party at the William Vale Hotel in Brooklyn. At the event, several artworks featuring Biggie's likeness submitted for the contest were on display. Among the guests at the star-studded event included Ms. Wallace, Lil' Kim, Faith Evans, Rick Ross, Lil Cease, and Biggie's children, Christopher Jordan Wallace and T'yanna Wallace, among others.
Watch the unveiling of the Biggie Inspires mural created by Hoa Hong below.
This editorial advertisement is presented by Optimo Cigars.
See Photos of The Notorious B.I.G. Over the Years