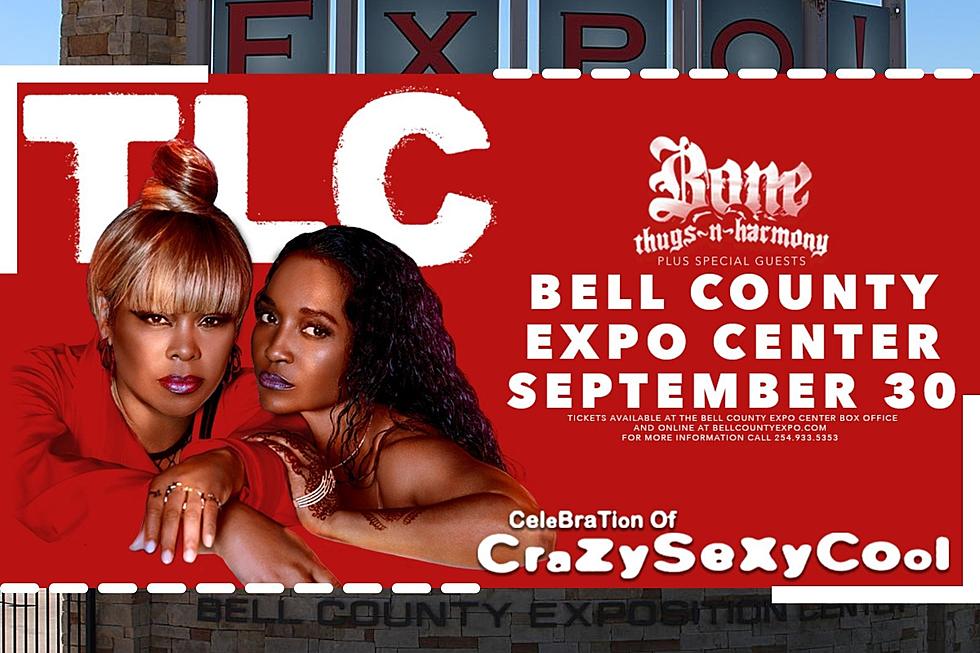 TLC Will Be Here Tomorrow – Central Texas Is So Excited!
Image Courtesy of Bell County Expo Center
Tomorrow night (Thursday, September 30th), one of the hottest, best-selling groups in music history will be right here in Central Texas.
You do not want to miss out on one of the best female groups of all time: TLC! This multi million album selling group will be at the Bell County Expo Center in Belton along with special guests Bone Thugs-N-Harmony.
If you haven't already gotten your hands on tickets by winning them from us or buying early, you can still get some at bellcountyexpo.com.
CRAZY SEXY COOL
That right the Crazy Sexy Cool Tour will be stopping here in Central Texas.
You know you're going to hear some of their greatest work, including their Grammy winning classics like "NO SCRUBS", "WATERFALLS", and my favorite, "CREEP".
And yes, you read correctly: They're bringing along Cleveland Ohio's own Bone Thugs-N-Harmony as well! This is show is the very definition of "must-see"!
SECRECT SPECIAL GUEST
As if Bone Thugs-N-Harmony coming to town along with TLC wasn't exciting enough, they've also teased a special mystery guest. They won't even tell us who it is!
Tickets have been going fast, but we're told you can still get your hands on some at the Bell County Expo Center's website or at the box office. If you know the Expo Center, you know there's really not a bad seat in the house, so get those tickets while you still can.
By the way, congratulations to everyone who won tickets from us because they had our free app. We love giving away prizes exclusively on our app, so grab it today!
WE WANT TO SEE YOUR CONCERT PICS
If you make it out to the show, we'd love to see any pics or video you get! Feel free to send them our way, and we'll be sure to give you a shoutout.
10 of TLC's Greatest Hits
This is a collection of TLC's Top 10 Hits Over The Years- With T- Boz and Chilli coming to Central Texas on September 30th at the Bell County Expo. I have compiled the top 10 TLC hits (and videos) of all time in order!