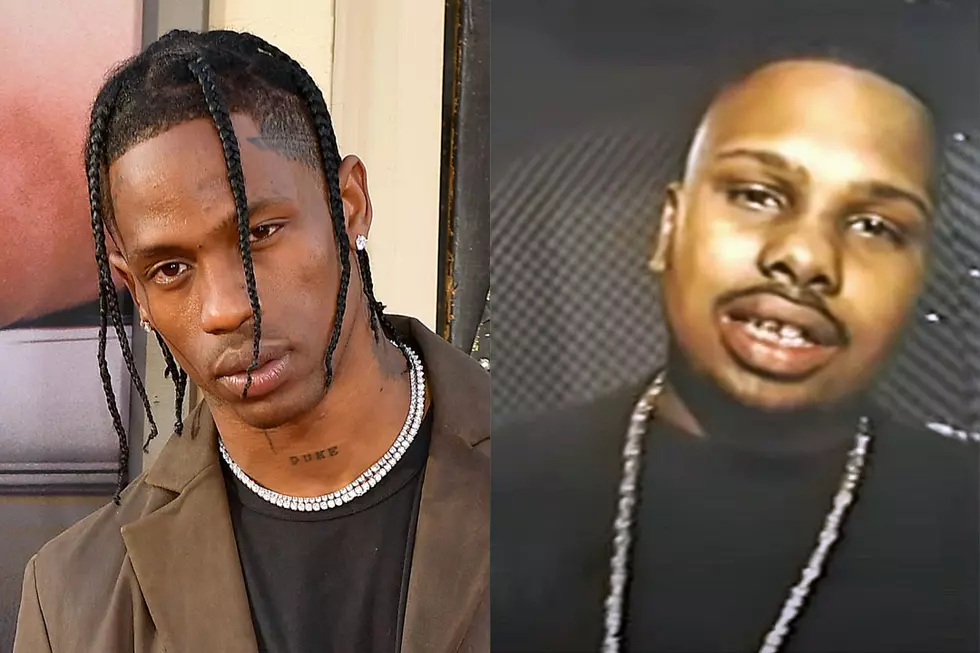 Here Are the Many Times Travis Scott Has Paid Tribute to DJ Screw Over the Years
Matt Winkelmeyer, Getty Images / BigPushPromos via YouTube
A real musical legacy never fades. There are always things like songs, albums or people that help keep an artist's memory afloat after they've passed. And in the case of the fallen legend DJ Screw, who is widely credited as Houston's pioneer of chopped and screwed music, his tradition is carried on most notably by one of the world's biggest artists: Travis Scott.
Formally known as Robert Earl Davis Jr., DJ Screw began spinning records back in the mid-1980s. As hip-hop's golden era in the 1990s began to flourish, he put more focus on a signature slowed-down approach when it came to the music he produced. Screw would invite his friends over to spit on his sluggish-paced tracks, providing a tempo that was seemingly reminiscent of how slow things move once someone ingests a cup of lean. He would create remixes as well as new tracks that would be featured on his popular mixtapes at the time. His Chapter mixtape series went up to No. 349, and he released projects beyond that.
His home team later became known as the Screwed Up Click, comprised of Screw himself, Big Pokey, Big Hawk, Fat Pat and Lil' Keke, among others. The crew became very popular for their innovative sound, which moved them from a regional group to national recognition. But in the midst, right at the top of a new decade, DJ Screw died on Nov. 16, 2000, due to a codeine overdose and mix of Valium and PCP.
The "Screwtapes," the name given to the many tapes he made and sold from his Houston home, still circulated the streets after DJ Screw's death, making it possible for younger artists like Travis Scott to discover and latch onto the late artist's influence. Cactus Jack obviously ended up becoming a star as well and at select moments in his career, he's paid homage to DJ Screw by showing respect in new songs, albums, music videos, performances and festivals.
Nov. 16 marks 20 years since DJ Screw has passed away. To celebrate his legacy, XXL highlights some of the dope moments in which Travis Scott has kept DJ Screw's sound alive.
Travis Scott Infuses DJ Screw's Voice on "Drive"

2013

On Travis Scott's 2013 Owl Pharaoh mixtape, he delivered the earliest tribute to DJ Screw on the song "Drive" featuring James Fauntleroy. In an audio scene that depicts Travis flipping through cassette tapes as he tries to find something to listen to in the car, the first thing you hear is the voice of DJ Screw. His words are taken from the screwed-up version of the song "So Real" by Fat Pat, Mike D and Lil' Keke. The words "10-2-0-1, you know what I'm sayin'?/Smokin' big, drankin' syrup, know what I'm talkin' 'bout?" kick off the track in a delayed, distorted manner. Even in Travis' earliest projects, like Owl Pharaoh, he made an effort in citing how big of an influence DJ Screw had on his upbringing and sound.

Shouts Out Screwtapes on "Best Man"

2017

"Best Man" is the best track on Travis Scott and Quavo's 2017 joint project Huncho Jack, Jack Huncho, and the entire project should've sounded like that. The song's slowed-up tempo and thunderous bass provides an illusory feeling upon listening, like most of DJ Screw's music. Once Travis' verse sounds off, he details his musical influences and what he used to bump growing up, mentioning the catalog of Kanye West and Screw's Screwtape series. For nearly a decade, Screw recorded over 300 tapes, filled with chopped-and-screwed freestyles from himself and his friends. Growing up in Houston, Trav surely used to have a good handful of them in rotation.

Interpolates DJ Screw's Chopped-and-Screwed Sound on "Can't Say"

2018

Alongside another Houston-bred star, Cactus Jack teamed up with Don Toliver for the song "Can't Say," featured on Travis' Astroworld album. On the track, Screwed Up Click rapper Fat Pat's vocals are utilized on the interlude, taken from DJ DMD, Lil' Keke and Fat Pat's song "25 Lighters." "I'ma swang and a-swang and a-swang to the left/Pop, pop my trunk/Dip, dip, dip, dip/Oh my," the lyrics go. To emphasize that catchy part of the song, a chopped-and-screwed method of production is drafted by the tracks producers Mike Dean, WondaGurl and London Cyr, circling things back to DJ Screw once again.

Samples DJ Screw, Lil' Keke and Big Pokey's "Peepin' in My Window" on "5% Tint"

2018

On "5% Tint," another Astroworld cut, Travis Scott pays homage to DJ Screw once more. The song interpolates the hook of Goodie Mob's "Cell Therapy" and the beat of DJ Screw, Lil' Keke and Big Pokey's track "Peepin' in My Window." The track is grungy with a basement level of grime that is highly reflective of a screwed-up track. Both samples are executed to the tee, by way of Mike Dean and FKi 1st. With Goodie Mob hailing from Atlanta and DJ Screw, Lil' Keke and Big Pokey repping Houston, Travis provides the best of both worlds and pays respect to quite a few southern rap vets in the process.

Dedicates "R.I.P Screw" to the Fallen Legend

2018

On the fourth track of Travis Scott's Grammy Award-nominated Astroworld album, he dedicates an entire song to the Houston rap legend. On the Swae Lee-assisted "R.I.P. Screw," Travis floats over a dreamlike, codeine-paced beat composed by FKi 1st, Mike Dean and La Flame himself. Citing DJ Screw as one of his biggest musical influences, Travis fills his lyrics with references to the Screwed Up Click, the iconic Screwtape series and pouring a 4 ounce of promethazine, which DJ Screw was widely known for using as his substance of choice. The outro is also taken from a 1998 ABC News story about Screw and the rise of chopped and screwed music.

Gives Tribute to DJ Screw While Performing "Sicko Mode" on SNL

2018

In October of 2018, Travis Scott got a huge, well-deserved look when he graced the stage to perform on Saturday Night Live. For his debut on the show, La Flame performed a medley of hits that included "Skeletons," "Astrothunder" and, to cap things off, his Billboard Hot 100 No. 1 song "Sicko Mode." During the performance, images of DJ Screw decorated the background, which was covered with the illusion of running water. At the end of the set, Trav sat down on the floor as DJ Screw's voice echoed throughout the room, closing out the show.

Offers Screwed Up Records & Tapes Storefront at Astroworld Festival

2018

If you didn't attend Astroworld Fest in 2018, you're probably sick that you missed something so legendary. Especially because concerts and festivals have come to a halt due to the current pandemic. In a recreated land dedicated entirely to the city of Houston, Travis Scott filled the grounds of his inaugural festival with some of the city's most significant attractions, including a replica of DJ Screw's Screwed Up Records & Tapes shop. The esteemed storefront is where DJ Screw memorabilia is sold in Houston. And it also makes an appearance in the music video for "Sicko Mode."