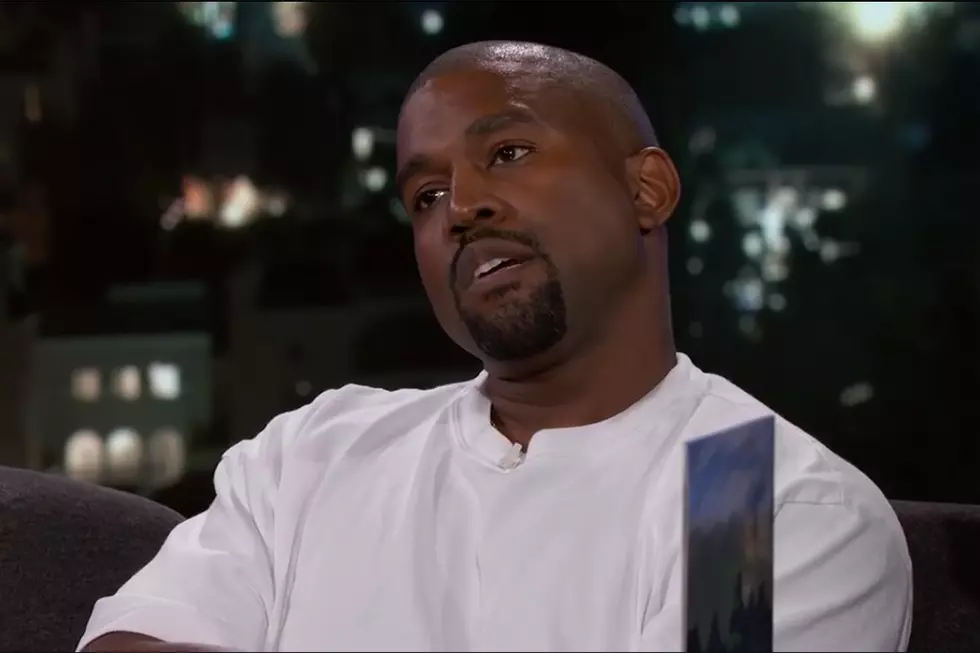 10 Things You Need to Know From Kanye West's 'Jimmy Kimmel Live!' Interview
Jimmy Kimmel Live via YouTube
Kanye West has been doing less interviews as of late but on Thursday (Aug. 9), the rapper appeared on Jimmy Kimmel Live! where he touched on everything from his love for President Donald Trump to his infamous TMZ Live interview.
During the nearly 22-minute sit-down, the "All Mine" rapper discussed what attracts him to Trump and even opened up about wearing the "Make America Great Again" hat, which he says was over a year in the making.
While the interview was full of hilarious moments, Kimmel also grilled 'Ye, asking him what he thought about the Trump administration taking children from their parents at detention centers, as well as if Trump cares about Black people.
Check out the 10 things you need to know, as well as Kanye's full interview with Jimmy Kimmel below.
1

Yeezy Is Down to Collaborate with President Trump's Space Force

It's no secret that Kanye is a fan of Trump and the rapper is even willing to work with the President. When Kimmel suggested the Space Force as the next step for 'Ye's career, the rapper said he would totally be involved and is down to design the uniforms.

2

He Had to Gain the Confidence to Put on a "Make America Great Again" Hat

By now, the photo of Kanye wearing the red "Make America Great Again" hat has become infamous but according to the rapper, it took him over a year to gain the confidence to wear it. "It took me a year and a half to have the confidence to stand up and put on the hat no matter what the consequences were," he said.

3

Kanye Enjoys People Being Mad at Him

Since returning to Twitter and voicing his love for Trump, Kanye has become the target of anger from many, but he isn't too upset about it. During his sit-down with Kimmel, the rapper said he quite enjoys when people are mad at him.

4

The "Yikes" Rapper Thinks Society Is Too Focused on the Past

When asked if he regrets anything he's said in the past, 'Ye started to discuss how society is too worried about history. "I think people focus too much on the past and focus too much on regret," he said. "I've heard of history class... I've never heard of a future class."

5

What People Missed During His TMZ Interview

Kanye's appearance on TMZ Live became infamous for his comments about slavery, but the Chicago artist says viewers missed one important thing. "The main thing I was stressin' is the idea of trying love," he said.

6

Kanye's Plan to Diffuse Hate Is With Love

Yeezy is tired of people attacking Trump, so instead of going at him, he wants to see people use love. "One by one by one, we can diffuse this nuclear bomb of hate that we're in."

7

In 2005, Kanye famously said, "George Bush doesn't care about Black people." Fast forward to today and West can't explain why he thinks Trump cares about Black people or any people at all. The rapper was left speechless when Kimmel asked the question, prompting the host to cut to a break.

8

North and Saint West's Outfits Are Picked Out by Kanye

When your dad is Kanye West, your outfits are going to be on point. While it's no surprise that Yeezy picks out his children's clothes, the rapper also revealed he designs outfits for them as well.

9

His Favorite PornHub Category Is Blacked

While Kanye may be a celebrity, the Windy City rhymer still has time for porn. Things got a little awkward during the interview when Yeezy revealed Blacked is his favorite category on the site and said he likes to watch a lot of porn videos featuring "Black on White, obviously."

10

He Had a "Blackout" at the Age of 5

Near the end of the interview, things got serious when Kanye revealed he suffered a "blackout" at the age of 5 and wasn't "fully medicated" following the incident. "I think it's good that when I had my first complete blackout at age 5, my mom didn't fully medicate me because I might of never been 'Ye," he said.