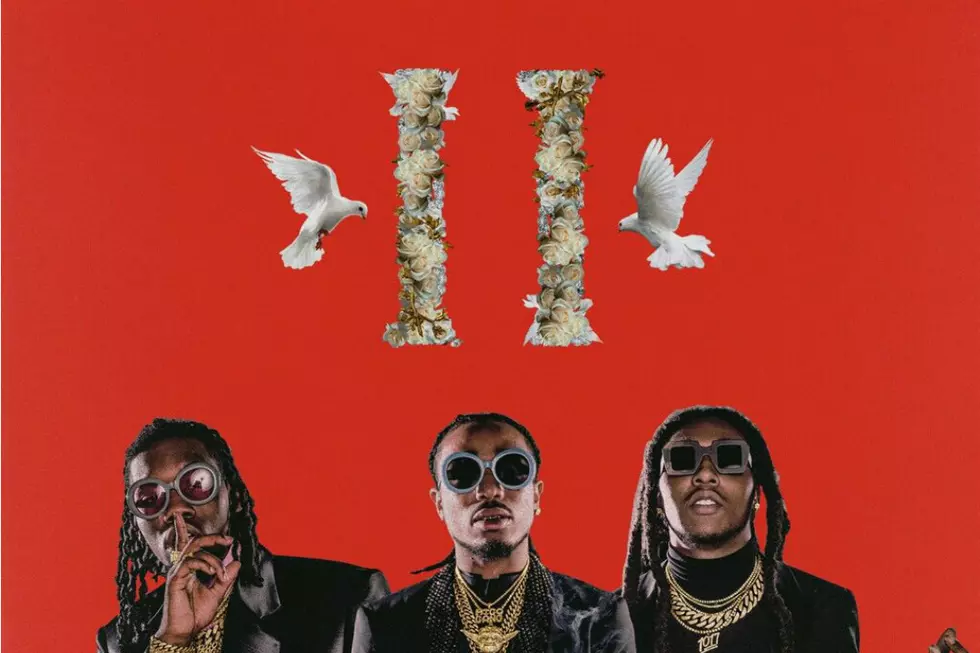 20 of the Best Lyrics From Migos' 'Culture II' Album
Quality Control
Those "Migos > The Beatles" arguments have been starting to sound a whole lot more feasible in the past year or so. The trio's third studio album, Culture II, is out today, capturing Quavo, Takeoff and Offset at their artistic and commercial height. They talk lavishness and street wisdom over beats by producers like Pharrell Williams, Kanye West, DJ Durel, Murda Beatz, Cardo, Metro Boomin and Honorable C.N.O.T.E.
Balancing relevancy with saturation can be a delicate tightrope, but few have walked it as gracefully as the Atlanta trio, which features a hearty 24 tracks on the album. It's a proper setup for another winning year to follow a monster 2017, which kicked off with Migos' sophomore album Culture, released almost exactly one year ago (Jan. 27). They've since become some of the biggest hit makers in rap, also lending their Midas touch to songs of various genres, from pop to dancehall.
But Culture II is a big-budget affair that embodies everything that the Migos represent. The album boasts appearances from rap's all-stars: Drake, Cardi B, Nicki Minaj, Big Sean, Travis Scott, 2 Chainz, 21 Savage, Gucci Mane, Ty Dolla Sign and Post Malone. And it's rightfully been dominating the music conversation since even before its release.
With the Migos' latest body of work in heavy rotation, XXL compiled a list of the best lyrics from Culture II (peep Takeoff's lyrical flourish). Read the one-liners (and ad-libs!) that you'll likely be seeing on your Twitter timeline or Instagram captions for the next few weeks.
"Higher We Go (Intro)"

Migos

"150 a choker/Flooded my wrist, it's soakin'/Split up the waters like Moses/I done put furs on loafers/Rolls Royce nightmare, I'm a ghost/Let's have a codeine toast/Niggas ain't gettin' no stain on me/Don't trip, don't trip, my gang with me/Come to the bank, stop playin' with me/Bricks on bricks, it's rainin' keys" —Offset

"Them boys fool you tryna do it, bring the toolies out/Niggas don't want no smoke, they pull up with they coochies out/It's times three, it's times three, that's how it goes/Park a million dollars at the bando/We gon' make 'em eat that dope until we go/Rich niggas straight to the top floor/On more PJs than Pablo" —Quavo

"Marvin the Martian, I'ma put your brain up for auction/Proceed with caution, skeleton AP is frosted/I sit back and read the offense, my hoe is addicted to faucets/Chanel bag is ostrich, stay down, come up in the process/Hey, private jet, yeah, thotty wanna fuck the same sex, yeah/Diamond mill' mill', yeah, I'ma keep the bitch on welfare" —Takeoff

"BBO (Bad Bitches Only)"

Migos Featuring 21 Savage

"Make it spaz, that's a quarter cash in the caterpillar/Porsche tags in the nigga ass, I'm a cop killer/Reggie Miller shoot 'em, Billups/Say 'Phillipo' nigga you say, 'Fill up'/Double cup, codeine killer/Houston Texas, no who trilla?" —Takeoff

"Walk It Talk It"

Migos Featuring Drake

"That was that, so I can't be beefing with no wack nigga, got no backbone/Heard you living in a mansion in all your raps though/But your shit look like the trap on this Google Maps, though/We been brothers since Versace bando, whoa/Name ringing like a Migo trap phone, whoa/Used to be with Vashtie at Santos/That's on Tommy Campos, we live like 'Sopranos', and I" —Drake

"Walk It Talk It"

Migos Featuring Drake

"Eliott got me rocky/Blow a socket, chicken teriyaki/Take off, rocket keep 'em in pocket/Water gon' lock it, quadruple the profit/I walk like I walk, talk like I talk/What's in my vault? Load of cash and the salts/I put a lab in my loft/She cook up, and jab with the fork" —Offset

"Niggas out here ain't got stain/Makin' this money, been ballin' on niggas/They think I've been soundin' too lame/Pull up in 'What the fuck,' nigga, that's strange/Uh, yeah, water on my wrist and my neck/Look at this fluid/200 sit on my dash, smash, 12, I'ma lose 'em" —Offset

"I, I, count the guap/Set up shop, fuck the cops/We ain't worried (not at all)/Diamonds on my wrist look like McFlurry's/And these, thotties ain't got manners, slurpin'/Ice out the gang, make an Emoji a chain/Ice out the gang, make an Emoji a chain" —Offset

"White Sand"

Migos Featuring Big Sean, Ty Dolla $ign & Travis Scott

"Pull up the curtains to the Mulsane/Pavé my set and clip Blu-ray/Run to the bag like Hussein/When I lay my head down, got two K's/Ferrari in Miami Beach/I paid one twenty for rose Philippe/I took her soul for keeps, yeah/Back-to-back Rolls like Meech" —Offset

"Auto Pilot (Huncho on the Beat)"

Migos

"To ever have a conversation/Hotboxing, there's no ventaliation/Sipping on drank and I snooze, prescription is my medication/Forget all your fears and face it/Pick up that cup and taste it/I break the heart on a bitch like I'm breaking a brick, but later in life she'll thank me" —Takeoff

"Drown the ice with medicine/Drown your bitch with the skeleton/I'm on the stove cooking elements/The skies the limit, I'm heaven-sent/Dripping the flies, a pelican/Buy my a zoo, I got elephants/They saucy, these niggas not relevant/They copy the bros and it's evident" —Offset

"Five mil' what it's worth on appraisal/Rockabye baby, you traitor/Give feds to the sharks and the gators/That's what you get, you fugazy/A forehead sit on my naval/I put a hole and hand me a bagel/Spin in that pot like a tornado/El Gato keep it like a gato/Birds in the bando, we send him that claco/Shoot a fuck nigga with sigs 'cause I don't shoot accurate when I shoot Draco's" —Offset

"Can't fuck with the lane 'cause he dirty/I can not kick it like rugby/I got the socket so plug me/Solitaire, chicken McNuggets/Makin' that pie in the oven/Super bad, call me McLovin'/Ain't budgin' I fuck up the budget/And I keep the Hammer, can't touch this" —Takeoff

"Bo-legged coupe/Mil' in the roof, bitch got the juice/I know you feel me, masseuse/You rock me, I kill you, a truce/Big pointers on my neck, Bruce Bruce/Grave digger on the north on mute/You too cute, gimme mouth through your loop/Better watch yo bitch, she want the group" —Offset

"MotorSport"

Migos Featuring Nicki Minaj & Cardi B

"Yeah, Cardi B, I'm back, bitches/I don't wanna hear I'm actin' different/Same lips that be talkin' 'bout me/Is the same lips that be ass kissin'/These hoes ain't what they say they are and their pussy stank, they catfishin'/Same hoes that was sendin' shots, they reachin' out like they back itchin'/Why would I hop in some beef when I could just hop in a Porsche?/You heard she gon' do what from who? That's not a reliable source" —Cardi B

"MotorSport"

Migos Featuring Nicki Minaj & Cardi B

"Uh, the coupe came imported/This season's Off-White come in snorted/Green Lamborghini a tortoise/No human being, I'm immortal/Patek and A.P. full of water/Hundred K, I spend on my señora/My pinky on margarine, butter/And my ears got McDonald's nuggets" —Offset

"I'ma handle all business (yeah), I'ma handle all business/I'ma take care my mama, and if I ever have children/Lord knows Lord willing, can't go back to the system/If I ever get a feeling, I'ma hide all the millions/Park the Benz and the Bentley/Designer belt game Fendi/Put ya bitch in the blender/Now she think she work the milly" —Quavo

"Too Playa"

Migos Featuring 2 Chainz

"Playaz Circle, that's my first squad, but you already knew that/Niggas claim they got a million dollars, but I already blew that/Donatella on the bootstrap, whole crew got a Tru tat/Whole crew got a Tru chain, lay it back, now I Mulsane/100 thousand in a blue flame, cross a nigga like a spiritual/Before rap, I was in the trap, and my record was criminal/Baby girl got that water park, when she get up, she left a watermark/Black Patek Philippe, motherfuckers like Armor-All" —2 Chainz

"Too Playa"

Migos Featuring 2 Chainz

"I love my mama, never change, your honor/So I gotta let his mama live/I beat the pot up like Adrien Broner/Make him vanish, David Copperfield/Came in the game and was independent/They was screaming out that we ain't got a deal/Said I ain't playing, this the face I make when I call my plug and he ain't got a sell" —Takeoff

"Culture National Anthem (Outro)"

Migos

"Jets I ride in the latest/Outdated, you fell and you faded/I am a Nawf Side native/Crocodile Hermes gator/I'ma get the bag every angle/Mama got Cartier bangles/Audemars ring, Uranus/Matchin' with the leak on the paintings" —Offset