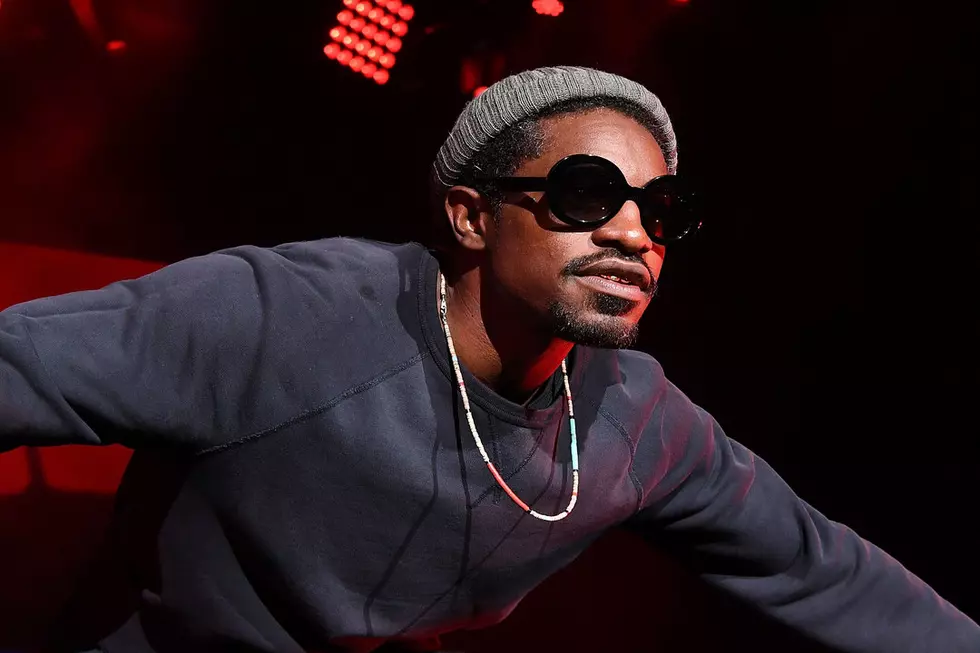 Andre 3000's Best Guest Verses of the 2000s, Ranked
Paras Griffin, Getty Images
Hip-hop loves a good Top 5 debate. And while that convo has honestly, gotten a little stale and redundant, there's one name that usually is always in circulation–Andre 3000.
Is Andre 3000 the best lyricist to ever do it? You could certainly argue the case. What isn't debatable, however, is that he's next level as far as hip-hop artistry is concerned. Before Afro-Futurism became cool again, before it was okay to completely be free in your creativity, before hip-hop even acknowledged the lyricism of southern rappers, there was Three Stacks.
There are a lot of things that make Andre 3000 great. His ability to weave complex ideas into simple messaging. The complexity of cadence, even when his delivery sounds easy and stress-free. The futuristic ideas and concepts he lyrically merges with relatable, everyday life happenings.
He's always been ahead of his time, a few paces ahead of the rest, even when his lyrical offerings were eerily current. Since OutKast dropped what will likely be their final album in 2003, the musically expansive Speaker Boxx/The Love Below, Andre sightings, for the most part, have been pretty few and far between.
He had an energized run between 2007-2008, hopping on tracks with everyone from Devin the Dude to his partner in rhyme, Big Boi, to DJ UNK and Lloyd. Then he went quiet for a while again, emerging only sporadically on random tracks that always pointed to one thing—when he feels like rapping, Andre 3000 is probably the best rapper alive.
We've combed through his post-2000 guest appearances to pick out, and then rank, his best offerings. No matter how you rank these tracks, one thing is certain—you need to listen to Dre's verses.
20

"Party" - Beyonce featuring Andre 3000

4, 2011

Andre paired with Beyoncé in 2011 for her slick party jam, "Party"  produced by Kanye West. Andre's delivery, about eating gyros in the mall and feeling old lately, connects on another level, without bringing the groove down.

"Kiddo says he looks up to me this just makes me feel old/Never thought that we could become someone else's hero/Man, we were just in the food court eating our gyros yesterday..." 

19

"The Ends"- Travis Scott featuring Andre 3000

Birds in the Trap Sing McKnight, 2016

Travis Scott received a nice co-sign when Andre deemed the Houston native worth of a rare guest spot on his track, "The Ends." Three Stacks takes the time to talk about the horrific Atlanta murders of the '80s that rocked the city, for which Wayne Williams was eventually arrested and convicted for in 1982. There aren't many rappers with the ability to paint a picture like Dre, and here he's downright spooky.

18

"Walk It Out" Remix - DJ UNK featuring Andre 3000

2007

This seemed like an unlikely feature from Andre, but in 2007, Atlanta was in the midst of its "snap" phase, and Dre had long carried an air of mysticism that seemed to place him above any newbie rap trends. So, when he hopped on the remix to fellow Atlantan, DJ UNK's, popular club hit, "Walk It Out," folks were surprised. Dre plays the role of the perturbed uncle on the track, dropping life gems while still being cool and concerned enough to party with the kids he's lightweight chastising.

"Now walk it out like an usher/If you say real talk I probably won't trust ya/If you wanna go to war, the gunz my pleasure/Even Jesus had 12 disciples on the level, trigger, whatever/Pyong, you don't want nan day of three thou'/I'm like jury duty, you're new to this part of town/Your white tee, well to me, look like a nightgown/Make your Momma proud, take that thing two sizes down/Then you'll look like the man that you are or what you could be/I can I give a damn 'bout your car, but then I would be/If it was considered a classic before the drastic change/In production when cars were metal instead of plastic..."

17

"Deuces" Remix - Chris Brown featuring Drake, T.I., Kanye West, Fabolous, & Andre 3000

2010

There are a lot of people on this track and none of them are wack. But Andre's guest spot takes it to another level. Here, he's talking about relationships, and as per usual, he's great at being vulnerable and perceptive without ever getting corny with it.

"And here I am / All heavy with the words / Where somebody that's a nerd / Likely fast forward / But shit, they asked for it / It's hard to throw up them deuces / 'Cause when you know it's juicy / You start to sound like Confucius when making up excuses / Chase the Cabooses until the track gone / I gotta find me a new locomotive / Stop making sad songs"

16

"I Do" - Young Jeezy featuring Andre 3000, Drake & JAY-Z

TM:103 Hustlerz Ambition, 2011

Everyone came pretty hard on this song about finding a woman in the club who's so fine; you want to marry her — especially JAY-Z. But Three Stacks comes through at the end and makes it the Andre Benjamin Show, with his first four sing-songy bars that transform the entire vibe of the song.

"Nothing's more attractive than a heavy praying woman/To a him when those and them been defecating on me (ughh)/Her would sense the heaven, and him when Andre omen/Baby I'm hell, save me, don't bail/Crazy I tell you all of this in the middle of a club/Where words tend to get thrown around..."

15

"Interlude" - Lil Wayne featuring Tech N9ne & Andre 3000

Tha Carter IV, 2011

Dre comes after an especially energetic verse from lyrical powerhouse TechN9ne, but he manages to hold his own, which is hard to do coming after Tech.

"I tell a nigga all those flows are borrowed / It's the pharaoh / Three Stacks / I woke up in Cairo / Looking at stars so bright in the sky / I thought they were marbles / No car doors / what you call those? / A whole carload of raw hoes / In a Jeep Defender / Please remember: don't feed the Simba / Three's assembled like nobody / He's a symbol of what's safari."

14

"Decemba" Remix - Divine Council featuring $ilk Money, André 3000

Council World, 2016

In 2016, Dre felt like returning to rap and showed up on a few random projects, including this remix from Divine Council, where he spits a story so vivid and raw, you'll need to rewind it a few times. After that, watch the video, which he directed, and see his story come to life.

Posting bars from this verse is almost like a spoiler alert:

"They got us surrounded now I think my next door neighbor saw my face in the paper/Thought my deputy bitch would turn on me but she turned over and said "do me a favor"(she say)/"Got a fantasy I wanna do."/Yeah?/"Get naked and go grab my tool"/Yeah?/"If we gone go out, then we gone go out"/"Let's make it beautiful news"/Damn!/The cops are now rushing in, rushing in, rushing in, rushing in, rushing in/They yelled " get down", my bitch is face down/And we fuckin I'm bustin' right back at them/She cummin' so hard/They shot through my heart/I got my nut off/So there'll be a part
Two..."

13

"Benz Friendz" - Future featuring Andre 3000

Honest, 2014

If you've grown tired of checking for Future and his endless stream of songs, you may have missed this gem of a verse from Dre in 2014. Produced by Organized Noize (Rico Wade is Future's cousin), the song showcases Dre in his element.

"I told the girl I'm 'bout to sell the Porsche / I'm tired of it / She go and told these folks I'm going broke / A smile poured / From my lips / 'cause if I'm broke / it's only hearted / Broken records from broken English / that's all it / Hold up / And if I were, why? / Would you throw a party? / Affection is so convenient when balling / Correction: these hoes don't mean it when falling / I guess that's why Lois can't be with Clark Kent / Fly on a nigga back while he Superman / But if I'm in a wheelchair / You still there?"

12

"Sixteen" Rick Ross featuring Andre 3000

God Forgives, I Don't, 2012

Sometimes 16 bars just aren't enough. Rick Ross let Andre have at it on his own track.

"Summer '88, or was it '89/Or was it winter-time, ah, never mind/I'm in my room, boomin' drawin' LL Cool J album covers/With Crayolas on construction paper/I'm trying to fuck my neighbor, I'm tryna hook my waves up/I'm tryna pull my grades up, to get them saddle lace-ups/Before Le marc was Jacob, before them girls wore makeup/Before my voice would break up, before we'd tour them shake clubs/Before my mama wake up, before my palms would cake up/Before they told me they love me and we'll never breakup/Before the time she makes love, to someone that I thought was, my homeboy/But boy was, I wrong now/I don't budge, don't want much, just a roof and porch/And a Porsche, and a horse and unfor-tunately..." 

11

"Everybody"- Fonzworth Bentley featuring Andre 3000

2008

The video, though it strangely flew under the radar, is a hip-hop rarity—with Fonzworth, Kanye and Andre dancing Temptations-style throughout it, fully committed to the moment and the choreography. Seriously, why wasn't this a bigger hit? Andre 3000, in pure form, goes off on the song.

"One off, so I let em go like a pro/Sir Andre with an accent 3 triple 0/Ben-jamin, Lauren is the middle name/That was given by my mama, success was on her brain/Rain? Bentley Farns got the umbrellas/Benjamin got the sweaters, hey what more can we sell em?/Sun, spring will bring the parasol/Now watch him parasail to entertain us all..."

10

"Green Light"- John Legend featuring Andre 3000

Evolver, 2008

One of the best songs in John Legend's discography also features one of the best guest verses ever from Three Stacks. Playful and energetic, Dre lets a woman he meets at a "lame n-gga factory" (aka a party) know why she should give him the green light, and hop a cab with him.

"So I went hard like Medusa staring at me/I told her let's go, let's blow this lame nigga factory/She said, What type of girl do you think I are?/The kind that you meet in a bar?/You think you can get whatever you want cause you some kinda star/No I'm a comet, I just want you woman/Hey, If I were you then It would be me that I go home with/Three, the one and only, one thing you ain't considered/I heard you when you told your girl "ooh he can get it"/Admit it,/You did it/Let's hop a cab and split it/I'm kiddin' we both going to where you livin'..." 

9

"What a Job" - Devin the Dude featuring Andre 3000 & Snoop Dogg

Waitin' to Inhale, 2007

There wasn't anything particularly new about the concept of this song, which details the trials of being a rapper. What was unique was the delivery of the song by everyone, as is the norm for any Devin track. Andre, of course, shined. He offered his frustrations about the business, and how rappers work late nights, often gathering around the beat "like a campfire," before leaping into a story about meeting a few fans who've been inspired by his music, and remind him of why he started his rap journey in the first place.

"See we do it for that boy that graduated/That looked you in your eyes real tough and said 'preciate it/And that he wouldn't have made it if it wasn't for your CD number 9/And he's standing with his baby momma Kiki and she cryin'/Talkin' 'bout that they used to get high to me in high school/And they used to make love to me in college/Then they told me 'bout their first date listenin' to my tunes/And how he liked her finger nail polish/I say, hate to cut you off but I gotta go/I wish you could tell me mo' but I'm off to the studio, gotta write tonight/Hey, can you put us in your raps? I don't see why not/Devin is the dude you gon' probably hear him talkin' 'bout..."

8

"Pink Matter" - Frank Ocean featuring Andre 3000

Channel Orange, 2012

A standout on Frank Ocean's acclaimed debut album, Channel Orange, this was almost an OutKast reunion, though the pair decided they couldn't do that on someone else's record.

"It was just a simple thing," Malay, who co-produced the song told Complex. "There came a point when we knew we were getting close to wrapping the record. Frank was kind of narrowing down who he wanted features from. We knew we didn't want to make it a record full of a whole bunch of big name collaborators just for the sake of having them. We were just really trying to decide who we could bring to this project that's going to elevate the overall project."

Of course, that's exactly what Dre did, with one of his most memorable guest spots ever— and one of the best verses from any rapper that entire year. Again, Dre is a guru when it comes to spitting real life about relationships.

"Since you been gone, I been having withdrawals/You were such a habit to call/I ain't myself at all, had to tell myself, "Naw, She better with some fella with a regular job"/I didn't wanna get her involved/By dinner Mr. Benjamin was sitting in awe/Hopped into my car; drove far/Far's too close and I remember my memory's no sharp/Butter knife, what a life, anyway..." 

7

"Int'l Players Anthem (I Choose You)" - UGK featuring OutKast

Underground Kingz, 2007

Two of the best rap groups hip-hop has produced collaborated to make a hit in '07. This song birthed one of Dre's most infamous lines: "Keep your heart Three Stacks, keep your heart" which has since shown up on hip-hop tees everywhere.  The rest of his opening verse is just as quotable and memorable, much like the accompanying video, which was directed by Bryan Barber, who also directed OutKast's movie, Idlewild.

"So I typed a text to a girl I used to see/Sayin' that I chose this cutie pie with whom I wanna be/And I apologize if this message gets you down/Then I CC'ed every girl that I'd see-see 'round town/And hate to see y'all frown, but I'd rather see her smilin'/Wetness all around me, true, but I'm no island/Peninsula maybe/It makes no sense, I know crazy/Give up all this pussy cat that's in my lap/No lookin' back/Spaceships don't come equipped with rear view mirrors..." 

6

"I Can't Wait"- Sleepy Brown featuring OutKast

Mr. Brown2006

This has to be one of Dre's best verses ever. It's off-kilter, perceptive and finds Dre declaring, once again, that he's not a human, while he tries to pin down a chick over a classic Sleepy Brown track. It was also another reminder that when they're all on the same page, Organized Noize and OutKast's output is better than pretty much everything else.

"Leather in the summer, silk in the winter/This is such an art, where do I begin-a?/Used to sing tenor, in the church choir/Really I was flexin', but the girls they were fire/I'm the type of guy that notice subtle signs/When I cuddle mine, she ain't even tryin'/To look sexy, but even if she was, so what?/Motherfucker grow up, don't mean to be so abrupt/But that let's me know that she's a human being/And being human's hard—on the boulevard/Girl, you got it bad, glad I'm not one/But yet you got it good, you are the hot one/But I'm André, Benjamin Andre to be exact.

5

"Hello" - Erykah Badu featuring Andre 3000

But You Caint Use My Phone, 2015

Erykah Badu and Andre 3000 always had great musical chemistry—from "Liberation" to "Humble Mumble." But they took it to the next level when they got together again for the best track on Badu's late 2015 mixtape, Cain't Use My Phone, for a cool interpolation of the Isley Brothers classic, "Hello."  Again, relationships are the topic, and Dre's creative delivery, where he starts off almost talking before dipping into jazz-scats provided another reminder that this dude is just on another planet. Badu and Dre's easy rapport makes it a standout in both of their lengthy discographies.

"Okay, challenge/Leave your phone unlocked and right side up/Walk out the room without throwin' your bitch off balance/It's either on or off, ain't no in between when it's valid/I seem to wanna talk more and more 'bout what really matters/I've seen my aura hop out my torso and hit a backwards/Flip watchin' you skip down my corridor, fuck a ballad/Don't need shit on the side no more, I should know, fuck a salad/I often have awesome thoughts of tossin' this softer palate/So when we fall any wall, any stall, any crawl, any pause/Any scar, any tar, any dog will dissolve, kill them all/Build-a-bear, build them all, build it where it won't fall/Give it all, give it my all, yeah..." 

4

"Sorry" - T.I. featuring Andre 3000 & Stacy Barthe

Trouble Man: Heavy Is the Head, 2012

This collaboration between the Atlanta natives was a long time coming. And when the moment finally did arrive, T.I. says he got bodied on the song, which finds Dre apologizing to Big Boi for messing up their tour money because he's "awkward," and to Erykah Badu for not being able to work it out. When asked by Fuse about Tip's belief that he got outshined on his own record, Dre, as usual, took the humble route.

"[T.I.'s been saying I 'shitted on his record']. I know what he means by that, and I talked with T.I. the other day, I said, "Man, please stop sayin' that, man, because that is not true." The term 'shitting on me on my own record' is basically when you outdo someone on their own record. Now I would will sit up and say it if I felt like it did, [but] that wasn't the case. I think he was excited that we're on a song together. But I can tell you, and I told him the same thing, "I wouldn't've wrote that verse if I hadn't have heard your verse", because of what he was talking about, about responsibility, and taking responsibility for your kid and all this kind of stuff. So I wouldn't have written the verse that's on there now if it wasn't for T.I."

"Slow it down, this that shit that'll make you call your momma/Say hey I'm sorry for begging for all them clothes you couldn't afford/And this the type of shit that'll make you call your rap partner/And say I'm sorry I'm awkward, my fault for fuckin' up the tours/I hated all the attention so I ran from it/Fuck it if we did, but I hope we ain't lose no fans from it/I'm a grown-ass kid, you know ain't never cared about no damn money/Why do we try so hard to be stars, just to dodge comments/And this that shit that'll make you call your baby mama/When you gone on half a pill, don't know why but that's how it is/Then you take a flight back to the crib, y'all make love like college kids/And you say all the shit you gon' do better, we can try this shit again/'Round the time the dope wear off, you feel stupid, she feel lost/That's that dope,/I mean, I mean dopamine you think Cupid done worn off/Waiting in the hallway with her arms crossed/Baby boy face full of applesauce/Maybe should have stayed but it ain't yo fault/Too much pressure, I peel off, I'm sorry/Was young and had to choose between you/And what the rest of the world might offer me, shit what would you do..."

3

"Solo Reprise" - Frank Ocean featuring Andre 3000

Blonde, 2016

Frank Ocean wanted to recreate the magic he made with Andre on "Pink Matter," and on Blonde, he did so with "Solo Reprise." It's basically Andre's song and he goes off on what was very easily one of the best verses that dropped in 2016. It's a classic spot that'll give you chills before you run it back a few more times to catch the rest of everything he said. People ran with the idea that he was throwing shots at Drake, but the verse was written two years before it dropped. And anyway, when has that ever been Dre's style?

"So-lo that I can see under the skirt of an ant/So-lo that I don't get high no more when I "Geronimo!" I just go hit/So-lo my cup is a rojo, my cholo, my friend/So-lo that I can admit/When I hear that another kid is shot by the popo it ain't an event/No more/So-lo that no more high horses, so hard to wear Polo/When I do I cut the pony off, now there's a hole that once was a logo/How fitting/So-lo that I can give a fuck about what is trending/Tryna cut down on my spending/Regardless of winning, instead of pretending/And bending over backwards/Over half of these hoes had work done/Sayin' they want something real from a man/Just saying it, we being real persons/I hate that it's like this, I feel for you Ann..." 

2

"The Art of Storytellin' Part 4" - DJ Drama featuring OutKast

Gangsta Grillz: The Album, 2007

If you had to point out a verse that showed precisely why Andre 3000 is so revered, no one would be mad if you pointed to this outing. 3000 delivers flawless bars that are poetic, deprecating and humorous, world-weary and insightful. Drama talked about the making of the record back in 2017.

"We just got raided, the cops ran up in my studio and took everything," Drama said. "At the time, I had this beat that [Don] Cannon had made. I called Marsha Ambrosius, I was totally inspired by the raid, and I was like, 'I need something, nothing is going to stop us, I'm here, I'ma keep the movement going' and she returned the hook for 'The Art of Storytellin' Part 4.' I sent the record to 3000—mind you, this was over a seven or eight-month period that I was trying to get him to do a record for my album—and he hit me within 24 hours. At the time, he wasn't doing a lot of records. And the next day, he returned this verse and it was the greatest thing I ever heard... He did the verse, I took it to Stankonia [and] let Big hear it, Big was like, 'Yo this is incredible, we need to call this 'The Art of Storytellin' Part 4.'"

"So I'm watchin' her fine ass walk to my bedroom, and thought to myself, "That's the shape of things to come"/She said, "Why you in the club, you don't make it precipitate?/You know, make it rain when you can make it thunderstorm?"/I'm like, "Why?"/The world needs sun/The hood needs funds/There's a war going on and half the battle is guns/How dare I throw it on the floor/When people are poor/So I write like Edgar Allen to restore - got a cord/Umbilical attached to a place that can't afford/No landscaping, or window draping/This old lady told me/If I ain't got nothin' good, say nathingThat's why I don't talk much/I swear it don't cost much, to pay attention to me/I tell like it is, then I tell it how it could be..." 

1

"Royal Flush" Big Boi featuring Raekwon & Andre 3000

2008

Big Boi and Dre teamed up with Raekwon again in 2008, a decade after they dropped the hip-hop favorite, "Skew it on the Bar-B" from OutKast's Aquemini. But where everyone had a shining moment of the former song, this time around, 3000 completely ran off with the song, despite a quotable verse from Big Boi. His verse is longer than everyone else's,  probably because he just had so much to say. He gets right to it on the opening bars, making this one of his best verses of all-time— featured or not.

"Styles will change. They say change is dang-erous/As a King standing on the terrace/While his partner pointing up at the riflemen/Coward shooter, never know when your life will end/Then live like there ain't no 'morrow/And if one come then this the motto/Now I put message in bottle/You go to the nearest beach and open your car door/And walk to the place where the sea meets the land/Yeah, it's easier to run the street than walk in the sand/Hey, I'm talking young man./As if chalk in my hand/I will take y'all little ass to school/It's cool when the kids call me Sunny, the hood calls me Stacks/The B's call me honey, Hollywood calls me back/Crack and I have a lot in common/We both come up in the 80's and we keep that bass pumping/That's a nega-tive comparison, embarrassing/Unfortunate that if you come up fortunate the streets consider you lame/Ha, I thought the name of the game was to have a better life/I guess it ain't, what a shame/I don't slang/Never slung but I'm one with the slum/That has a name well fitting, plenty cheese getting/No wonder why they call it the trap, so watch your tail/And I'm not kidding, the rats and mice would give advice/They say, "you can paint and draw, get out of here/Go show them that we're more than slanging raw"/That's when I broke into my Big Rube impression/And I tried to enlighten but that night I learned a lesson/That the morals that you think you got go out the window/When all the other kids are fresh and they got new Nintendo Wiis/And your child is down on her knees praying hard up to God/For a Whopper with cheese/Do you B) hit the street hard with a flair?/Or do you A) go to school for heating and air?/Dare make an honest living or make a crooked killing/Or do a bit of both until you're holding on a million?/Brilliant/You got one foot in, one foot out/You put your left foot back in and then you shake it all about/You do the hokey pokey til you turn your life around/That's what it's all about, 3000 out."