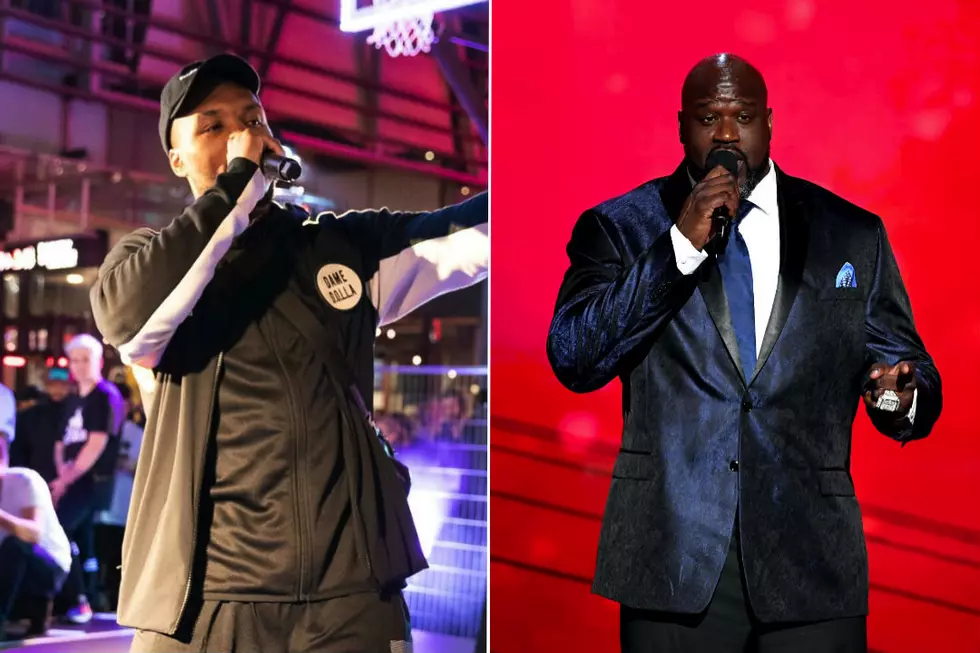 Damian Lillard Drops Shaq Diss Track: Listen
Adidas / Kevin Winter, Getty Images
Dame D.O.L.L.A isn't holding back any punches on his diss track aimed at Shaq.
On Tuesday morning (Oct. 1), Damian Lillard used his SoundCloud to dropoff "Reign Reign Go Away," a diss track in which he goes all the way in on Shaquille O'Neal. He dropped the link with a tweet. "Ok I'm going to practice now," Dame wrote in the post that included the link to his song.
For the track, the title for which is a reference to the former Los Angeles Lakers star's 1996 album, Can't Stop the Reign, Dame suggests that Shaq is a hater and pokes fun at the former ball player's commercials.
"Nursery rhymes-spittin', small car-sitting, oh, Icy Hot poster boy, TNT snitchin'/You big man-hating, mad at my existence/Had a song with Bad Boy, and I'm Jordan to the Pistons," Dame raps.
The diss track comes about five days after the legendary basketball player responded to Dame's claims that he's a better rapper than Shaq. During his appearance on The Joe Budden Podcast last month, Lillard explained why he's lyrically superior to the basketball player-turned-sports analyst and quite frankly everyone else in the NBA. He believes that Shaq's popularity in the rap game stemmed more from his skills on the court rather than his lyricism.
"I think I rap better than Shaq," he said. "I think he was viewed as Shaq. People [weren't] looking at him like he was a real rapper. They was like, 'That's Shaq rapping,' so of course it was a big deal."
Once Dame's words caught his attention, Shaq stepped up to the mic and delivered a diss track aimed at Lillard. The 47-year-old posted the Dame diss on Instagram last Thursday (Sept. 26). In the accompanying video, we can see Shaq's puppet rapping the retired basketball player's quasi-derogatory bars about D.O.L.L.A over Dr. Dre's "What's The Difference."
Check out Shaq's Dame diss for yourself below.
View this post on Instagram
See Hip-Hop Fans Name The Most Disrespectful Diss Track of All Time