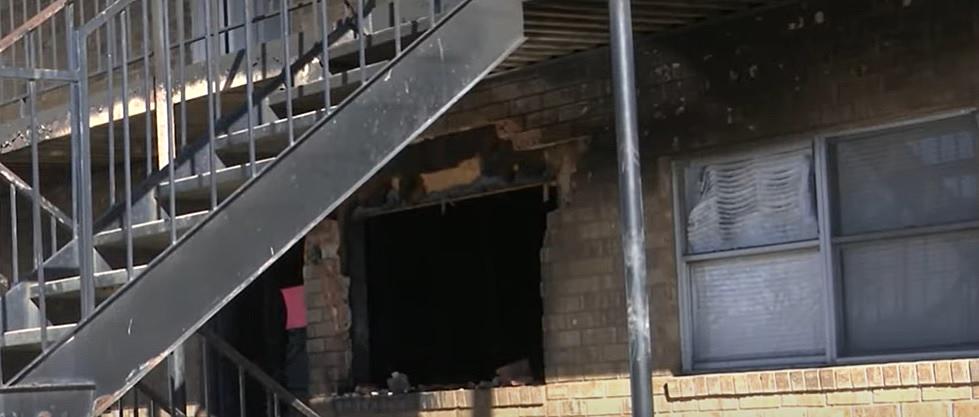 "Drug Explosion" In Killeen, Texas Apartment Sadly Displaces 2 People
Youtube, KWKT
Early Sunday morning, a fire occurred in a Killeen, Texas apartment complex.
It's not so much the fire, but the cause of it that has me shaking my head.
Sunday Morning Fire In Killeen
According to The Killeen Fire Department and Fox 44, when Killeen firefighters arrived, the fire was already beginning to travel to the second unit after flames and smoke fully engulfed the first-floor center unit.
What Happened?
Residents in the apartment complex say a man was smoking in his unit when the fire occurred.
One Killeen resident told Fox 44:
"The guy was smoking crack or something downstairs, but it's alright you gotta forgive people"
He went on to say: "I was up in the crib, heard a boom, thought my door got kicked, and came outside, it was Hitler, house on fire"
You have to applaud the gentlemen's understanding of the situation, considering the guy who started the fire could have put him in danger. But as long as his "Drip" was ok, he was ok.
More on him in a minute.
What Happens To The Tenants?
The apartments affected by the fire are uninhabitable, so tenants will be displaced and temporarily housed by the Emergency Management Division.
What The Killeen Fire Department Says
Killeen fire chief James Kubinski says there were "improperly discarded smoking materials or improperly used smoking materials that caused the fire".
Kubinski advises being careful whenever you are dealing with a flame, and gave what should be common sense advice: That you be extremely careful with things like smoking materials, candles, and other flammables and make sure they're completely extinguished before going about your day.
What I Think Happened
I'm going to roll with one of the resident's earthly assumptions about the guy smoking crack, and that he started a fire while trying to smoke said crack.
No word on if the guy whose apartment the fire started in was arrested.
Texas' Top 15 Pro Athletes from the Past 25 Years in No Particular Order
Texas' Top 15 Pro Athletes from the Past 25 Years in No Particular Order
These are, in my opinion, the Top 15 Professional athletes from the past 25 years.
Of course, we'll start with the Dallas Cowboys (of course we will) and go from there.
The NFL's most prized franchise won 3 World Championships in the 1990s in 1992, 1993, and 1995.
Those teams saw numerous Hall Of Fame coaches and players from Jimmy Johnson, Troy Aikman, Emmitt Smith, and Michael Irvin.
You can't forget about the dynasty the San Antonio Spurs had that started in the late 90s and came into the 200s as an NBA Powerhouse winning 5 NBA Championships led by players such as David Robinson, Tim Duncan, Manu Ginobli, Tony Parker, and in their later years Kawhi Leonard.
What about that 2011 Dallas Mavericks team that gave Dallas their first-ever NBA Championship under the leadership of Dirk Nowitski, Jason Kidd, Jason Terry and company?
We definitely can't deny new superstar Luka Doncic and the Mavericks of today inching closer and closer to becoming a dominant West Coast Team.
I would be foolish not to mention those Houston Rockets teams that repeated as NBA Champions in the mid-90s, (I did say past 25 years right?) and the James Harden led team, who along with Chris Paul boosted the Rockets to the playoffs year after year ultimately leading them to the Western Conference Finals.
Here are my top 15..
LOOK: Food history from the year you were born
From product innovations to major recalls,
Stacker
researched what happened in food history every year since 1921, according to news and government sources.
10 Things You Can Thank Texas For