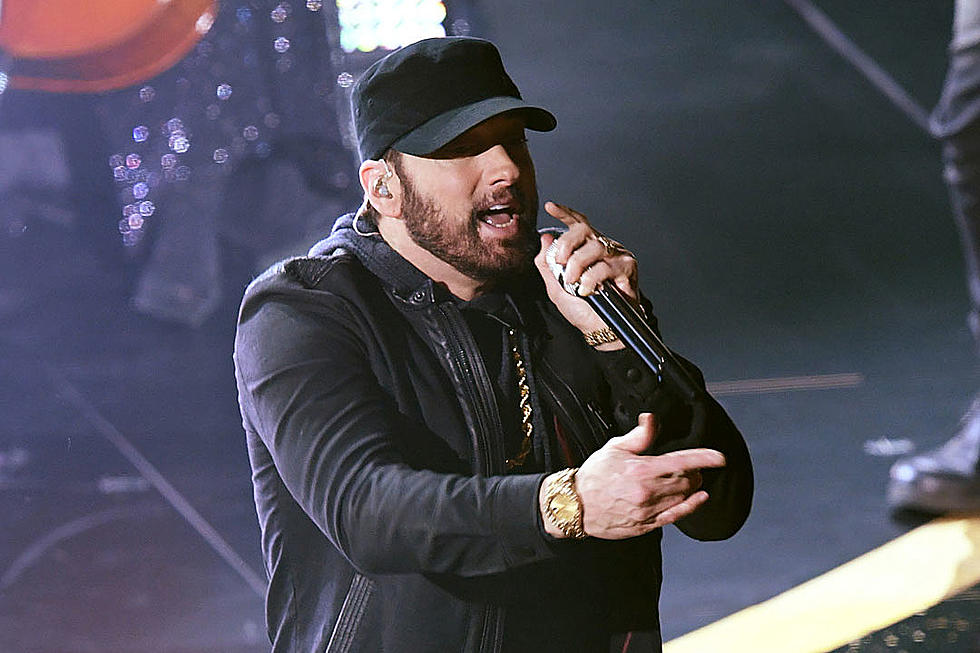 Everything We Know About Eminem's Music to Be Murdered By: Side B Album
Kevin Winter, Getty Images
The Eminem rumor mill is running rampant about a new album. With the possibility of a deluxe album on the way, presumably titled Music to Be Murdered By: Side B, looming in the air, Eminem fans are fired up about the idea of new music from the Detroit rapper but nothing is promised yet.
Last weekend, conversations began circulating on the internet suggesting that Slim Shady was planning on releasing a surprise album. The LP is supposed to be a second offering of the album he fired off at the top of 2020, Music to Be Murdered By.
No singles or features have been released by Marshall Mathers to accompany these rumors. Still, a release confirmation sheet circulating on social media claims to add truth to the rumors of the album's release date and features on the project.
No artists currently associated with the rumored project have come forward to denounce the album's existence. Eminem himself has remained tight-lipped about the album. The fact that the rumors haven't been denied does give stans some hope it will be released. Since being stuck in quarantine, it's not hard to imagine that the 48-year-old rapper wouldn't be busy in the studio making new music.
Eminem also has a track record of releasing heat without warning. At the top of the year, Em dropped off the first installment of Music to be Murdered By without any promotion or mention prior to its release. The album moved 279,000 album-equivalent units in its first week, went No. 1 on the Billboard 200 and continued to solidify him as one of the greatest of all-time in the rap game.
While fans wait to see if Em has a new LP dropping this Friday (Dec. 18), XXL breaks down everything we know about the Rap God's rumored album, Music to Be Murdered By: Side B.
Actor and Musician Page Kennedy Helps Build Album Anticipation With Cryptic Tweet

Around the time that the album rumors began taking over on social media, Page Kennedy, an actor and singer, ramped up fan anticipation by sending a tweet aimed at Em asking if it was time on Dec. 12. Kennedy is possibly referring to the second installment of Eminem's MTBMB album. "Yo @Eminem is it time??? Or nah?," he wrote on Twitter causing fans to go into a frenzy. This tweet was deleted as well.

Rumors Begin to Circulate About Music to Be Murdered By: Side B

On Dec. 12, fans began to speculate that Eminem was readying his 12th studio album for release. A Shady stan Twitter account tweeted about the rumored  album. "Rumors say Eminem is dropping 'Side B' to 'Music To Be Murdered By' the upcoming Friday December 18th," the tweet read.

The tweet was later deleted. Then, artwork presumed to be the cover of the album began to circulate online supporting the already existing rumors about the album.

Cordae, Boogie and More Will Reportedly Appear on the Album

According to an unconfirmed release document with Interscope Records and Aftermath Entertainment's logos that was tweeted on Dec. 13, the album with feature rappers like Cordae, Boogie and Royce 5'9". However, none of the featured artists rumored to be on the project have stepped forward to confirm that the album is coming.

Music to Be Murdered By: Side B Is Slated to be Released on Dec. 18

In the same unconfirmed album release document, the album is revealed to be scheduled for release on Dec. 18. That is almost 11 months to the date that the first Music to be Murdered By album was released back in January.

Shady Records Artist KXNG Crooked Says He Can't Confirm Album Rumors

On Dec. 13, one day after rumors began to swirl on the internet, Kxng Crooked hopped online to address Eminem's album rumors. "Dear Stans.. I can absolutely not confirm ANYTHING that has my logo on it. Sorry guys," he wrote in a tweet.

Dem Jointz Posts Album Cover on Instagram

On Dec. 15, the multiplatinum Grammy Award-winning producer Dem Jointz, who has been known to work with Dr. Dre in the past, seemingly confirmed Eminem's forthcoming album while sharing a celebratory post on Instagram. In the IG post, he's wrapping up the songs he produced in 2020. The beatmaker included what appears to be the unreleased album's cover artwork alongside the other projects he's worked on this year.