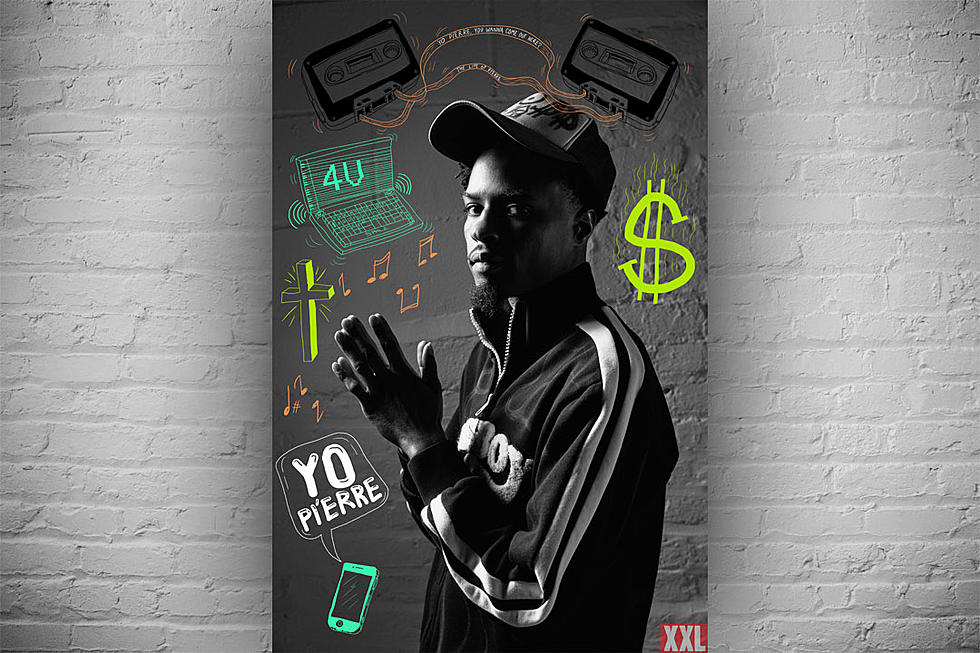 Pi'erre Bourne Weighs In on Producing Beats for 2023 XXL Freshman Class Cyphers
Travis Shinn for XXL
Pi'erre Bourne, an artist and the pioneering producer for a legion of SoundCloud rappers and beyond, weighs in on making the beats for the 2023 XXL Freshman Class cyphers.
As told to Georgette Cline
Editor's Note: This story originally appeared in the Summer 2023 issue of XXL Magazine, on stands now.
I was caught by surprise when I was asked to be the Freshman producer this year because there's a lot of other choices I feel that [XXL] probably [was] considering. So, I'm happy that [XXL] still considered me. I know I should've probably done this way before, but I'm happy to be here.
With me being able to work with all the new artists that are on the Freshman list, at the same time it's like, I didn't look at it that way in the past. It's actually a win-win situation, 'cause I get to meet and network and, on top of that, I get to possibly work with them in the future.
It's a great opportunity and it's something that I wasn't noticing at first that [XXL was] doing. It's dope to see it all come together. There's so many talented producers that could be doing this. So, I don't wanna keep passing up on things that I should be part of. This is for the culture at the end of the day. I'm excited to see how this works out.
The process of making these beats this year, I kind of was nervous because of the platform and the situation, and it's so many different personalities. I already know how it is in the studio with one artist. So, I'm like, I don't really know what kind of beat to make. I was in L.A., I was at home for a couple of days and before I even started, I was like, I need to go somewhere and get out of my house 'cause I really wanna make something cool, but also organic, like fresh.
I don't wanna just find a couple beats on my computer and like, "Here you guys go." So, I went to Houston for three days and just locked in the studio. I would get food during the day and go to the studio, that's pretty much it. Do overnight and then just do it all again the next day. And then I started off slowly because I didn't want to rush the beats.
I was taking my time the first day. And then the second day, I was working really, really fast. Maybe, two-and-a-half sessions it took me to complete 40 beats for the [Freshmen] to choose from. And then my session [after that], I kind of was done with everything. So, I was just listening to everything. Making sure everything was cool. It's not just go and make anything. It's come out with something; a product and it has to be good for everyone to come here today and have a bunch of thoughts in their head when they hear the beats.
I think [all the Freshmen] is going crazy, but definitely GloRilla, no-brainer. That s**t is hard. I felt like the whole Memphis s**t, I'm a huge fan of Juicy J and Three 6 Mafia. So, it's exciting to see a woman come from Memphis and stand on her own and really take over.
Central Cee, I think we've done a couple festivals, last summer or something. Real Boston Richey, I've heard his music. Everybody be playing his music. Lola Brooke, a lot of people be stealing her s**t. I be hearing some songs, like that's definitely that song that came from her. She got some crazy energy and stage presence. It's amazing. It's only a matter of time with her. For real, 'cause she already has a whole package as an artist. Having a good song is cool, but controlling the crowd? Rocking out? That's key.
Fridayy, I've heard of his music. Finesse2tymes, everybody playing his s**t, too. Luh Tyler, his s**t hard. I vote him 'cause he just a cool little kid. DC The Don, his s**t is hard. A lot of my friends be playing a lot of these artists. Rob49, his s**t is hard as fuck. I really wanna work with him. TiaCorine, her s**t is hard. We always be talking about working and stuff. We be busy. 2Rare, his s**t is cool. He be going crazy with the dancing. SleazyWorld Go, one of my friends down South, he love that music. I'm happy to see everyone.
I've heard everyone's music, but as a creator and artist myself, I don't want to ever make music influenced by them. It's not a bad thing, but it's like, anything I create will be kind of tainted by whoever I'm a fan of. So, my peers, I respect everything they're doing, but I can't love the s**t out their music because I'm in this s**t, too.
I feel like now I'm in control of everything that I want to do in my life. I feel like I can spread my wings more and just fly. That's kind of where I've been at. I've been just finishing everything that I need to do. We released a lot of my SossHouse artists' projects. That's been my main thing. In the beginning of the year, I just made sure we got all the music and stuff done. And I'm on Don Toliver's Love Sick Tour now, so I just wanted to get everything complete and turned in, and everybody satisfied before I get on the road and get busy as hell again.
And then after that, I kind of jump back on my album stuff. I just started back working on my new album. I started working on it in 2021, but that Covid shit threw me off. So, I wanted to wait, but it's called Made in Paris. Now I'm gonna just, not start over, but just start fresh and just build on top of what I already have and just go from there.
Every day is a blessing. So, being part of Freshman, this is dope.
Watch Pi'erre Bourne Discuss Producing Beats for 2023 XXL Freshman Cyphers
Watch 2023 XXL Freshman Cypher With Rob49, SleazyWorld Go, DC The Don, Luh Tyler, TiaCorine and 2Rare
Watch 2023 XXL Freshman Cypher With Finesse2tymes, Lola Brooke, Fridayy and Real Boston Richey
The Freshman issue of XXL magazine hits stands everywhere on July 18. See Finesse2tymes, Rob49, Fridayy, GloRilla, 2Rare, SleazyWorld Go, Lola Brooke, Central Cee, Real Boston Richey, Luh Tyler, TiaCorine and DC The Don's official Freshman pages. In addition to interviews with all 12 artists in the 2023 Class and Freshman cyphers producer Pi'erre Bourne, it includes interviews with Lil Baby, NLE Choppa, Boosie BadAzz, Toosii, DDG, Saba, producer Go Grizzly, engineer Jaycen Joshua, singer Coco Jones, SinceThe80s' President Barry "Hefner" Johnson and AEW wrestler Swerve Strickland, plus a look back at what the 2022 XXL Freshman Class is doing, hip-hop's love for golfing featuring Scarface, OMB Peezy and pro golfer Harold Varner III, conversations with 10 new artists making noise and a deep dive into A.I. hip-hop songs. You can also buy the 2023 XXL Freshman Class issue here.