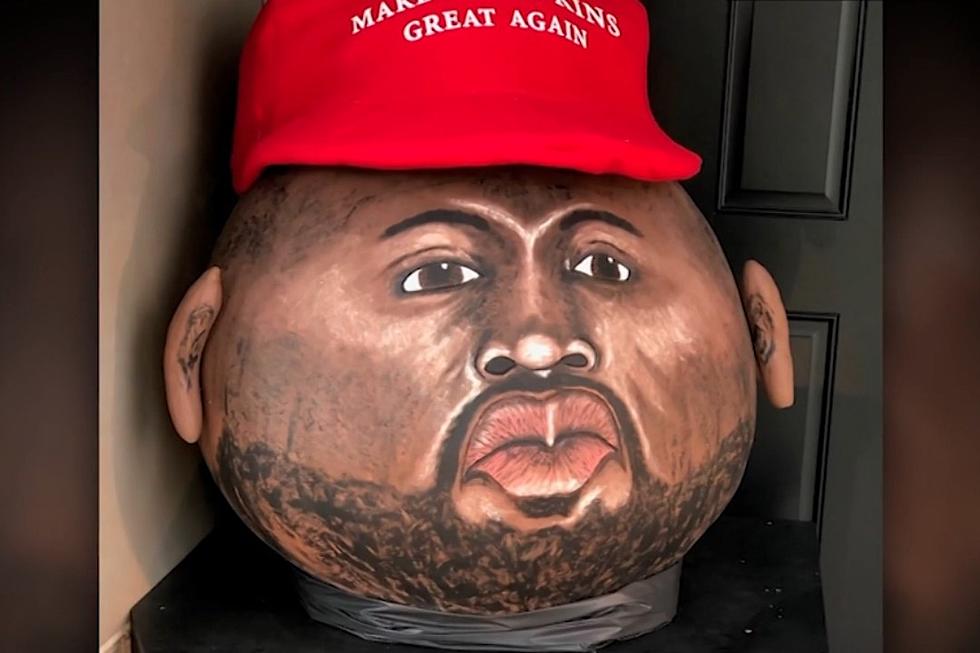 Kanye West's Likeness Gets Turned Into MAGA-Inspired Pumpkin for Halloween
CNN
As numerous artists post their Halloween costumes on social media, an Ohio-based visual has turned Kanye West into an enormous, MAGA-inspired pumpkin to celebrate the holiday.
Earlier this week (Oct. 29), painter Jeanette Paras debuted the new Kanye pumpkin by leaving it on the doorstep outside her home for the world to see. The pumpkin bears Yeezy's likeness and a Make Pumpkins Great Again hat. The cap is a reference to the President Trump-supporting Make America Great Again (MAGA) cap Yeezy's been wearing at various points of 2018. Nice touch.
Paras began the process by sketching her Yeezy out on paper before she actually started working on the massive pumpkin. From there, she spent seven hours painting Kanye's face onto the pumpkin. She even used potatoes as ears.
According to CNN, Paras has "pumpkinized" world news mainstays like President Trump, Hillary Clinton and more annually for the last 30 years. While she'd created a Yeezy pumpkin before—in a video we can see  the MAGA-inspired hat is a new addition.
"It's just fun," Paras says of why her pumpkin creations. "Who doesn't like giant celebrity pumpkins?"
Ye has yet to comment on his pumpkin twin. Instead, he's busy distancing himself from the world of politics after Candace Owens claimed he designed the anti-Democrat Blexit merch. We have a feeling he'll catch wind of his pumpkin twin soon.
Watch artist Jeanette Paras make the MAGA-inspired Kanye pumpkin below.
See Photos of Kanye West's Different Looks Over the Years