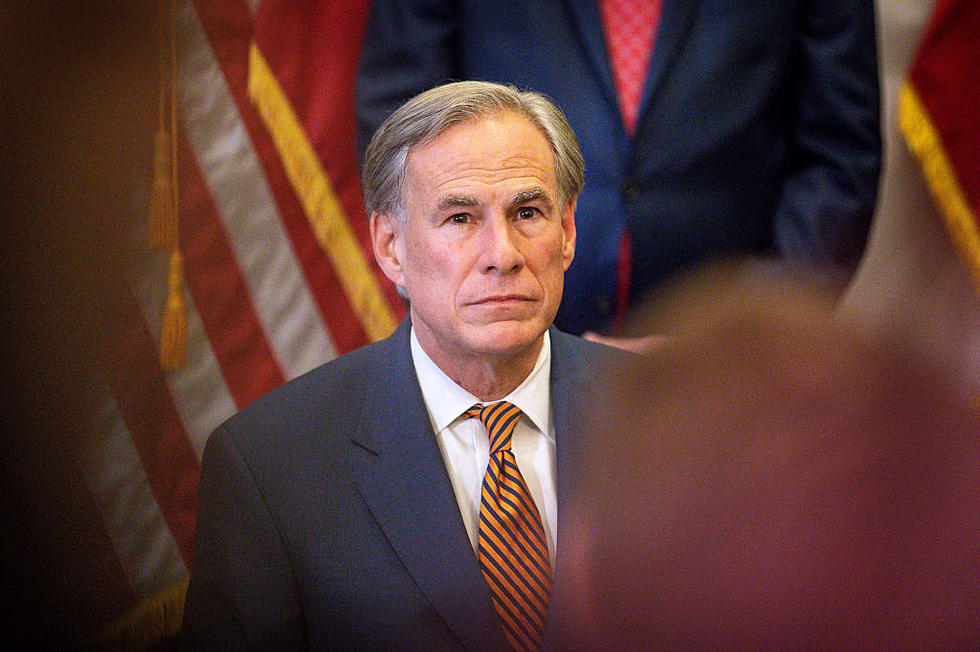 Texas Governor Greg Abbott Has Tested Positive for COVID-19
Getty Images
Governor Greg Abbott will isolate himself in the governor's mansion after testing positive for COVID-19.
Mark Miner, Director of Communications for Gov. Abbott's office, released the following statement Tuesday afternoon:
"Governor Greg Abbott today tested positive for the COVID-19 virus. The Governor has been testing daily, and today was the first positive test result. Governor Abbott is in constant communication with his staff, agency heads, and government officials to ensure that state government continues to operate smoothly and efficiently. The Governor will isolate in the Governor's Mansion and continue to test daily. Governor Abbott is receiving Regeneron's monoclonal antibody treatment.
"Governor Abbott is fully vaccinated against COVID-19, in good health, and currently experiencing no symptoms. Everyone that the Governor has been in close contact with today has been notified. Texas First Lady Cecilia Abbott tested negative."
I think it's important to note the fact that the governor is fully vaccinated and, for now, not experiencing symptoms.
A misconception about the COVID-19 vaccine is that its champions are somehow claiming it's a magical forcefield that stops COVID-19 from entering your body.
The vaccine is meant to give the numerous cells that make up your immune system the information they need to fight the virus if it does make its way into your body. The idea is to give your body a much better chance at detecting and fighting the infection, which can lessen the severity of symptoms and keep you out of the hospital.
Sadly, there are cases of people who become seriously ill despite being vaccinated, but that's not the case for most people.
Say what you will about Abbott's staunch refusal to allow school districts to enact their own mask policies on campuses this fall, but at least he's encouraged Texans to get vaccinated and set an example by being vaccinated himself.
Here's wishing Governor Abbott a speedy recovery.
If you're in need of a COVID-19 vaccine, visit vaccines.gov or call 1-800-232-0233 for information on the availability of vaccination in your area. Also keep an eye on our website, because we'll let you know when free vaccination events are scheduled in our neck of the woods.
PICS: Check Out The Best Cosplay of Bell County Comic Con 2021
The 2021 Bell County Comic Con was another huge success. While the celebrity guests and panels are great, my absolute favorite part of the con is seeing all the fans who cosplay in tribute to their favorite characters. Let's take a look at some of this year's best!
Here's What's Happening at This Year's Central Texas State Fair
After taking a year off in 2020, the Central Texas State Fair returns this September with everything you love about a rip-roarin' good time at the Bell County Expo Center! Here's your guide to the great shows, music, food, and rodeo action you expect as they do it big for 2021.